"I know I can do anything at any age now"- Madhavan
Thursday, February 4, 2016 • Tamil Comments

Listen to article
--:-- / --:--




With the last week`s release irudhi Suttru`, actor Madhavan has swept all the Tamil movie buffs with his stunning performance as a tough, arrogant boxing coach Prabhu, who is not committed to anything life but the sport he loves a lot. The film directed by Sudha Kongura has received phenomenally positive reviews from critics and extremely flattering word of mouth from the audience who watched it and the film is doing strong and steady business even during the weekdays and it s a success of the content.
This is the Tamil release for Madhavan after a gap of four years and people are wondering that an actor could not ask for a better comeback. But Maddy says it`s actually not a comeback as the work on the film itself took him this long period.
For more such interesting details about what all went into bring out Irudhi Suttru` in the way it has come out now read on the interview given by the ever charming Madhavan, exclusively for Indiaglitz.
Irudhi Suttru` is a huge comeback for you in Tamil. You have gone through a lot to get this movie out right? Tell us how does it feel now?
Well, I feel highly vindicated. Everyone thinks that I have made a comeback after four years. But I don`t feel that I have taken any gap. All was work in progress. The preparations for this film like getting the right physique and learning boxing. When it comes on screen it should be believable. If I don`t look like a boxing coach in the film, you (audience) will get distracted there itself. It should not be like I am touching the gloves for the first time while shooting for this film. I should know how to train, how to wear gloves for people. I f I come after learning all these stuffs then it will be a realistic film. The director wanted to keep everything as real as possible. That`s why we casted a real boxer (for the lead role). So it took time for me to learn and then come. I want to make films like this. It should be a memorable film for everyone.
In this film you have acted your age? It takes a lot of guts. What actually led you to do that?
Actually it`s sensibility. Because the present generation knows everything before I know anything. If I got to Wikipedia my size, where all I have gone and all other details about me are available in the internet.
Secondly I have to be comfortable with who I am. When my director said I should sport white beard and said that the heroine will comment about my belly I did not think whether a hero would allow such things. I just thought it was a great line. I don`t want to cheat people. In 3 Idiots` my character had to be depicted as a 23 year old. It was out of a compulsion of the script. That cannot be an USP of my film. That film had three looks for three different ages. Such films are challenging.
I won`t call this a brave decision. I am a coward. I don`t want to hide all those things. That`s it.
This is the second film we see the aggressive Maddy after probably Thambi`. Is this a real side of Maddy?
Yeah. I think all my films. Whatever character I do, one part of Maddy will be there in it. Be it in Irudhi Suttru` or in Thambi` whatever I have experienced have been projected with a backward forward adjustments. They`ve definitely got a bit of me. My anger shown in the film is a real part of me. My wife said this film has revealed who I am really.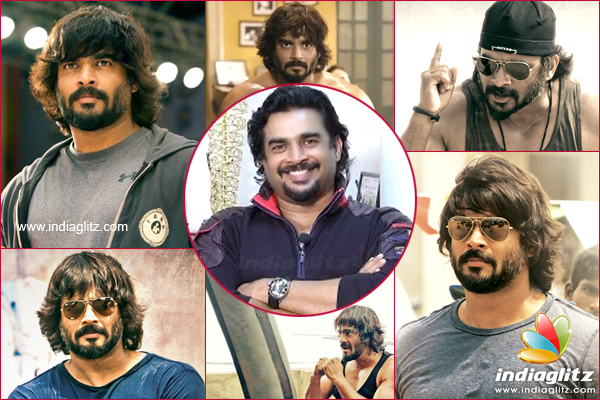 Tell us about the preps you underwent for the boxing coach character?
I wanted to look like a boxing coach even when people see me from a distance. I should look like a hunk. People should be convinced that I am a boxing coach who was a boxer in the past, capable of making his opponent faint with a punch. So I enlarged my physique. I we do that in short duration it will lead to huge problems. Given my age, problems like hair fall, wrinkles on face would appear. Many people eat supplements. Without doing that you should also look healthy. The face of a sportsman the health should be evident. Instead of bringing these in three months I took one and half years. I learnt that when we increase the muscles nerve should also be strengthened. So there was a separate exercise for nerves. Not just the muscles, everything look should perfect. If you walk, stretch your hand, wear gloves everything should look graceful. I studied all these things and accomplished them while getting the right physique.
So lot of observation has gone in?
It is a pleasure. A very big pleasure. The confidence to do these things at this age itself is a huge consolation isn`t it? I know I can do anything at any age now.
Working with a lady director and bilingual movie as well. Share something about these experiences?
While going for the publicity of the film after its completion, many people asked this question. It was not in mind till then. I know my director has two children and a husband at home. Apart from this I never thought that she is a lady director and I should deal with her with special concern. May be it was a mistake. As far as I know it is a biggest compliment. Why we should see a lady director with different perspective:? Cant they achieve. They can achieve more than this actually. They have done this everywhere in the world.
But if you ask about a lady director making a film like this that will be a good question. Generally woman filmmakers are not associated with such films. She has not been a feminist in the film. She has been a realist. She has not shown anything that says all men are bad and all ladies are always subjugated like that. She has shown a real story and that`s praiseworthy. Why should we push her as a feminist and give special attention in that regard that would be demeaning. We should not do that. I am very very impressed with what Sudha has come off because on the sets she was more than ten men put together.
Selection of Rithika? You were clear about getting a real boxer for the character. How did you zero in on her?
It was a long struggle between me and Sudha. She suggested we can go for an professional actress who knows a little boxing. We had also tested a few girls in Hyderabad and all. But I always wanted a lady boxer. If we don`t get someone like that we can look at other options. I struggled a lot to put over this point. Later she agreed. On our search we got a girl from my friend Raj Kundra`s contacts. Sudha screen tested her. Two days after that she called me and said "We found our Madhi." Likewise I did not have that much vision. I was apprehensive whether this girl could act. Sudha took that girl to Chennai, trained her in dialogues and other stuffs. It`s a beautiful effort on behalf of Sudha and the girl. It`s really hard work of both of them. They are just brilliant.
Follow us on Google News and stay updated with the latest!
Follow
Actress Photos
Manjusha
Anasuya
Chandini Chowdary
Krithi Shetty