Lavanya on 'Inttelligent', controversies, future plans & more
Tuesday, February 6, 2018 • Telugu Comments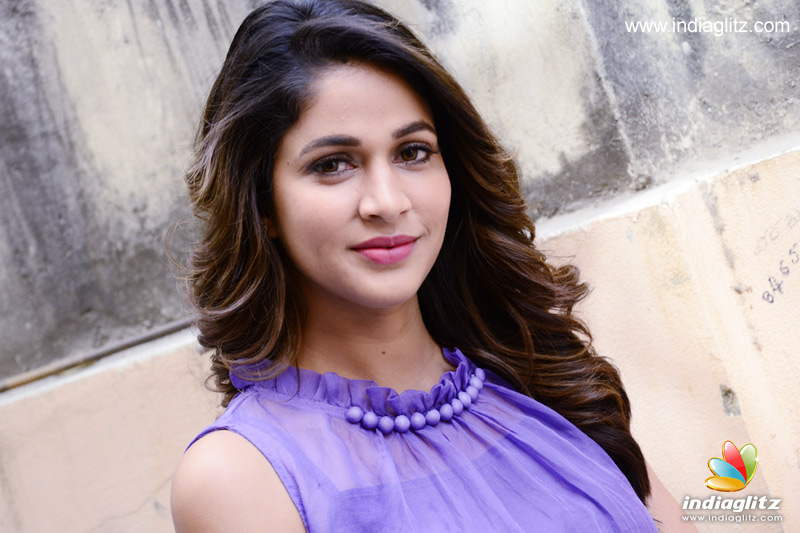 Ahead of the release of 'Inttelligent', Lavanya Tripathi is content that she got to do a full-on commercial entertainer. In this interview, she describes Sai Dharam Tej as a shy guy. Also, she opens up on the controversies that visited her last year.
This is perhaps the first time that you have done a mass film with a commercial director like VV Vinayak. How was the experience?
I enjoyed the whole process. In fact, I do films that make me happy. In 'Inttelligent', you will see me as Sandhya, a dominating and peeved girl who has returned from the US. She helps her father out in carrying out business affairs. The hero works for her father.
The title suggests that the film is more brainy than brawny. What can we expect?
I would say that the story and the hero's character are as per the title. He deploys his intelligence in trumping the villain.
This is your first outing with Sai Dharam Tej. How was the whole experience?
He is quite a comfortable actor to work with. A fun-loving guy, I relate to the way he enjoys things. Treating everyone equally is a trait I like about him. Neither of us is talkative. But we started getting along quite well right from the time we started shooting in Muscat.
What kind of equations does Sandhya and Dharma Bhai share in the film?
In the beginning, it's one of a love-n-hate relationship. We fight. We make up. It's like that.
Any commercial actress would dream of teaming up with a director like Vinayak. What were your takeaways?
I found him quite a down to earth person. He is one of the sweetest filmmakers I have ever worked with. And he treated me as if I am a child. He is very swift in getting things done. I enjoyed working with him, as every director has his atypical way of doing things and making a film.
There are (un)realistic expectations from the remixed version of the 'Chamak Chamak song. Were you scared?
Of course. I was thoroughly nervous when I had to do the number. The song is one of the best-choreographed ones. Above all, it featured a legendary actor like Chiranjeevi garu.
I decided to do the remix like a fan would. There is no way I could have bettered the heroine in the original.
'Inttelligent' is a film in which I have danced a lot. (Smiles). I put in a lot of practice for the songs 'Kalamandir' and 'Na Cell Phone'.
We see the hero proposing to you in the film. Did anyone do like that in real life?
I am mostly engrossed in my work. For another, boys are too scared to come to me and say anything of that sort. I don't know why.
Last year, rumours were flying thick and fast about how you missed out on doing Vijay Devarakonda's movie. Then, you lost '100% Kadhal' in Tamil. Its producer even approached the Tamil Film Producers' Council. What went wrong?
Let me tell you that what you people read in the news is not the truth. Only this morning, someone from Geetha Arts called me up to appreciate me on 'Inttelligent'. My equations with everybody, be it Sirish or director Parusuram', are the same as before. Regarding the complaint against me, did you hear anything more about that?
You have faced quite a few disappointments at box office. 'Mister', 'Radha', 'Yuddham Sharanam' and 'Vunnadi Okate Zindagi' flopped last year. How do you receive failures?
I focus on bettering myself every time. I cogitate over what I can do to be better. I receive all kinds of feedback. People opine as per their tastes. Some prefer artistic movies over commercial stuff.
What next after 'Inttelligent'?
A couple of Tamil movies are in the stage of negotiations. I will make a decision soon. Immediately after the promotions for this film, I am going to go on a break for one month. I want to branch out into other languages. I want to do Mollywood for creative fulfillment. While Telugu is my forte (I am also settled in Hyderabad), I am looking forward to exploring other languages this year.
Actress Photos
Sakshi Agarwal
Hamsa Nandini
Hebha Patel
Avika Gor