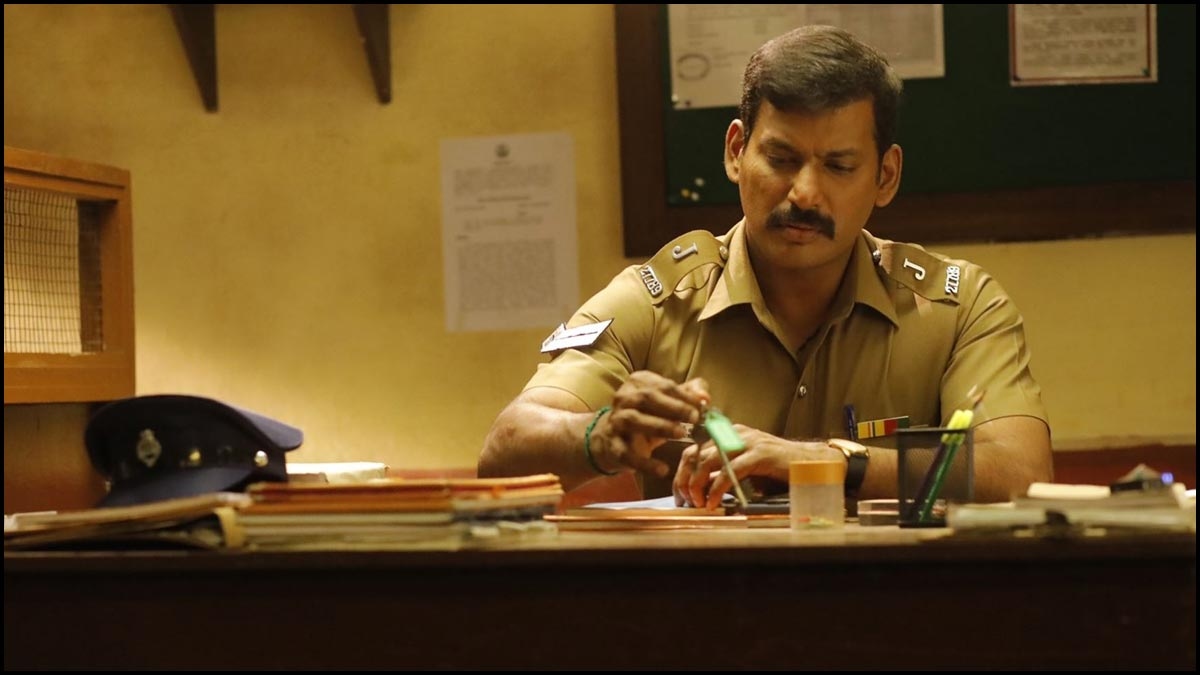 Laththi - Vishal tries his best to save the audience from this brutal charge
Vishal, one of the most reliable action heroes in Tamil cinema always goes the extra  mile in giving the audience something to cheer within the commercial space.  This time he dons the interesting character of an ordinary constable pitted against a deadly gangster. Whether the rest of the components of the film help in Vishal scoring a win remains to be seen.
Muruganandam (Vishal) a constable known as the Laththi specialist is suspended due to his brutality on a falsely suspected criminal. At the behest of his wife (Sunainaa) a nurse he then seeks the help of a superior officer to help him get back to work.  DIG Kamal (Prabhu) who gets Muruganandam his job back asks him  to brutalize a criminal in his unofficial) custody.  The constable though hesitant beats to a pulp the man little knowing that he is Vellai (Ramana) the son of a notorious gangster, Sura (Panneer Selvam).   The gang is now out to finish off Muruganandam and his wife and ten 10-year-old son are also in danger.  The Sura gang sets out to finish the powerless Muruganandam and whether he survives or not is what 'Laththi' is all about.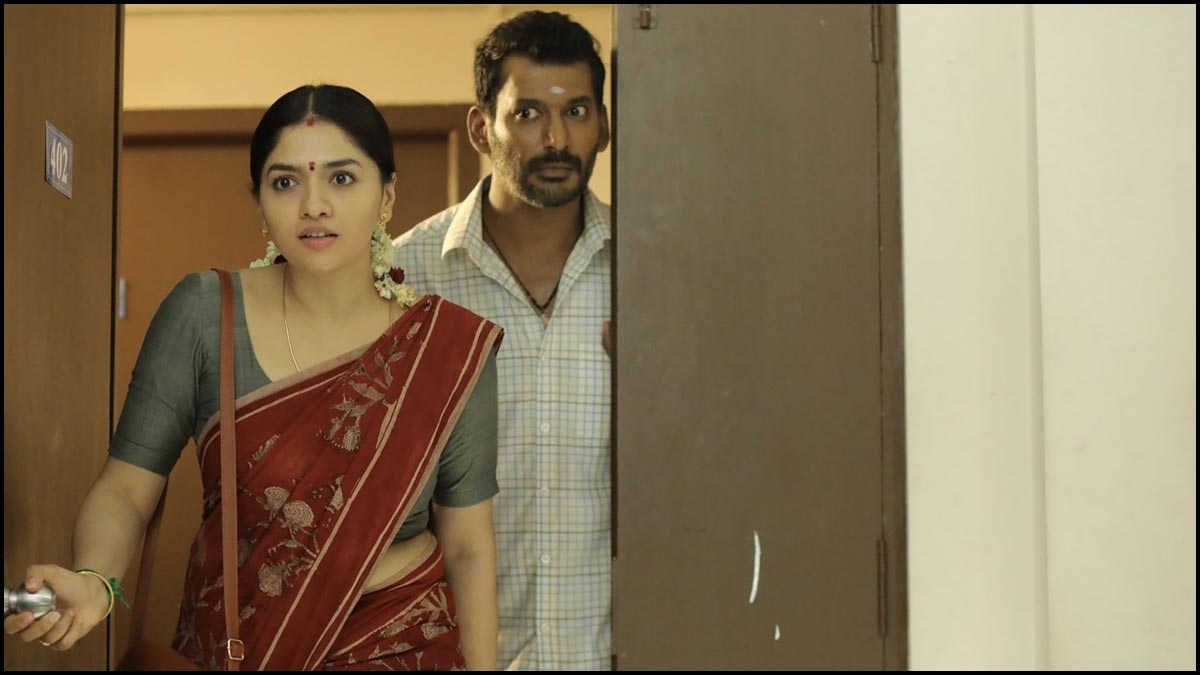 The biggest plus of 'Laththi' is undoubtedly Vishal who has put in a lot of effort especially to nail the body language of a powerless constable. His emotional outburst at the end begging the criminals to spare his son is moving as well.  Needless to mention the action sequences which is Vishal's forte and he excels once again.  Sunainaa as the loving wife is the sole pretty sight in the film, but sadly her character is not given much scope. Ramana as the supposed to be terrifying villain is built up unnecessarily for a long time and some of his antics like refusing to remove a carry bag from his head are comical.  Panneer Selvam as Sura is also far too timid looking to pass off as the dreaded gangster he plays.   Prabhu and Muniskanth are the other known actors who appear in pretty functional characters.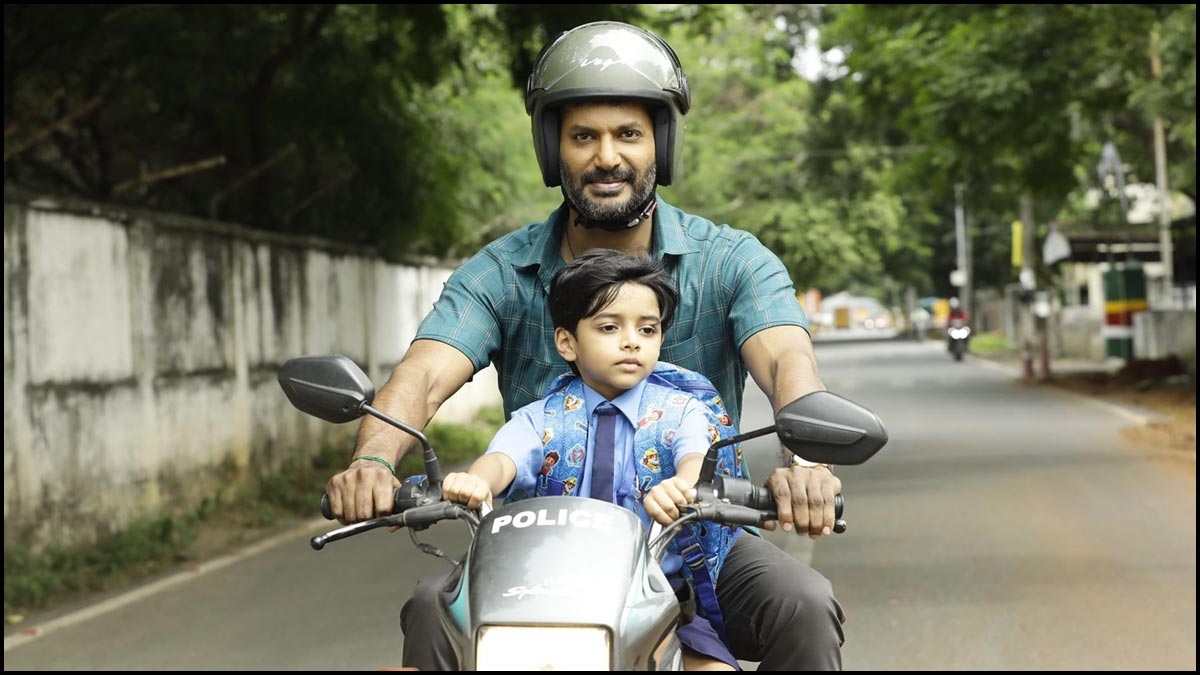 What works in 'Laththi' is the first half which though cliched infuses some interest as we sit up for an underdog versus powerful villain story.  Prabhu's character which entangles Vishal into the danger zone is an acceptable plot twist.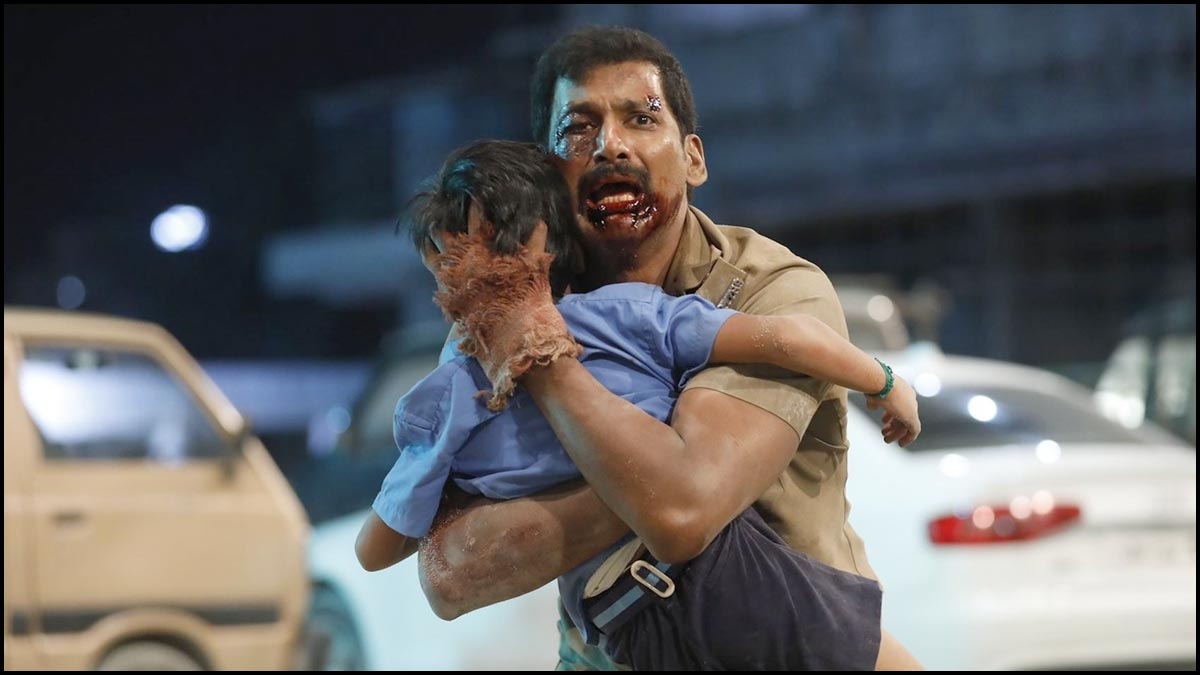 On the downside the entire second half is one long, taxing, contrived, logic defying sequence that goes nowhere.   Even though the action is well choreographed and the hero is Vishal, him taking on over a hundred villains that too in a wounded state is too much to stomach.  Whey will the villains who force politicians to give up their daughters wait for a mere constable to remove his uniform before attacking him.  The little boy who plays Vishal's son is also made to act in an unnatural way and hence his ailment angle does not work.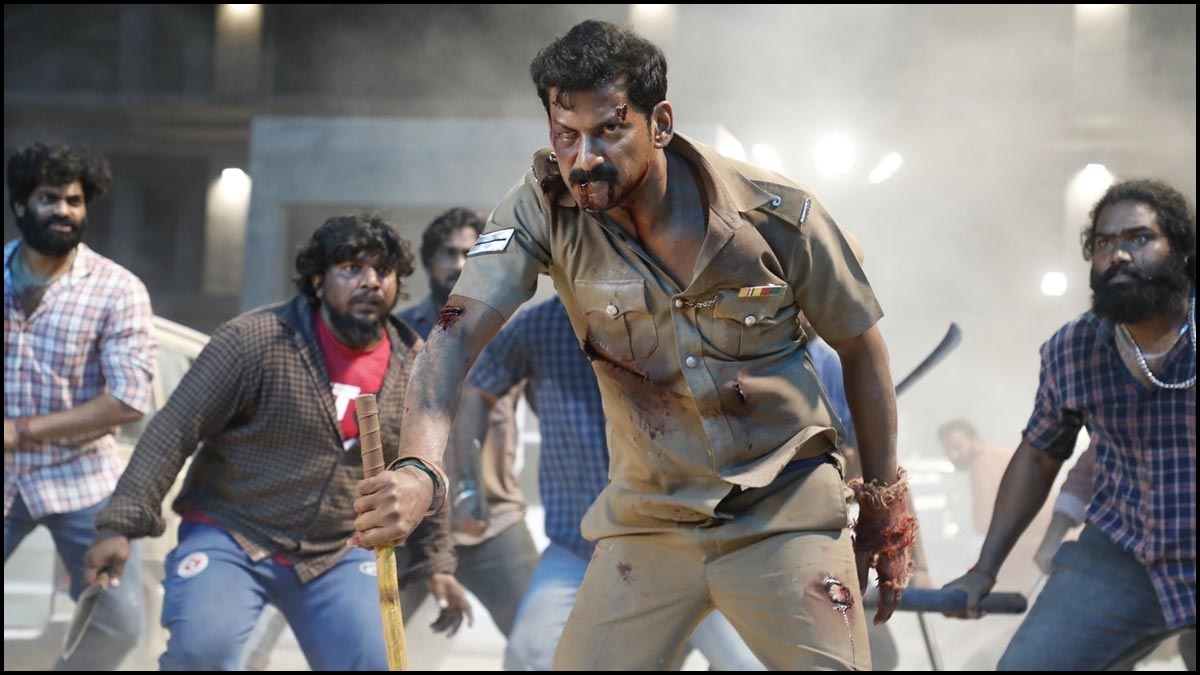 Yuvan Shankar Raja has scored the music and his background is as usual effective.  The rest of the technicalities are nothing special.  Actors Ramana and Nandhaa have jointly produced the film and it is clear that they were impressed with the story on paper.  Director A. Vinoth Kumar has chosen a lesser explored central character of a constable that has so much scope for emotional as well as innovative action.  But in his treatment of the screenplay as a super hero flick he has faltered in providing even some decent entertainment.
Verdict : Go for this one if you are a hardcore Vishal fan 
Rating: 2.5 / 5.0
Showcase your talent to millions!!
Write about topics that interest you - anything from movies to cricket, gadgets to startups.
SUBMIT ARTICLE
More
Tamil Movie Reviews
Annapoorani
Kuiko
80s Buildup
Chevvaikizhamai
Jigarthanda DoubleX
Japan