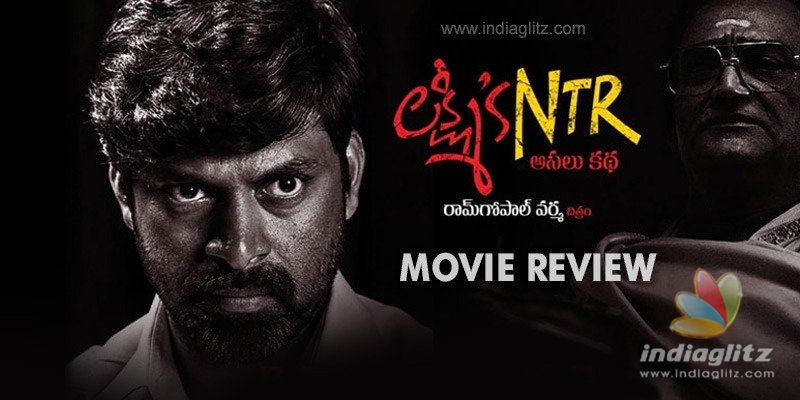 'Lakshmi's NTR', starring P Vijay Kumar, Yagna Shetty and Shri Tej, hit the screens this Friday.  Here is our review of the political thriller.
Story:
NT Rama Rao (P Vijay Kumar) suffers a serious political setback when Mana Desam Party loses badly in the 1989 Assembly elections.  Lakshmi Parvathi (Yagna Shetty), a Telugu-language lover, meets him with the request that she be given the permission to write an authorized biography.  
NTR, impressed with her erudition and purity, lets her pen the book.  As days pass, their emotional bond thickens.  So much so, the greatest living legend of Andhra Pradesh decides to marry her.  
This is not to the liking of NTR's children and, more importantly, his son-in-law N Chandrababu Naidu (Shri Tej).  What follows is the story of how the son-in-law concocts a conspiracy to backstab NTR and Lakshmi Parvathi with the help of NTR's children and certain political players.  
Analysis:
'NTR: Kathanayakudu' and 'NTR: Mahanayakudu' deified NT Rama Rao in a phenomenal way.  Subtly or otherwise, they also tried to portray him as an occasionally naive person.  Did you think 'Lakshmi's NTR' would be different in this regard?  It's not.  Ram Gopal Varma's NTR gets deification.  More so, his naivete is projected in a pronounced manner.  
The film spends too much time in building up the spiritual love story of the NTR-Lakshmi Parvathi duo.  RGV's Lakshmi Parvathi is a high-thinking woman who might have become a luminary.  She engages NTR in spiritual discussions.  Their love blooms but as far as Lakshmi is concerned, she is a mere devotee whose duty is to do anything that makes her God (NTR) attain peace.  Even if it means dumping her first husband to marry her "Swamy".  She sits on the floor while NTR sits on a chair.  Krish Jagarlamudi's NTR was people's man.  RGV's NTR is Lakshmi's man more.  This spiritual relationship is made to look romantic just once, when they indulge in spontaneous ballet dance.  
In the second half, Yagna Shetty's Lakshmi becomes a constantly-wailing Lakshmi.  By and by, she starts looking like a drama queen.  Was this the only way for RGV to showcase the character's vulnerability?  
By the time the coup begins, it's too late.  The second half finds its groove 20 minutes after it begins.  Here and there, RGV over-indulges his characters.  There was no need for the victory song (read 'Vijayam').  
Too many conversations between NTR and Lakshmi take a toll.  It is nothing but laziness that there are too many newspaper headlines and cartoons that tell the unfolding political developments through the eyes of the print media.  
The conversations involving Chandrababu, NTR's children and his acolytes are too cliched.  They remind one of old-style villainy in the 1990s era movies.  
As far as performances go, this should be seen as a surprise package.  A non-actor like P Vijay Kumar makes an impact.  Shri Tej is brilliant and never comes across as mimicking Chandrababu.  Yagna Shetty's expressions are apt and she fits the bill.  The rest of the cast and crew members are natural.
Kalyani Malik's songs are okayish and the RR is able.  The cinematography by Rammy is decent.  Co-director Agasthya Manju proves his mettle.  
Verdict:
'Lakshmi's NTR' has a fairly interesting second half.  Although the climax and some segments are dragged, it is still okayish.  The Viceroy Hotel saga should have been more dramatic.  The first half is an extension of the Trailer, and many scenes seem repetitive.  Good performances are an asset.
Rating: 2.5 / 5.0
Showcase your talent to millions!!
Write about topics that interest you - anything from movies to cricket, gadgets to startups.
SUBMIT ARTICLE
More
Telugu Movie Reviews
Peddha Kapu 1
Skanda
Chandramukhi 2
Sapta Sagaralu Dhaati
Changure Bangaru Raja
Mark Antony