Nativity rules
Monday, January 25, 2016 • Telugu Comments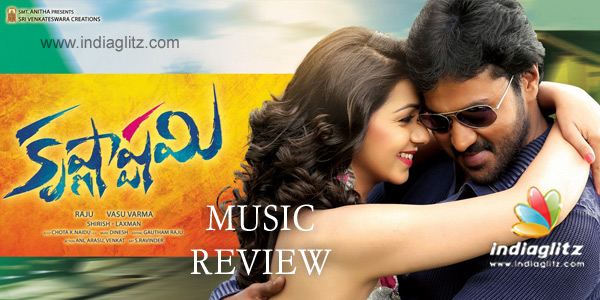 Debutante Dinesh does a reasonably fair job with Anantha Sriram, Varikuppala Yadagiri, Sirivennela Seetharama Sastry, and Balaji in tandem. Revanth, Adnan Sami, Dhanunjay, Ramya Behara, Noel Sean, Rohit Paritala, Divya Kumar, and Mamtha Sharma are the singers.
Gokula Thilaka
Artist: Revanth
Lyricist: Anantha Sriram
The song sets the tone for the story and the hero's character of preferring values over commerce. Anantha Sriram's lyrics pit Western culture (denoted by 'ikkada') against Indian culture (denoted by 'akkada') through the words of the NRI hero. While thematically, the lyrics hail the Indian family system in supple, everyday language, usages like 'wonderful India', 'inspiring India', 'beautiful India', 'Ye hamara India' sound too low-end poppish to be creative. Dinesh's music scores in terms of the re-recording and instrumentation. Revanth's rendering of the number is admirable.
Love Is True
Artist: Adnan Sami
Lyricist: Anantha Sriram
Dinesh's music is splendid when 'Love is true' is crooned by the inimitable Adnan Sami. However, much as the use of one too many English words like flirt, cheat, target, gambling is trendy and apt given the hero's character of an NRI returnee, whole phrases don't finish without an English word - like 'sympathy ni gain chey', 'disturb cheya ra', 'tappu kadu ra sketch vestunna'. Adnan Sami is the hero of the number.
Bava Bava Panneeru
Artists: Dhanunjay, Ramya Behara
Lyricist: Varikuppala Yadagiri
An understated mass-y song this. Varikuppala Yadagiri deploys his knack for writing 'asli' slang language for this song with Telugu nativity as its ballast. Dhanunjay and Ramya Behara are immensely lovely as singers. Dinesh does a fine job with his music that gets on the ears with repeated listening.
Nuvvu Nenu Anthe
Artists: Vijay Prakash, Ramya Behara
Lyricist: Sirivennela Seetharama Sastry
A romantic number with poetic lyrics written by Sirivennela, this one begins with a rip off kinda music, bringing to memory one AR Rehman song. However, Dinesh's music comes into its own as the song progresses. Vijay Prakash with his striking baritone and Ramya Behara with her soft vocals complement the song quite impressively.
Krishnashtami
Artists: Revanth, Noel Sean, Rohit Paritala
Lyricist: Balaji
The fast-paced song is story-based. Balaji's wordplay is laced with words like 'nashtashtami', 'rachashtami', etc. Revanth, Noel Sean and Rohit Paritala render the song with apt vocals. Dinesh's beats could have been enjoyable had deja vu not been snatched from the jaws of inspiration (to put it mildly).
Lefto Punjabi Dressu
Artists: Divya Kumar, Mamtha Sharma
Lyricist: Balaji
Divya Kumar's voice has that rustic flavour that instantly strikes the right (vocal) chord! Mamtha Sharma complements a song that has that folkish essence writ all over it. Balaji's lyrics are imaginative and are a treat for anyone looking for a mainstream item song with Telugu nativity. Dinesh's instrumentation works well.
Verdict: Dinesh does take inspiration from this or that influence, but all in all, this one is an album with strong native overtones and some good instrumentation.
Rating: 3/5