Rousing in bits & pieces
IndiaGlitz [Monday, March 26, 2018 • తెలుగు] Comments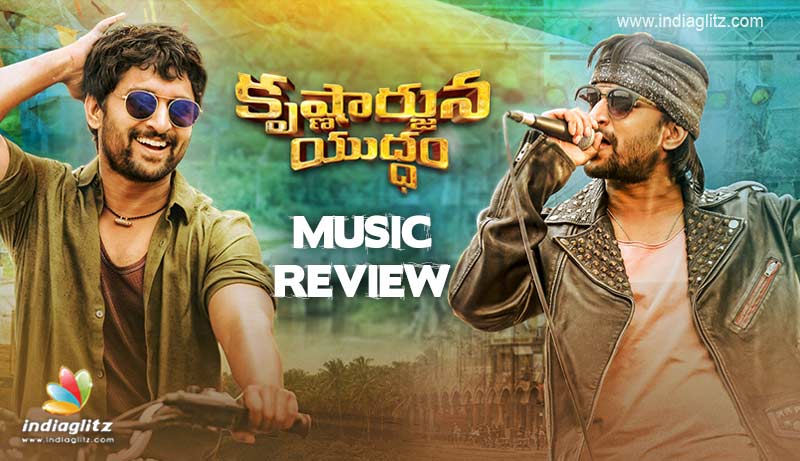 The album of 'Krishnarjuna Yuddham', out on T-Series, has got mostly story-driven songs. Composed by Hiphop Tamizha, it has been rendered by Brodha V, Penchal Das, LV Revanth, Sanjith Hegde, Yazin Nazir, Kaala Bhairava, Padmalatha, Raghu Dixit, and the music director himself.
Turn This Party Up
Singers: Hiphop Tamizha, Brodha V
Lyricist: Hiphop Tamizha
In keeping with the character of the hero, the song is of the rock genre. The English-language lyrics make the cut with their portrayal of the protagonist's mindset. Hiphop Tamizha keeps in mind the song's backdrop and the characterization of Nani's role and thus avoids native influences. Brodha V and the music director himself render the song with energy.
Dhaari Choodu
Singer: Penchal Das
Lyricist: Penchal Das
Either they roped in a Kollywood music director for a reason or they attuned their mind because one came on board. Hiphop Tamizha leaves nothing to doubt in scoring an out-and-out Kollywood-esque song. We have seen such numbers in dubbed Tamil films set in rural backdrops. The rustic fervour of the song can amuse you to a good extent.
Penchal Das pens and renders 'Dhaari Choodu' to reflect the slang and environs of a particular region. Situationally, it's that moment when everybody around the male lead jives in rhapsody because one of their men has successfully wooed a girl, a rich girl at that! Right from his shirt to 'chilaka' nose, they celebrate him on the occasion. The phrase 'Ninnu kori' is quite organic and is not meant to merely refer to the title of a Nani film.
I Wanna Fly
Singers: LV Revanth, Sanjith Hegde
Lyricist: Sreejo
The song 'I Wanna Fly' encapsulates the feelings of not one but two lover boys - Arjun and Krishna. Hiphop Tamizha doesn't give a catchy number. The lyrics talk of how the imagination is endless but that of the music director is not. The flitting between genres is not seamless.
Rendered by Revanth and Sanjith Hegde, the vocals are thankfully not unsettling. The singers do a fairly good job and that's what can be said about them. As for Sreejo's lyrics, the line 'Nee thalapu vidichey nimishamika naakedurupadadhey. Are rey chilipi madike thelisenika naa kalala baruvey' is absorbing.
Ela Ela
Singer: Yazin Nazir
Lyricist: Srimani
A tragedy number, Srimani pens profound lyrics for this prominently sad number. The lover boys sing with a vengeance and it's easy to feel their pain. Yazin Nazir complements the depth of the lyrics with his own heart-felt rendition. Hiphop Tamizha joins the lyricist-singer duo in making it a trendy sad song.
Urime Manase
Singer: Raghu Dixit
Lyricist: Sreejo
The dude in distress knows no bounds. His pathos finds an expression in a rock song kinda scenario. The result is so much of angst-ridden screaming. A welcome one at that.
Raghu Dixit's voluminous voice is offbeat and lovable. It suits the song's mood of longing and desperation. Sreejo's lyrics eminently bring out the poetic quality of the lover boy's pain: 'Vethika nenai aakasam, migila swaasai nee kosam; Epudo needhai naa lokam, yedurey choose yekantham' captures the essence thoroughly. Hiphop Tamizha's music retains a desi flavour even while being faithful to international influences. Somewhere, AR Rahman's 'Raavan' music makes no effort at hiding from public gaze.
Thaaney Vachhindhanaa
Singer: Kaala Bhairava, Padmalatha
Lyricist: K.K.
The number is a slow-paced duet and it takes an ear for music to start appreciating its breeziness. KK's lyrics are enjoyable. Kaala Bhairava and Padmalatha breath soul in to the melliflulous number.
Verdict:
Hiphop Tamizha gets to work on different genres for this album. 'Dhaari Choodu' and 'Urime Manase' take the cake. Lyrics stand out for all the songs.
Rating: 3/5