We shall Vishal!
Thursday, January 21, 2016 • Telugu Comments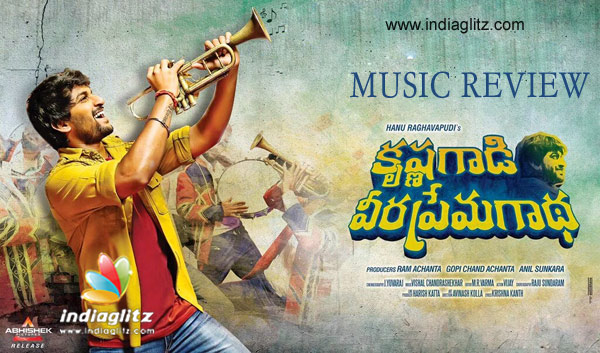 KVPG is a non-lengthy album by the standards of the regular ones. Debutante Vishal Chandrasekhar makes a thorough impact, nevertheless!
Haricharan Seshadri, Sinduri Vishal, KG Ranjith, Vedala Hemachandra, Anthony Daasan, and child singers Shriya and Sumedha are the singers. Krishna Kanth pens authentic Telugu lyrics.
Nuvvante Na Navvu
Artists: Haricharan Seshadri, Sinduri Vishal
Lyricist: Krishna Kanth
The song has profound lyrics of the kind heard in Andala Rakshasi. Nuvvante Na Navvu.. is essentially a lyrics-based song, but Vishal Chandrasekhar's melodious musical rendition is no less lyrically rhythmic. Sensuous romance takes the front stage in the stanza and the pitch raises in the middle. The second stanza presents deep phrases like 'navveti kopanive', 'mouname mata marchesena..', 'kalisocche shapanive..', 'neeralle mareti roopanive..', the eternal promise of the lover boy, all set to drum beats. Haricharan and Sinduri prove to the right voices for mellifluous number like this. Their rendition perks up the appeal of the melody.
Krishnagadi Veera Prema Gaadha
Artists: KG Ranjith
Lyricist: Krishna Kanth
The concept of the song may not be new, but the music is quite enjoyable, never mind the sense of deja vu it induces. The song begins with an old-world, rustic tune. It goes on to metamorphose into a boisterous song. The 'rampara. rampam..' is set in the backdrop of the lover boy's light-veined agony. Ranjith has a unique baritone to carry this song through. A playful number this!
Aa Seetha Devainaa
Artists: Shriya, Sumedha
Lyricist: Krishna Kanth
The hardly 130 seconds song is rendered by child singers Shriya and Sumedha. The tune is the same as that for Nuvvante Na Navvu... The two-lines lyrics tell the legend of Goddess Seetha's isolation and refer to the heroine in second person.
Rara Ravera
Artists: Vedala Hemachandra, Anthony Daasan
Lyricist: Krishna Kanth
The song is a typical hero-oriented song where the male lead establishes his own character. In this number, Krishna 'gadu' does in a curious way, self-glorifying himself as someone capable of turning even a pacifist into an aggressive wielder of weapon. This is one song where some English words are heard, that too to the most minimum extent. The folksy song is perked up with an instrumental 'Buddhudu katthi tippada..'
Hemachandra enlivens the song with his vocals. Chorusing with Anthony Daasan, he entertains. Vishal's tuning is appealing to all sections of the audience and fits well with the rural backdrop.
Verdict: With just three full-fledged songs and one short number, this album has mellifluous as well as boisterous music thrown in. A fascinating fare!
Rating: 3.25/5