A Thaman Musical
Monday, January 4, 2021 • Telugu Comments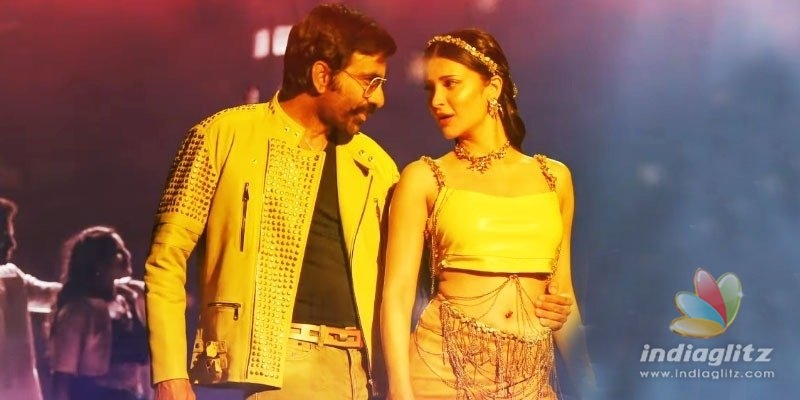 The first single from 'Krack' is out, on Lahari Music. Here is our review of the song. The other numbers will be reviewed as and when they are out.
Bhoom Bhaddhal
Singers: Mangli, Simha
Lyricist: Ramajogayya Sastry
This is a typical pub number where Thaman assumes the role of an Anup Rubens and comes up with the most uninspiring output possible. Mangli, who has a flair for sexing up special numbers, delivers goods. Simha's voice is a turn off. Vandemataram Srinivas, Vijaya Lakhsmi and Srikrishna chip in with additional vocals. In an otherwise forgettable song, it is Ramajogayya Sastry's lyrics that scrape through.
BalegaTagilavey Bangaram
Singer: Anirudh Ravichander
Lyricist: Ramajogayya Sastry
The Thaman-Anirudh combination sounds refreshing, with the scales tilting towards the latter. It's as if the singer exerted a heavy influence in determining the flavour of the song rather than allow the musician to do it. Ramajogayya Sastry's lyrics trod the beaten path, with hardly a novel touch. Thaman deploys instruments that allow Ravi Teja to indulge in his typical dance moves.
Korameesam Polisoda
Singer: Ramya Behara
Lyricist: Ramjogayya Sastry
The song has those 'Lovely wife has boundless affection for her busy husband' vibes written all over. Sastry's lines capture the mindset of such a homebound wife. The line 'E gullo e ganta vinipinchinagani ninnega ne thalachukunta' is fabulously-written. Ramya Behara's voice is soothing and just suits the mood of the melody. Thaman, more often than not, impresses with melodies for star heroes like Ravi Teja. This song is no exception.
Mass Biriyani
Singers: Rahul Nambiar, Sahithi Chaganti
Lyricist: Kasarla Shyam
The lyricist takes the 'item' song vibes to their absurd end and objectifies the hero, the heroine and everyone in between. The liberal usage of English-language words like 'Family pack' has a Bhaskarabhatla-esque ring to them. Besides the self-referential word 'Balupu' (which was a movie of the Gopichand Malineni-Ravi Teja duo), there are too many cliches out there. Sahithi Chaganti's voice trods the beaten path. Rahul Nambiar's voice is energetic. Thaman deploys the drums and percussions in a typical manner.