An MM Keeravani Musical
Tuesday, October 5, 2021 • Telugu Comments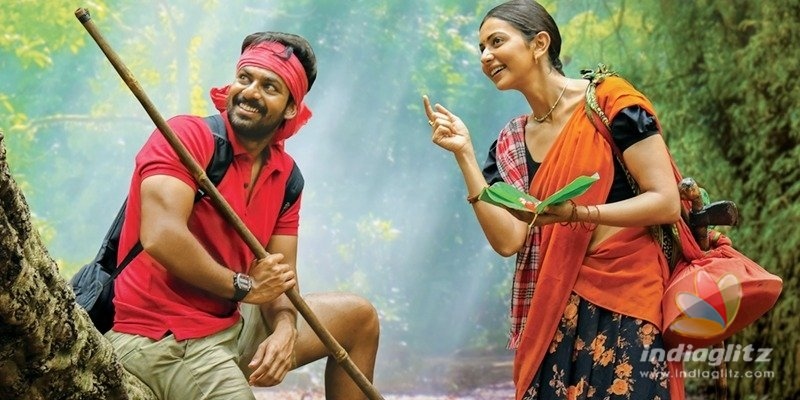 In this section, we are going to review the album of 'Konda Polam', which is to stream on Mango Music.
Obulamma
Singers: Satya Yamini, PVNS Rohit 
Lyricist: MM Keeravani
Composer Keeravani doubles up as a lyricist. Phrases such as 'Chadivesademo naa kalalu... Untade needai repavalu' are uninhibited in their expressive tone. The love song is named after the female protagonist's name and it's a highlight in itself. Rohit's voice is dense like a Yesudas'; it sounds matured in step with the characterization (perhaps). Satya Yamini voice is mellifluous. Musically, the song rings in the musical charm of the 1990s.
Shwaasalo
Singers: Yamini Ghantasala, PVNS Rohit 
Lyricist: MM Keeravani
The sensuality of the song is captured by Keeravani's lilting, slow music. And the inherent romance and mild sexuality are elevated through the lyrics, which are also penned by the music composer. Rohit's voice is striking, and it's commendable that the song hasn't given into the Sid Sriram mode of singing. Yamini Ghantasala's voice is soothing. All in all, this is a winner of a song. The tuning is also reminiscent of Keeravani's 'Okariki Okaru' (2003).
Tala Etthu
Singers: MM Keeravaani, Harika Narayan, Sri Soumya Varanasi 
Lyricist: Sirivennela Seetharama Sastry
The song gives a feeling of communal action. Keeravani's voice is more pronounced than that of others. Perhaps, a more youthful song would have sounded distinctive. Sastry's lyrics are definitive and are drawn from the nature of the subject. The tune has a period drama feel. Is it the effect of Keeravani working on 'RRR' while doing 'Konda Polam'?
Dham Dham Dham
Singers: Rahul Sipligunj, Damini Bhatla 
Lyricist: Chandrabose
The vibes of the song serve the purpose of a lively introduction song - introducing a place, that is. Rahul Sipligunj's voice is striking and enlivens the mood, standing in contrast with Damini's mellowed voice. Chandrabose's lyrics are rhythmic and lend themselves to the tribal feel.
Kadhalu Kadhaluga
Singers: Kailash Kher, Yamini Ghantasala 
Lyricist: MM Keeravaani
Kailash Kher's voice has the ability to be immersive, especially if the montage song is placed in a serious segment of an emotional drama. Yamini Ghantasala is superb with her rendition. Keeravani's lyrics parade the emotional beats of the story without resorting to too much poetic flourish. An engrossing number that stands out for its consistent quality.
Daarulu Daarulu
Singers: MM Keeravaani, Harika Narayan 
Lyricist: Sirivennela Seetharama Sastry
The song is staged like an emotional montage moment. Keeravani adopts the 'raga' of a Baahubalian proportion. Harika Narayan's voice conveys pathos more than the male singer's. The old-school tuning might sound too melodramatic if not tempered with the right picturization. Seetharama Sastry's lines are laced with profound meaning.
Chettekki
Singers: Kaala Bhairava, Shreya Ghoshal 
Lyricist: Chandrabose
Kaala Bhairava has followed the vocal tradition of his father as a singer. Shreya Ghoshal's famous voice feels happy and uplifting. Chandrabose's lyrics are another highlight. The song sounds more modern and less pre-2000s.
Verdict:
An album with a mix of genres. Keeravani gives a definitive album.
Rating: 3