Fusion
IndiaGlitz [Friday, August 5, 2016 • தமிழ்] Comments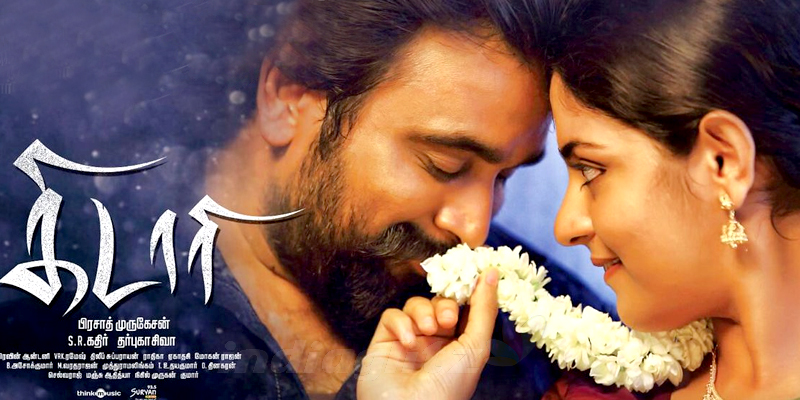 Since we already know that Kidari is a raw action movie with earthen flavours, we know what to come prepared looking for, when we tune into its album. And that's precisely the very prejudice that Darbuka Siva and Mohanrajan have set out to break. Gear up for a sweet surprise.
1. Vandiyile Nellu Varum - Listen here
Voices : Anthony Daasan, Sanjana Kalmanje
Lyricist : Ekadesi
So we set out on this journey, with a typical distant tune, singing of bounty. Pause right there, pick up the drumsticks, and tune the guitars, for the next few minutes of a happening number. Anthony's soulful voice delivers absolute justice to the folk tune that has taken an interesting twist. There is an interim in Sanjana'a voice, which makes for the only melodic part in the entire song. Coming out as a soulful song, this number is the first one to the break stereotype fixated to folk songs.
2. Vettaruva Veecharuva - Listen here
Voice : D. Velmurugan
Lyricist : Ekadesi
The second one in the album is in contrast to the first, in terms of pace, mood, and message. What's an action thriller, without raw emotions? Vettaruva Veecharuva is a song that captures the heaviness of the thick air that surrounds the scene of a calamity. Nothing is fair in war, there is hardly any direction to the force, when in action. This has been outlined clearly in the choice of words, rendered in the stiff voice of Velmurugan, on a palpably bulky tune that moves slow.
3. Thalakaalu Puriyalaiye - Listen here
Voices : K. Aniitha, Velmurugan
Lyricist : Mohanrajan
For the way this song unfolds, you wouldn't believe us when we say it is a peppy dance number. Thalakaalu Puriyalaiye very much is a high energy dance number - not an ordinary one there, this is a full-fledged jazz bash. Unfolding slow and steady, the song raunches up to a thrown-open zest, with every little necessity of jazz - keys, beats, pipes, and lovely lot of trumpets. Substantiating the mood, Anitha's voice sets the ground for making the song a wholesome package, and Velmurugan's rendition complements the feeling overall. Together, the duo hail the hero.
4. Pagaivanukku Arulvai - Listen here
Voice : Haricharan
Lyricist : Mahakavi Bharathiyar
It is game to capture action and fight on screen, but is next to impossible to encompass such a heavily pregnant moment, in music. But Mohanrajan and Darbuka Siva have hit the bull's eye in this feat. Pagaivanukku Arulvai is a prayer, and carries dark shades to it. Joining hands in prayer, for the bad luck about to befall in the conflict ahead, this song hits the right notes of pain and anxiety, thanks to Haricharan's soulful rendition.
5. Nenjukulla Ninnu Kittu - Listen here
Voice : Sanjana Kalmanje
Lyricist : Ekadesi
This song is the only romantic number in the entire album, and when it is this precise, one song is all the relief you will ever need. In the lilting sweet voice of Sanjana, this coy romantic solo, is a worship of adulation, sung by the lady love, for her man. With percussion and tune setting the air apt for the song, it is worded with courage, shyness, frustration, and adoration - every little aspect of the internal conflict that makes up the emotion called love; it is this lyrical beauty, which accentuates the emotion of the song.
6. Kaathu Veesudhu Kaathu - Listen here
Voices : Darbuka Siva, Gowtham Bharadwaj
Lyricist : Mohanrajan
The triumph of victory that floods the bloodstream when success is only an arm's reach - that's exactly what this song delivers. Borrowing tune from an earlier peppy number, this song is mostly composed of percussion. Minimal lyrics set to tune on notes of happy high, Kaathu Veesudhu Kaathu is a song of positivity.
7. Velivarum Ulmugam - Listen here
The last track in the album is a theme. Out-and-out in bass orchestra, Velivarum Ulmugam elaborates the anxiety and aggression associated with ravaging war scene. However, the tune isn't racy; instead, it is set to the pace of reality, as the hardship of conflicts hits us hard - it blows slow, yet hard with ample force.
To summarize the album of Kidari in a word, it is a surprise. This jukebox has wrapped into it, all the emotional aspects of action, which we otherwise don't find in the market. Elevating the expectation of a worthwhile watch, Kidari album scores high in the new meaning that it has brought to the genre of folk.
Rating : 2.75/5
Verdict : Folk that appeals to the today's trend