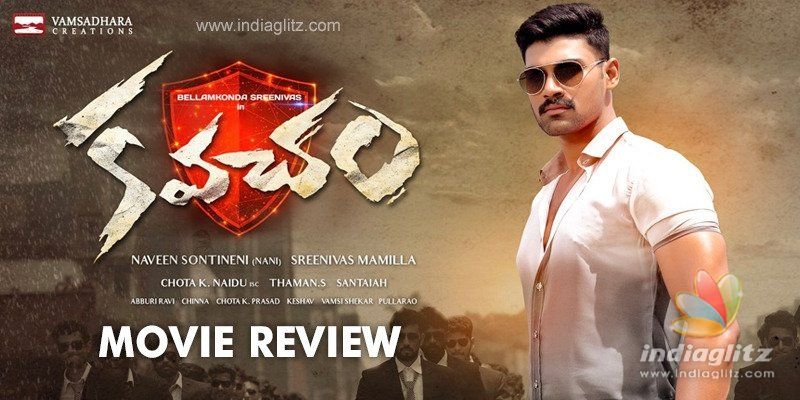 'Kavacham', starring Bellamkonda Srinivas in the lead, hit the screens this Friday.  Here is our review of the action-thriller.
Story:
Vijay (Bellamkonda Srinivas), an upright cop, accidentally meets Samyukta (Kajal Aggarwal), a server at a coffee shop.  
Just as he plans to propose to her, the woman leaves his life to marry someone else.  This is when he saves a stranger (played by Mehreen) from rapists.  She has a backstory of her own.  Just as Vijay tries to solve her problem, he comes to know that Mehreen is the niece of Mahendra Varma (Mukesh Rishi), a multi-billionaire whose son Aditya Varma (Neil Nitin Mukesh) loves her.  
Mehreen asks him to enact a kidnapping drama for a reason.  Vijay does it, only to realize a shocking twist at the interval.  
Analysis:
Most of the times when a Telugu cinema actor decides to do a film that decisively portrays him as a mind-blowing action hero, the audience is hardly left with a 'kavacham' (shied).  So, Prabhas Sreenu is there in the film only to tremble so much in the presence of Bellamkonda Sai Srinivas that the last time he shivered with so much fear was in the presence of Pawan Kalyan in 'Gabbar Singh'.  And the last time a heroic cop in a film bragged so much about the greatness of a cop is hard to remember.  Maybe, the number of times Bellamkonda delivers pro-police lines in the film far exceeds that from 'Vikramarkudu' and 'Dookudu' put together.  
'Kavacham' is the kind of film in which the hero sings that nobody should show "build up" (the lyrics of the first song) just a few moments after a character calls him a missile!  
When you are making a thriller, you need to have a tight screenplay and at least 2-3 characters with a brain.  Here, a dashing and sincere cop (played by Harish Uttaman) behaves as if he took an oath before becoming a police officer to never take the help of those manning the checkpoints or traffic signals even if it's a high-profile case that he is investigating.  So, if the culprit escapes from the scene in a vehicle, he says 'Shit' to himself and goes back to home.  
CCTV footage is something only our hero is capable of using; his rivals don't know that the technology is available in India.  The hero keeps roaming in the city without a care in the world even as hundreds of policemen are presumably manhunting him.  Our hero needs to know something and he directly goes to the particular spot, risking being caught by the police, despite the fact that the whole incident is being aired on those goddamn news channels!  
The villain is a ruthless, sophisticated billionaire-criminal but he has got just one gun for his entire life.  Take that away from him, the hero can win the war after a long bout of dishum-dishum with his gun-less goons.  
Now about the rom-com tracks: Every single time, Vijay bumps into Samyukta so accidentally that it's possible only in a village of the size of a cricket stadium.  A half-baked kidnap-extortion episode (full of loose ends) happens.  The hero is relieved.  He breaks into a song asking the heroine this eminent question in the august presence of foreign junior artistes: 'Vasthaa pilla, long drive podham'.  
Meanwhile, Posani (as Chintakayala Avesham) keeps on over-reacting to his own difficulties.  Comedian Venu spoils himself with melodramatic dialogues, although not so much as the artiste who plays the hero's mother.  Sathyam Rajesh plays the hero's loyal subordinate and he is even more sad about the hero's travails than the hero himself (if you meticulously notice Bellamkonda's expressions, he actually maintains a subtle laughter expression 94.66 percent of the time).  
It's time for Tollywood to give up on formulaic stories.  Just adding a rapist gang (led by actor Ajay), a comedy gang (led by Prabhas Sreenu), a hired goon (Harshavardhan Rane in a cameo) doesn't make a complex screenplay.  
Bellamkonda has to transcend the temptation of high-octane action scenes that he is always destined to pull off with elan in film after film.  Kajal is reduced to a joke and she is utterly relaxed even when she is in danger.  Mehreen shouldn't have had a song at least as a consolation.  Mukesh Rishi is wasted, while Neil is there to give away too much right from his first scene with his stock expressions.  
SS Thaman's background score does work, while the songs fall flat.  Chota K Naidu's visuals are adept.  
Verdict:
An old-fashioned storyline is not saved by a distinct template.  Lack of earnest narration robs the template of its potential.  Too many loose ends and lame dialogues only exacerbate the viewing woes.
Rating: 2.5 / 5.0
Showcase your talent to millions!!
Write about topics that interest you - anything from movies to cricket, gadgets to startups.
SUBMIT ARTICLE
More
Telugu Movie Reviews
Rangamarthanda
Das Ka Dhamki
Kabzaa
Phalana Abbayi Phalana Ammayi
CSI Sanatan
Anger Tales