Kanne Kalaimaane
Friday, February 22, 2019 • தமிழ் Comments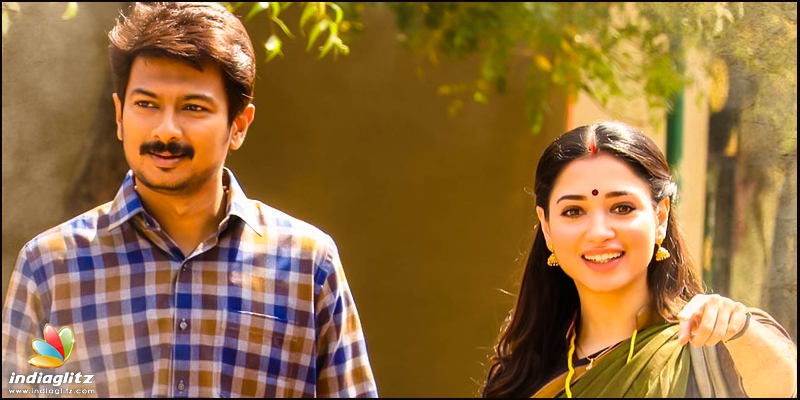 Two years after delivering the commercially successful heartwarming drama Dharmadurai starring Vijay Sethupathi, acclaimed maker Seenu Ramasamy returns with Kanne Kalaimaane, joining hands with Udhayanidhi Stalin for the first time. and the actor has also produced the movie in his Red Giant Movies.
The rural drama is set in and around Sholavandhan, and has Udhayanidhi Stalin as Kannan, a farmer and a son of the soil, who has greatest respect for the land and agriculture. Tamannaah plays a bank officer Bharathi, and the movie essentially deals with issues faced by farmers, the troubles in getting loans and repaying the same, that also strains the relationship between Kannan and Bharathi, as well as Appatha (Vadivukarasi). Were Kannan and Bharathi able to understand the problems faced by the other, and did the family reconcile, burying the differences and sorting out issues is what the movie is all about.
Udhayanidhi Stalin, after playing a semi-rural character in Nimir, this time gets to play a full fledged rural character and a farmer, and Tamannaah's role of a bank officer, typically looks an extension of her Dharmadurai act. Veteran Vadivukkarasi reportedly plays a pivotal role in the proceedings, while Vasundhara Kashyap, who starred in Seenu Ramasamy's Thenmerku Parvukatru has also got a meaty role. 
Jalandhar Vasan makes his debut as a cinematographer with Kanne Kalaimaane, that gives him ample opportunity to present the rustic locales and the life of farmers, and Yuvan Shankar Raja has given some melting melodies after Dharmadurai.
Seenu Ramasamy has always been known for his presentation of realistic, life like characters and situations, and deft handling of emotions that tug at the heartstrings. This time around, he has touched the most relevant issues faced by farmers, entangled in an sentimental package, and from the trailer, Kanne Kalaimaane promises to offer an emotional feast on February 22.