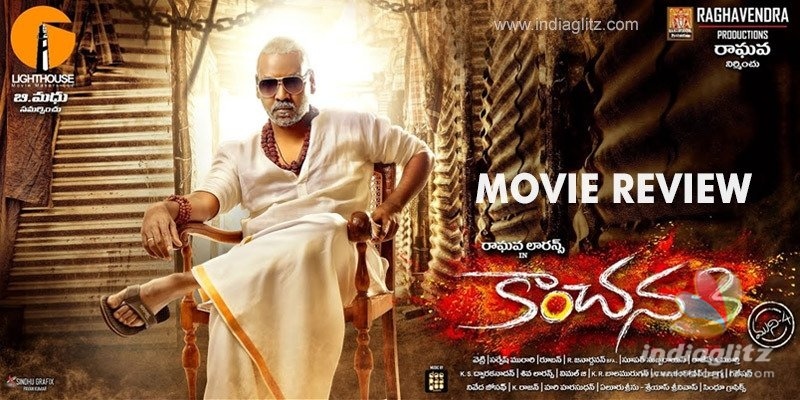 'Kanchana-3', starring Raghava Lawrence in the lead, hit the screens today (April 19).  Here is our review of the horror-comedy that becomes a horror-action drama in the second half.  
Story:
A young chap (Raghava Lawrence) is scared at the mere mention of the word ghost.  As destiny would have it, such a character ends up in a bungalow which is haunted by a spirit.  Obviously, it is seeking revenge.  
Once the story moves to the bungalow, it's a season of scary scenes that are typical of the 'Kanchana' franchise.  (The desired impact is missing, though).  
Going by the trailer, we can easily guess what is in store in the second half.  And when it comes, it arrives with overdone scenes and emotions.  The flashback is too stale to be taken seriously.  
Analysis:
Imagine this.  Kodi Ramakrishna loved his film 'Ammoru' so much that he continued to make 'Ammoru-2', 'Ammoru-3', so on and so forth, year after year.  With the hangover becoming overbearing, he made 'Ammoru-4' as a rip off of 'Ammoru-3'.  Will you tolerate it?  Raghava Lawrence wants us to tolerate 'Kanchana-3' aka 'Muni-4' (frankly, who wants two titles for a film?  Is the other name a botanical name or what?).  
Probably because the title has got the number '3', our director felt that there should be three glamorous babes.  Oviya, Vedhika, and Nikki Tamboli are the ones.  Invariably wearing revealing outfit, they are victims of the hero's hotness. They pine for him, they literally want him to jump and sit on their hips unannounced.  If he doesn't do that, everyone in the family and their aunties will feel really bad.
This is an eccentric comedy.  Acceptable.  Not that we have never enjoyed Lawrence's style of comedy.  In fact, we love him and his onscreen quirks with Kovai Sarala (the hero's mother is there, screaming funnily like a lovable woman).  But too much of anything can be too bad.
The director Lawrence over-indulges Kalki (played by Lawrence himself).  Guess what, he is much like how Lawerence is in real life.  After a point, the film threatens to become semi-autobiographical.  Had Lawrence been contesting elections, the Election Commission would have stalled the release of 'Kanchana-3'.  You can imagine.
The flashback is way too lengthy.  It never comes to an end.  It goes on and on.  There comes a song that hails the grey hair of Kalki (yes, you read it right).  There comes a song with his girlfriend and it comes with amateurish execution.  Bit characters and junior artistes come and go.  They laud Kalki, they laud Kalki, they keep lauding Kalki.
It's the performances that the film's only bright spot.  Lawrence is cool; he is convincing in both the roles.  Kovai, Sriman, Devadarshini and others are good.  The heroines don't get anything meaty.  
Thaman's music can be safely given a miss, barring a song perhaps.  The cinematography is below average.  
Verdict:
'Kanchana-3' is strictly a rip-off of known things.  Lawrence should seriously stop clinging to the genre, and similar characterizations.  It's all too jaded.  The Kollywood flavour is too heavy.
Rating: 2.5 / 5.0
Showcase your talent to millions!!
Write about topics that interest you - anything from movies to cricket, gadgets to startups.
SUBMIT ARTICLE
More
Telugu Movie Reviews
Extra Ordinary Man
Kadak Singh
Hi Nanna
Calling Sahasra
Atharva
Animal