Kajal Aggarwal on 'MLA', balancing it out, & more
Thursday, March 22, 2018 • Telugu Comments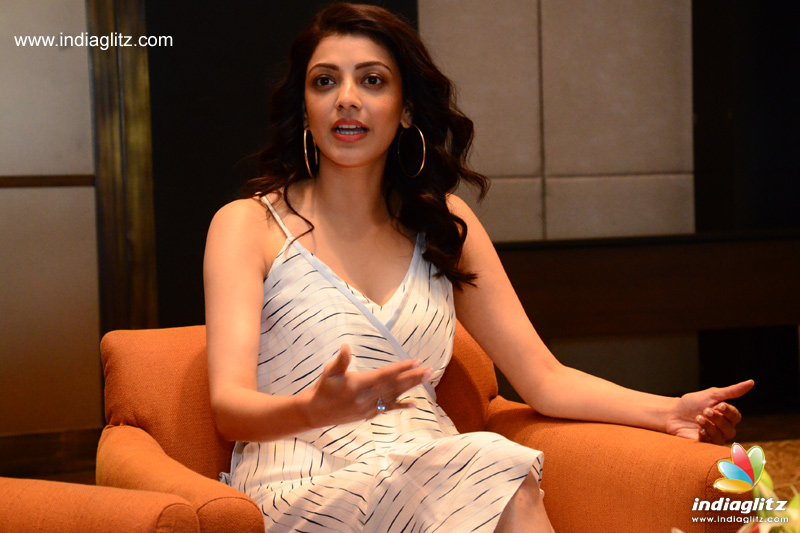 Kajal Aggarwal has decided to try out distinct roles. If in February she did 'AWE', in March, she is ready with the commercial 'MLA'. If Bellamkonda Srinivas's film is commercial, 'Queen Once Again' in Tamil is in a different mould. Saying that playing strong roles gives her a high, the beautiful lady talks about what makes 'MLA' a special movie.
You have worked with Kalyan Ram before. How was it reuniting with the hero?
There is a lot of comfort level with him. We both have changed and grown up since the time we did 'Lakshmi Kalyanam'. Back then, I was raw and didn't understand cinema. This time, we spoke generally about life and stuff about cinema. He is a cooperative co-star. I wasn't in touch with him after our first film together. As such, we both were nostalgic when we met again for 'MLA'. We would talk about how times have changed.
What is your role in the movie?
I have played a corporate, NRI girl in 'MLA'. You are not sure what she is doing till the interval. It's not a typical dance-and-son role. She is a strong woman. In real life, we are strong women. So, I loved portraying it.
'MLA' also has a message related to education. Isn't it?
It has a very relevant message. However, the film doesn't emphasize too much. At the end of the day, it's a commercial, multi-genre, entertainer.
On a scale of 1 to 10, how do you rate Kalyan Ram?
(Smiles). 8.5 That extra 0.5 is because he is a very honest and sincere person. He is very focused. He is so involved in his family matters. The way he talks about his wife and children impresses me!
Did you land any special song after 'Janatha Garage'?
I got so many offers but I didn't accept them.
You have recently done an experimental film like 'AWE'. Have you decided to do experimental stuff from now?
It's human nature to always want more, to have different experiences, and to diversify your portfolio. I did get quite a few such offers in the past. But I had no dates to do them. My priority now is to do roles that leave an impact. If and when I get a chance, why not execute it? The audiences too nowadays want to see interesting cinema.
Are you reinventing yourself?
I don't see it that way. I am bored of the same stuff. In my quest to be different, I am doing films like 'AWE' and the Tamil remake of 'Queen'. I am happier and more grateful than ever. It's not like I am going to be totally into experimental films. I am also doing Bellamkonda Srinivas's movie, which is commercial. I am trying to balance it out.
How are you approaching films like 'AWE' and 'Queen'?
It's not easy to do an 'AWE'. Although it was just for one week that I shot for 'AWE', the amount of hard work we had to put was intense. I shot for 18 hours a day. I spoke to psychologists and studied cases. I am enjoying the process of doing a 'Queen'.
It's not like experimental always means doing emotionally traumatic roles. Girls do lead normal lives. I am open to different genres.
Are you embarrassed about doing any film or films in the past?
It's not about embarrassment. We all learn as we grow up. When I look back at what I was doing, wearing, etc I do feel I shouldn't have done some things. Having said that, I am proud of what I have done and learned.
Looking back, how do you see yourself after doing about 50 films?
I never thought I will come this far. When I debuted, I thought I will do just one movie. It took me about five films to understand that acting is my calling. To be precise, it was after my seventh film 'Magadheera'. I am grateful to God and the Telugu audiences. I don't have any regrets.
Why are you not doing enough of Bollywood?
When I do Bollywood, they ask me why I am not focussing on South cinema. When I do South, they ask me why I am not doing Hindi. I don't do Hindi for the sake of doing it. Quality is more important. South is doing amazing films.
We heard that you were approached for Ravi Teja's 'Amar Akbar Anthony'. Why didn't you do it?
I couldn't do it for want of time.
Actress Photos
Tejaswi
Raai Laxmi
Nidhhi Agerwal
Mannara Chopra