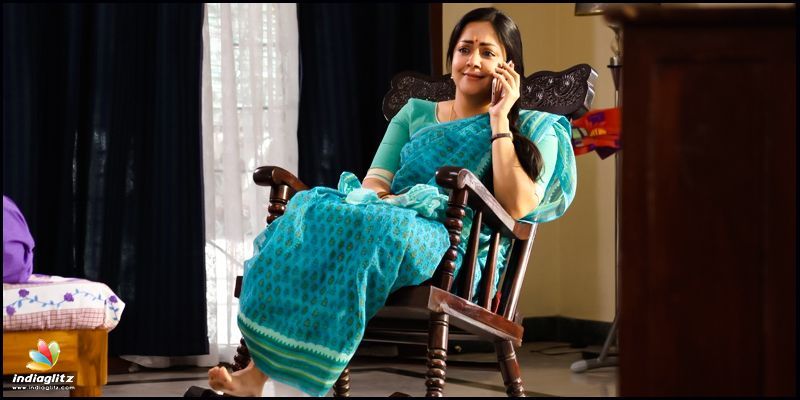 Kaatrin Mozhi - Breezed up by some humour and sentiments
When Radha Mohan and Jyothika came together in 'Mozhi' eleven years back sheer magic on cellulloid was created.  Now after eleven years they have reunited for the Tami remake of the Bollywood hit 'Tumhari Salu'.  It remains to be seen if the duo meets the same critical and commercial success in this poorly adapted and contrived screenplay. 
Vijayalakshmi (Jyothika) is a loving wife and mother of a pre-teenage boy who wants to do something with her life trying one misfired business venture after another.  Though her husband Balu (Vidharth) is a pillar of understanding her own father (Mohan Ram) and elder sisters degrade her at every opportunity they get about her failures as a school student and as a person.  Viji gets a chance to become an RJ at a radio station for a late night adult-themed show and how her first success in life affects her and those around her forms the rest of the screenplay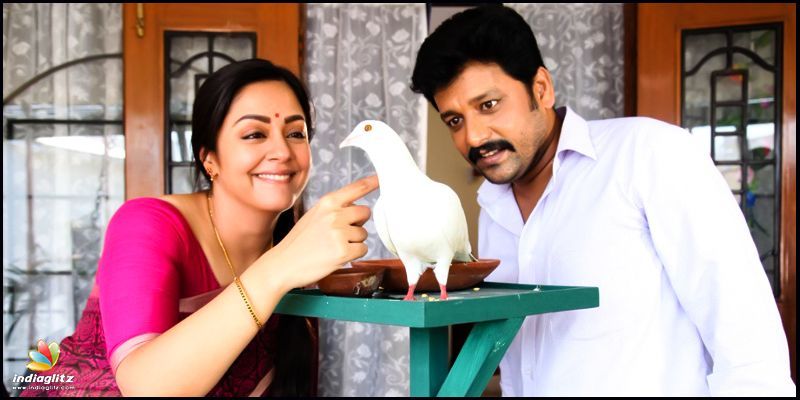 Jyothika, in the beginning, plays Vijayalakshmi in her usual over the top style which almost sinks her character but then as the film progresses she settles into a nice rhythm to give one of her career-best performances.  Those wide eyes of hers express the joys, victories and the defeats of Vijayalakshmi especially in the sequence when she has a fallout with her husband and he speaks to her on air.  Vidharth is one solid talent who is sadly underutilized in Kollywood and credit to him for raising the husband character from a supporting one and placing it on an even keel with Jyothika's Viji. The standout scene for Vidharth is when he takes humiliation from a new boss whom he had seen grow from a boy to a man.  Lakshmi Manchu as the Radio Station head and Kumaravelu as a colleague bring the media personalities to life. Mayilswamy is a scream as the lecherous store owner who falls victim to Vijayalakshmi's pranks.  Manobala and Yogi Babu in a cameo tickle the funny bones in their scenes while M.S. Bhaskar and Uma Padmanabhan take care of the sentimental side.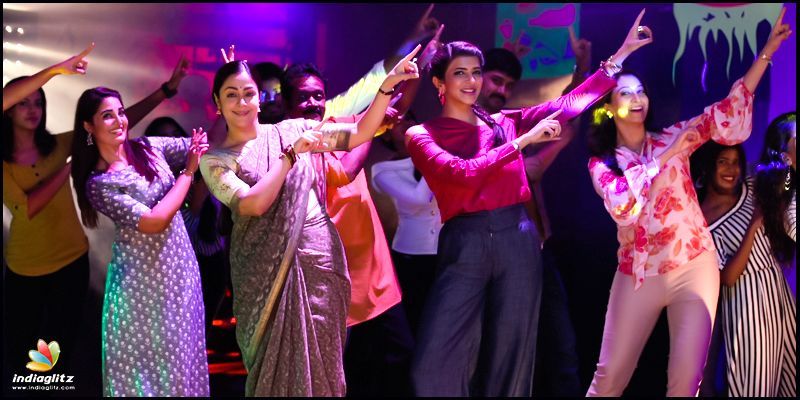 Apart from the all round good performances what works best in 'Kaatrin Mozhi' is the humor scenes though unconnected to the story.  A few sentimental scenes too hit the chords such as Jyothika giving life advices to men (including M.S. Bhaskar) on the late-night show or driving the rigid Kumaravelu to tears by cooking his favorite food.  The chemistry between Jyothika and Vidharth is excellent making their characters shine together along with the boy who plays their son.  There are strong female characters along the way like the call taxi driver, the readymade food business owner (played by Uma Padmanathan) and Lakshmi Manchu's Maria.  The Simbu cameo for no fault of his fails to cause any ripples in the story progress.
On the downside, not much care has been taken to adapt the story with nativity and though all the scenes are good there is no cohesion in the larger picture.  The narration leaves one with the feeling of watching a stage play as the contrived scenes pile up.  Vidharth feeling envious of his wife is so completely out of sync with his characterization and the boy gone missing climax twist is hardly convincing. The plot of an ordinary housewife handling an adult radio show opens up a trove of possibilities in humour and psychoanalysis but 'Kaatrin Mozhi' does not go beyond the obvious in content or making.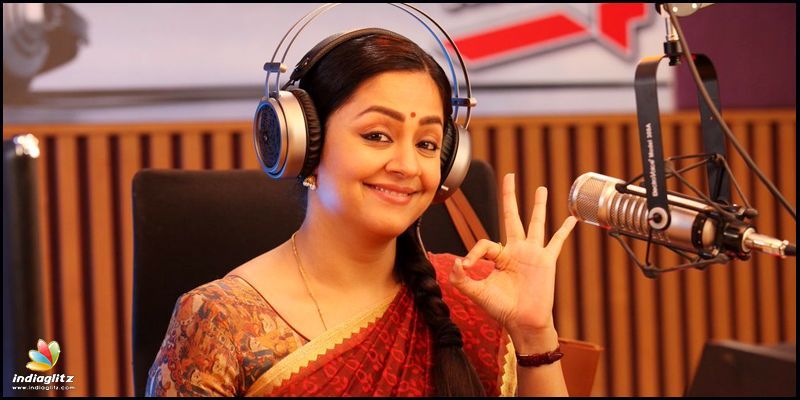 A.R. Rahman's nephew A.K. Kaashif makes his debut as music director and is passable both in the songs and the background score.  Mahesh Muthuswamy's photography and Praveen KL's editing are as usual complimentary.   It is hard to believe that Radha Mohan, the man who gave us 'Mozhi' and 'Abhiyum Naanum' is behind this remake and at best he has made a family friendly movie.  
Go for it for the performances of Jo and Vidharth and the other cast members and you get a few genuine humour and sentimental scenes too.
Rating: 2.75 / 5.0
Showcase your talent to millions!!
Write about topics that interest you - anything from movies to cricket, gadgets to startups.
SUBMIT ARTICLE
More
Tamil Movie Reviews
Sinam
Vendhu Thanindhathu Kaadu
Brahmastra: Part One - Shiva
Kanam
Captain
Cobra