Going the rap way
IndiaGlitz [Thursday, May 10, 2018 • తెలుగు] Comments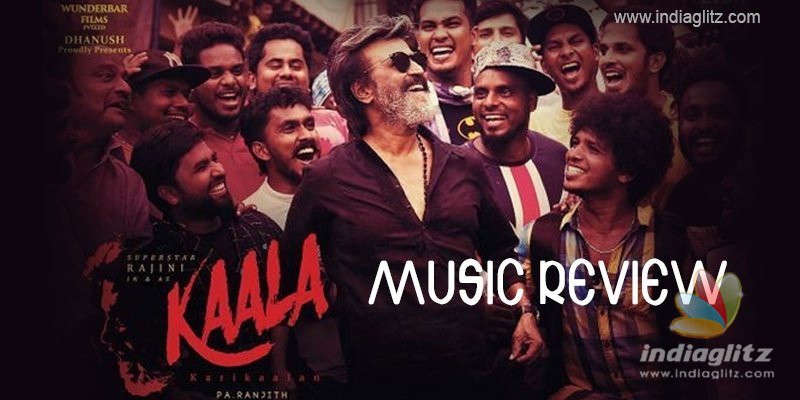 Composed by Santhosh Narayanan, the album has lyrics by Vanamali, Pranav Chaganty, Dopeadelicz, Chandrabose, Shankar Mahadevan, Pradeep Kumar, Ananthu, Hariharasudhan, Vijay Prakash, Arunraja Kamaraj are the singers.
'Yama Greatu'
Singers:  Santhosh Narayanan, Hariharasudhan
Lyrics:  Pranav Chaganty and Dopeadelicz
'Yama Greatu' is much along the lines of a 'Kabali' song (read 'Merupu').  Santhosh Narayanan chips in the services of Hariharasudhan to complement his own singing talent.  Their voices come with an aura of irreverence.  Chinna, Britto and RK Sundar do the chorus.
The lyrics and Rap Verses of Pranav Chaganty and Dopeadelicz go into extolling the life of the slum dwellers, whose hero is Kala Sait (Superstar Rajinikanth).  It's as if the song was tailor-made for a May Day release: "Black is the colour of our labour. Victory will be in Kaala's favour. You will run away if he glares at you.  He will break you into pieces if you dare.  Be careful! This is Dharavi!" the English translation of the lyrics go.  From guitar zaps, percussions and rap portions, the track makes the right 'trumpet' noises.
Chittamma
Singers: Ananthu, Shweta Mohan
Lyrics: Vanamali
This soulful number reminds one of Maestro Ilaiyaraaja's style.  Though these type of songs are a repetitive motif in Santhosh's portfolio, we cannot ever reject them.  With soulful guitar, piano play, scintillating flute portions, 'Chittamma' just wins.  Ananthu's voice adds a peculiar, melancholic taste to the song. Vanamali's lines are medicine for the broken soul.
Raaye Naa Range Leela
Singers: Shankar Mahadevan, Pradeep Kumar, Ananthu
Lyrics: Vanamali
Guitar accompaniment, folk percussion and harmonium sweeps add texture to the song as much as Vanamali's lines touting affection for a wife. However, the song induces a been-there-done-that feel.  There is no much originality in terms of the tune.  Shankar Mahadevan's familiar voice is welcome.
Nikkal Nikkal
Rap: Pranav Chaganty, Dopeadelicz, Arunraja Kamaraj
Lyrics: Pranav Chaganty, Dopeadelicz
Is this song cryptically inspired by the 'kekalu' in Pawan Kalyan's folkish quickies? Leaving that aside, charged with a suave background, the song even has the feel of the 'Mokkajonna' song from 'Sathyam' (music by late Chakri).
'Nikkal' translated to Telugu as 'Leave (the place)' is a strikingly fitting word that the lyricists have exploited. The rhyming meters are spot on for the track which gives its strength.
Poradathaam
Rap: Pranav Chaganty, Dopeadelicz
Lyrics: Pranav Chaganty, Dopeadelicz
Sinister and macho at the start, the track suddenly bursts with riveting raps. This might be Dopeadliciz's most earnest in the album.  The lines that may seem slightly bland. Lines that call out on societal issues and demand a revolution needs power in composition. And Sathosh succeeds only to a limited extent.  As for social commentary, let the song be given its due: The humble origins of rap as an anti-establishment genre among the blacks gets a fair enough reimagination in the hands of the Indian composer.
Nele Maa Hakku
Singers: Vijay Prakash, Ananthu
Lyrics: Chandra Bose
Director Pa Ranjith called this his favourite track. And you have to listen to it to understand his sentiments. A gaana flavoured percussion, you hear guitar plucks too, and a controlled energy in the track is what doesn't make the track a failure. It necessarily need not impress you on a musical level, but it might sure impact you on an ideological and moral scale.  Chandrabose's rousing lines ensure that.
Maa Veedhula
Singer: Vijay Narain
Lyrics: Pranav Chaganty, Dopeadelicz
The song spews vigour. More than the music and the beat pattern (though difficult to notice), it is the simple, lucid, straightword lyrics that will impress you. The motif of 'Kaala' as a politically charged up album is unabashedly strong in the track. If you heard this song sans music, as a standalone vocal, you will still like it.
Onti Thala Raavana
Rap: Roshan Jamrock, Arunraja Kamaraj, Ganesh Ram PS
Lyrics: Vanamali, Sreeramakrishna, Roshan Jamrock
Grunty vocals, hardcore electric guitar zaps are the unique selling points of the track. English rap portions add a 'class' value to the outgoing song surprisingly. You will get an inkling how just imagining Rajini while listening to the track adds power to the number.  Appearing disjointed at a whole, maybe that's the pattern the song aims to project. Disjointed, but appealing all the more.  Also, a strong 'Kabali' hangover.
Verdict:
Santhosh Narayanan delivers a rap album that needs a distinct taste for it to be appreciated.  In case you find it noisy, maybe the songs are not meant for you.  'Kaala' album has most songs that might fit as easy on a political protest as it does on a dance floor.
Rating: 2.75/5