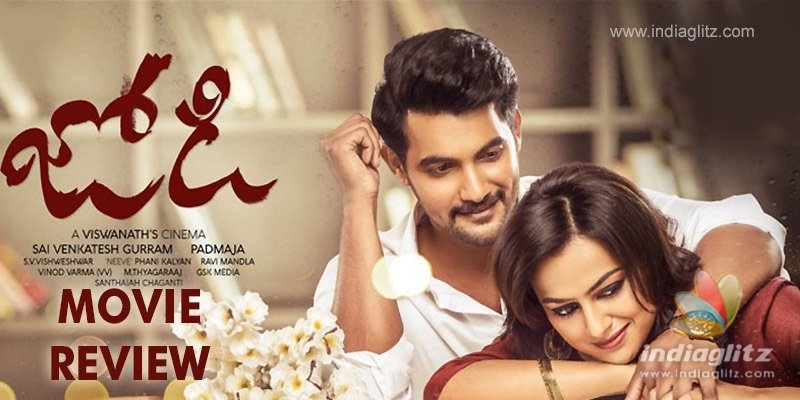 'Jodi', starring Aadi Saikumar and Shraddha Srinath in the lead, hit the screens this Friday.  Here is our review of the family drama.
Story:
Kapil (Aadi Saikumar) is the not-so-proud son of a betting-crazy father (played by Naresh).  Since his father's irresponsible behaviour leaves the family embarrassed, Kapil takes it upon himself to keep it financially stable.  He is a software employee who earns well.
When he bumps into Kanchanamala (Shraddha Srinath), it is love at first sight.  But when he locks horns with a billionaire, it's enmity at first sight.  As if this enemy is not enough, Kapil angers the dutiful and hardworking father of the heroine, whom he wants to marry.  
The rest of the film is about how Kapil tries to be in the good books of the heroine's father and mends his irresponsible father, who has a backstory involving the heroine's father.  
Analysis:
Director Viswanath Arigella comes equipped with a potentially solid story.  The storyline presents a good number of opportunities to tell a heart-touching family drama.  There is a right-thinking son who is sad about his unpardonably irresponsible dad, a heroine who knows how to choose her man, a conflict point that can be a source of a range of heart-tugging emotions and unique situations.  Wasting such a meaty story is quite an achievement, to put it sarcastically.
It's not like the first half is flawless but it's the second half where the film becomes too painful.  It's ridiculous that Kapil has to change his job and do silly things as a real estate agent in company with comedian Satya just because he has to make a point.  (Also, a software employee having to do all this on his own, without the interference of an economic recession, is unbearable to watch, to put it in a lighter vein).  
The way Kapil disturbs the billionaire is unethical, to say the least.  You can't spoil someone's business just because he caused a leg sprain.  You can't invade the privacy of someone and destroy his love life just because he rammed into a street vendor's asset.  You show an otherwise sensible hero committing such sins and expect the audience to sympathize with him when the victim hits back.  Quite foolish!
The billionaire's character (let's call him the film's villain because he is rich and being rich is quite sinful in our movies) behaves like a fool.  When Kapil beats him at his own game, the villain can easily outsmart him by buying pieces of plots from some other real estate company.  He doesn't do that.  Because he is not the film's hero, right?
The rom-com track comes with unremarkable elements.  The montage songs are respectable, though.  
The second half needed to have more of Naresh but his character is forgotten.  And every other character knows every other character in the movie, from both past and present.  
Vennela Kishore as an aspiring entrepreneur tickles the funny bone.  Give him anything, he will do it with competence.  Satya is good and some of the comedy scenes work.  
As performances go, Aadi tries his best to rise above mediocrity.  Shraddha was superb in 'Jersey' but here she doesn't get enough space.  Even so, she tries to bring dignity to her character.  Naresh is subtle and he understands his cheap character thoroughly.  Gollapudi Maruthi Rao, Sijju, Sitara, Kedar Shankar and others fit the bill.  The cinematography should have been better.  
Verdict:
In telling a story with potency and depth, 'Jodi' falters in too many ways.  It tries to infuse intelligence but it ends up looking all the more dumb.  In the hands of an ambitious director, this one would have become a treat.
Rating: 1.75 / 5.0
Showcase your talent to millions!!
Write about topics that interest you - anything from movies to cricket, gadgets to startups.
SUBMIT ARTICLE
More
Telugu Movie Reviews
Sapta Sagaralu Dhaati
Changure Bangaru Raja
Mark Antony
Jawan
Miss Shetty Mr Polishetty
Kushi