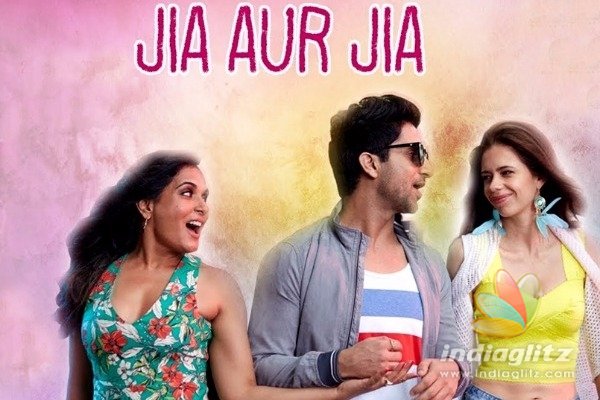 Expectations:– 
Films related to bonding of friends or two strangers have been well received in our Hindi films. All the romantic films with this backdrop have managed to raise the curiosity level. Finally, there is a film known as 'JiaAurJia', which narrates a tale of bonding of two females in a foreign country. The trailer seems decent and has good actors such as Richa and Kalki, but thanks to the low marketing the expectation level is not that great. 
Story: – 
'JiaAurJia' is a story of two strangers JiaVenkatram (RichaChadda) and JiaGarewal (KalkiKoechlin) who sets out on a budget trip to Sweden. JiaGarewal is a live wire looking out for non-stop fun, while JiaVenkatram is more on the serious side. As days pass both Jia's bond with each other. Sadly, both of them have a dark past which disrupts their lives. 
The 'Glitz' Factor:–
The story as per trailer sounds interesting and starts well out here.. All the initial scenes related to Kalki are entertaining. Kalki teasing Richa, her live attitude, funny dialogs in the initial part of the film keeps the fun quotient alive.Sweden's locations are refreshing.The classic song 'Jia O Jia' from 'Jab Pyaar Kisi Se HotaHain' has been used in the background music and works in the favour of the film.KalkiKoechlin shines out in some funny scenes leading to an average performance.
The 'Non-Glitz' Factor: – 
After its initial setting of the premise the movie starts losing its momentum and the novelty factor. The random screen happenings after that starts diluting the film.The second half is fully predictable and stretched to the fullest. Arslan entire track is cluttered and his conversational scenes look totally pretentious. Matching to the terrible screenplay in the second half, the actors also start behaving in a funny manner.The music is not that great. Though, there are variety of songs, but none of them manage to have a recall value.Director Howard Rosemeyer is known for his fantastic songs choreography for many hit and super hit films. This movie is his directorial debut and has nothing to boast or cherish. The script is stale, bland and boring at times. Even the songs fail to display Howard's style or uniqueness.RichaChadda looks terrible. . ArslanGoni fails to act.ZarinaWahab and Sudanshu Pandey are wasted.
Final 'Glitz': –
'JiaAurJia' instead of being a fun ride, ends up being a ride to the land of boredom. 
Rating: 1 / 5.0
Showcase your talent to millions!!
Write about topics that interest you - anything from movies to cricket, gadgets to startups.
SUBMIT ARTICLE
More
Bollywood Movie Reviews
Chor Nikal Ke Bhaga
Cuttputlli
Gulabo Sitabo
Mission Mangal
Super 30
Kesari