Tik Tik Tik Teaser Review-Really Promising !
Monday, August 14, 2017 • Tamil Comments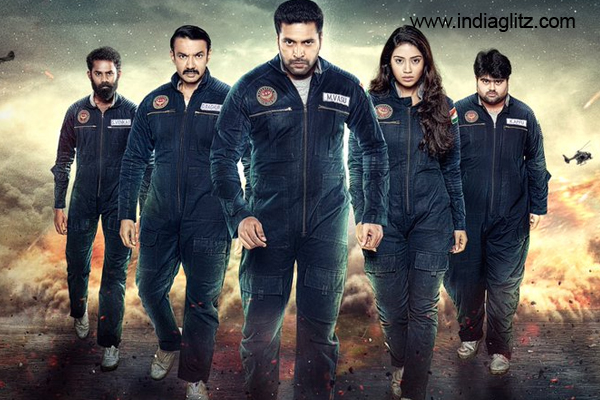 The teaser of Jayam Ravi's promising upcoming film 'Tik Tik Tik' has released. The film has been directed by Sakthi Soundar Rajan who gave India's First Zombie film last year. This time the director and the actor have teamed up for a Space Film and they claim that this is India's First Space film.
Such a tall claim always comes with a risk. Critics will be waiting keenly to find even the minutest of faults and troll the output if it is not as good as marketed.
But the teaser of 'Tik Tik Tik' makes us confident that the film will live up to the expectations the makers have created. The visuals out of the world to say the least. It gives an enormous feel of joy to see scenes shot in the out space in a Tamil film. This speaks volumes of the level achieved by Tamil cinema in terms of modern film-making technology. Indeed a film of this genre cannot be made without CGI but from the teaser it is very difficult to find which shot is CGI and which one is real. Such a great quality has been delivered by the CGI team.
Also from the teaser we could guess that the film is not just about space scientists, astronauts and their adventures. It has something more than that. Probably a war between countries with spacecrafts. This will give ample scope for adding elements of patriotism in the film and it seems that is the reason for releasing the trailer on the occasion of India's 70th Independence Day.
Jayam Ravi looks fit and cool in various attires as a space astronaut. His real life son Aarav makes his acting debut in the film as the hero's son and there seems to be an emotional angle between the father-son relationship Remember 'Miruthan' had the brother-sister sentiment angle and that worked well with the family audience and having these elements would give an earthy appeal to the films coming under such revolutionary genres.
Nivetha Pethuraj appears twice in the film once as Ravi's colleague astronaut and in another shot she looks hot and chic in a swim suit. D.Imman's BGM is apt for the genre and he has used some interesting and suitable sounds.
After watching 'Tik Tik Tik' teaser, Tamil movie buffs and film enthusiast will feel proud that Tamil cinema has developed in terms of content and making to great level. That is the biggest achievement of the teaser and we hope the same stands good for the entire film too.
Actress Photos
Sreemukhi
Rashi Khanna
Shivathmika Rajashekar
Muskan Sethi