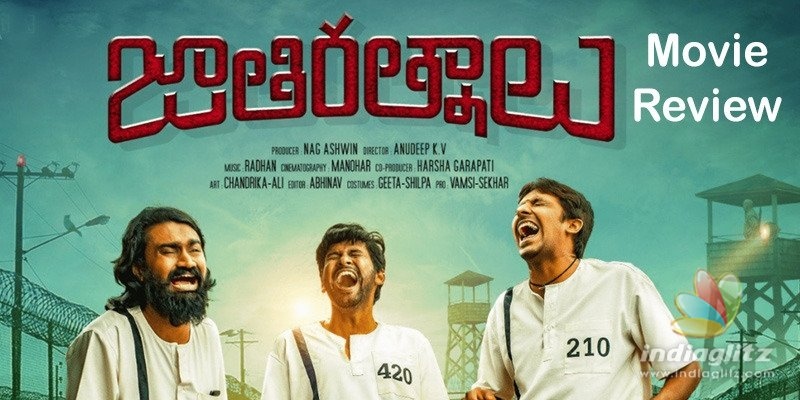 'Jathi Ratnalu', starring a host of comedy actors, hit the screens this Thursday. Here is our review of the latest box-office release.
Story:
Three youngsters (played by Naveen Polishetty, Rahul Ramakrishna and Priyadarshi) reach Hyderabad from Jogipet with city dreams. Days after the first of these guys falls in love with Chitti (Faria Abdullah), the trio becomes prime suspects in a criminal case concerning a murder attempt on MLA Chanakya (Murli Sharma). How the trio proves their innocence is the crux of the story.
Analysis:
Director Anudeep KV, together with the writing department, channelizes the effortless comic timing of Naveen Polishetty to deliver a comedy that takes the form of a satire now and then. 'Jathi Ratnalu', which has a host of oddball characters in the story, works as a commentary on the wisdom (or the lack of it) of the pop culture as well as the mainstream media.
Naveen Polishetty's acting talent transcends the film's forgivable limitations. As someone who thinks human anatomy was taught in Mathematics in school, he is ridiculous and thus hilarious. In Murli Sharma's Chanakya, a scam-hungry politician, he meets his eccentric match. Chanakya is his nemesis but, deep down, he is as dumb as the good guys. Chanakya, the wannabe Sports Minister, reminds you of the B.Com Lo Physics joke, which has its own fan base.
It has been a while since Rahul Ramakrishna outgrew his typical 'I am irritated ra' roles. As a jester who has failed in love, he is a relief to watch. His quirks are hereditary, as we discover when we see his mother in a scene. Priyadarshi, too, is fun to watch.
Naveen, whose grounding in stand-up comedy was proven by Agent Sai Srinivas Athreya, is enjoyable when he says things like this: According to Indian Constipation, I am uncriminal till proof. He obviously means to say this: According to Indian Constitution, I am innocent until proven guilty. His idiosyncratic English is coupled with his irreverent view of society. When he confronts VK Naresh, who plays heroine Faria Abdullah's father, he is questioning patriarchy without making a song and dance about it.
As the three friends step into Hyderabad, they dream of living in the same area as Megastar Chiranjeevi. But when they discover that Chiru's neighbourhood is a slum, they are taken aback. All this is both funny and hard-hitting. Subaleksha Sudhakar, who plays the owner of a dying firm, is the film's only serious character. Even the parents of the three dumb lead men don't make a fuss about their sons. Mahesh Achanta of 'Rangasthalam' plays a politician's sycophant to a hilarious effect. Mirchi Kiran, as the assistant to Murli Sharma, reminds us of his best acts.
There is a stretch where the lead actor and his two friends recreate a crime scene. It may seem too exaggerated but it has us laughing throughout because the performances are tight.
Somewhere, Naveen uses the word 'Goose pimples' for 'Goosebumps'. You might wonder as to how someone who doesn't know English can create unwitting jokes of that sort. This film is a satire and one wouldn't want to question its liberties. Brahmanandam and Faria Abdullah's court scenes are a case in point.
Besides the uniformly rib-tickling acts, the film has got offbeat music from Radhan. The visuals are real for the most part.
Verdict:
'Jathi Ratnalu' works as a true-blue situational comedy where its oddball characters make the crime comedy genre look charming. Go watch it!
Rating: 3.25 / 5.0
Showcase your talent to millions!!
Write about topics that interest you - anything from movies to cricket, gadgets to startups.
SUBMIT ARTICLE
More
Telugu Movie Reviews
Sapta Sagaralu Dhaati
Changure Bangaru Raja
Mark Antony
Jawan
Miss Shetty Mr Polishetty
Kushi