Lyrics first, concept second, music last
Friday, August 12, 2016 • Telugu Comments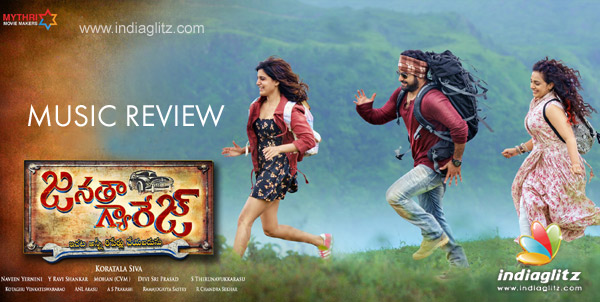 Here is the review of 'Janatha Garage'. All the songs are written by Ramajogayya Sastry, while the singers are Raghu Dixit, Shankar Mahadevan, Sukhwinder Singh, Vijay Prakash, Yazin Nizar, Geetha Madhuri, Neha Bhasin, and Shwetha Mohan.
Good that most of the lyrics are in chaste Telugu, barring 'Apple Beauty'.
Rock On Bro
Artist: Raghu Dixit
Lyricist: Ramajogayya Sastry
The album debuts with a hero-oriented song. Ramajogayya Sastry's lyrics mirror the self-styled philosopher in the hero, as is the routine. Phrases like 'Manamantha Jeansu paantu rushulu' takes the cake. The lyrics are laced with so much of meaning. DSP is the one transforming it by going not for a song heavy with beats, but one with a melodic touch. Raghu Dixit's rendition gives the song an edge. The classical flavour is effectively brought out by the vocals.
Panaamam
Artist: Shankar Mahadevan
Lyricist: Ramajogayya Sastry
But for Shankar Mahadevan, it's very difficult to find a voice apt for a song of this genre (with the sole exception of SPB). The great singer's vocals have a marked intensity and honest about it; the fact that he has sung many devotionals belonging to Carnatic genre of music only helps the song to get registered quite early on in the listener's mind.
Ramajogayya Sastry's thought-provoking lyrics deify Mother Nature, effectively bringing out the harmony between man and Nature ('Prakriti mottham manalo prathibhimbham'); the very idea of the song is rooted in Hindu spirituality. The deployment of metaphors is profound. 'Nuvventha nenentha ravvantha' ('We are mere atoms'), 'thalladillindo ee thalli ae okkaru migalam' ('If Mother Earth sobs, nobody will survive') and the like sound heart-felt and poetic.
DSP's music is not any bit substantially different from such songs. In fact, the tuning comes across as a rip-off of this or that number.
Nee Selavadigi
Artist: Shwetha Mohan
Lyricist: Ramajogayya Sastry
The short number's concept revolves around the pangs of separation. Shwetha Mohan's mellifluous rendition deserves appreciation. DSP goes for a stock-type of music, sans re-invention. Sastry's lyrics are simple but evocative (like 'Enthanukunna edho baadha', 'Dhoorangaa veluthondhi jeevitham').
Jayaho Janatha
Artists: Sukhwinder Singh, Vijay Prakash
Lyricist: Ramajogayya Sastry
Vijay Prakash's stentorian voice is complemented by Sukhwinder Singh's famed vocals of a similar character. Much as the singers fit the bill, breathing life even as they sound fiery, the throwback to a 'Chak De India' tune can't be missed.
The lyrics, heard with reference to the lyrics of 'Pranaamam', hint that the Team of Seven ('Okkaru kadhu yeduguru') is out to take on either forest or mining mafia. The glorification of instant justice, a leitmotif of vigilante films, is there. 'Kanneellalo navvulu pooyisthoo' is a nice phrase. The invocation of God, the imagery of Kurukshetra (invoked indirectly) can't be missed.
DSP's booming music will be a signature tune to reckon with. Good to be an intense running song. Thumbs up to all the departments.
Apple Beauty
Artists: Yazin Nizar, Neha Bhasin
Lyricist: Ramajogayya Sastry
This is the only song that is prominently littered with English-language expressions. Sastry deploys time-tested lyrical style, complete with references to complicated scientists and world-famous brands alike (read Newton, Edison, Coffee Day, etc). 'Coffee Day lo vinna Sufi music' walks away with our prize for the best phrase.
Yazin Nizar's vocals ooze life and charm. Neha Bhasin complements the male counterpart's talent. DSP's tuning is commendable. The beats let the dancer in NTR get the best out of himself.
Pakka Local
Artists: Geetha Madhuri, Sagar
Lyricist: Ramajogayya Sastry
The trusted Geetha Madhuri is back to sex up the item girl's self-glorificatory life style. Sastry's lyrics are about an item girl's autobiographical story. As for DSP, he has only a heard-it-many-times tune to offer. For an item number, this one pales in comparison to DSP's recent outings, not to speak of his most-admired item numbers of the last decade. Sagar chips in, only to give a sense of deja vu.
Verdict: The album passes muster in terms of the music. 'Jayaho Janatha' and 'Rock On Bro' fare better than others and are poised to become hits. Sastry gets to write a single-card album and his lyrics are enjoyable. Lyrics first, concept second, music last - in that order - impress the most.
Rating: 3.25/5