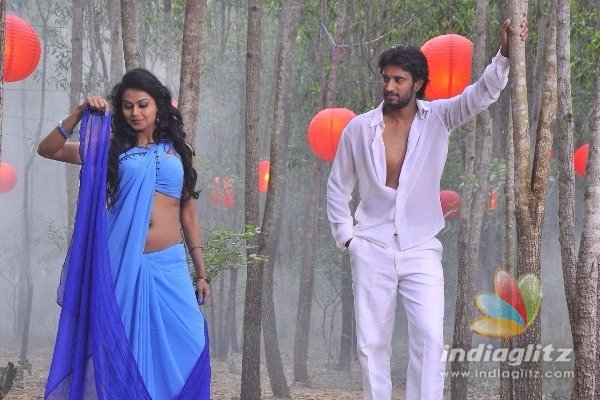 JALI BARU POLI HUDUGRU – Producer Silver Feather Team, Direction – Karanji Sridhar, Music – Veer Samarth, Cinematography – KM Vishnuvardhana, Cast – Madarangi Krishna, Manasi, Kalyani, Mico Nagaraj, Chikkanna, Veena Sunder, Jahangir, Venkatesh and others.
There are some films not precisely what the title describes. From the title of this film 'Jali Baru Poli Hudugru' everyone thought that it would be about a loafer, vagrant, riffraff kind of subject. When you look at the complete cinema Karanji Sridhar has balanced the screenplay for a family viewing. The most striking is the two romantic songs – Suride Geleya…and Poosi Hodeda – these two songs are the best of this year so far.
The screenplay of Krish Joshi moves faster than one expected but casual handling of the subject by director Karanji Sridhar gets going for the audience easily.
Good star cast selection, lovely music and cinematography add extra boost to this Karanji Sridhar film.Although the title of this film is picked from the famous song written by Dr BR Lakshman Rao and popularized in singing by Dr C Ashwath, the film contents is feud of two personalities in the film 'Jali Baru Poli Hudugru'.
It is Sarala who is money lender in the village. Her son Santhu is collector of all money extended as loan. There is a quiet father (last film of Sanketh Kashi)  in this house and daughter of the family is in love with an innocent guy in the college.
On the other side is Narasimha a strong contender for MLA seat. The feud between Sarala and Narasimha finally ends on a good note but the problem for Santhu is getting loan from one of the woman debtor. There is a good looking Gowri in this house and he falls in love. The woman has the habit of taking loan and buying gold ornaments. How Santhu manages to love and sing duet with this beautiful Gowri, whether he is able to settle the problem of his sister who is in love with a timid person – all you have to see at the climax of the film.
It is Silver Feather team production in the direction of Karanji Sridhar. Veer Samarth has composed music and KM Vishnuvardhana is man behind camera, Krish Joshi penned screenplay and dialogues, Thriller Manju worke don stunts.
Madarangi Krishna lead the cast with Mansi are in romantic best. Krishna action portions are also good, Chikkanna and Jahangir add to the slots of comedy very convincingly. Kalyani, Mico Nagaraj, Chikkanna, Veena Sunder are quite OK.
Veer Samarth music is the big trump card for the film, KM Vishnuvrdhana state award winning cameraman has given right angles and positions in his work.
Rating: 3 / 5.0
Showcase your talent to millions!!
Write about topics that interest you - anything from movies to cricket, gadgets to startups.
SUBMIT ARTICLE
More
Kannada Movie Reviews
Vanilla
Hottegagi Genu Battegagi
Seizer
Tagaru
Googal
Raja Simha