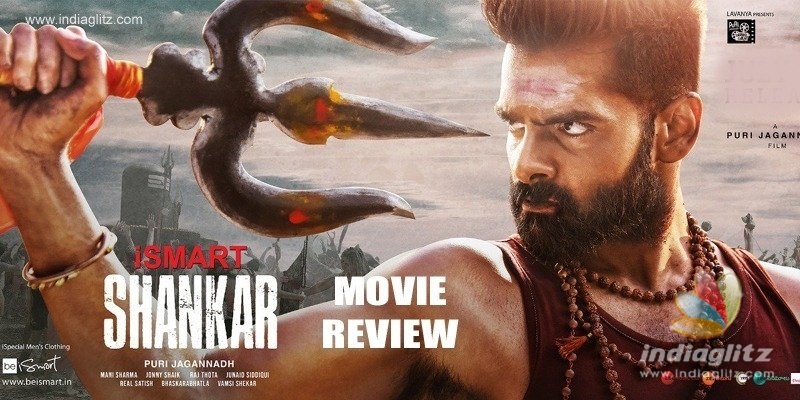 'iSmart Shankar', starring Ram Pothineni in the lead, hit the screens this Thursday.  Directed by Puri Jagannadh, the film has got a decent release in the Telugu States.  Here is its review by us.
Story:
Former Chief Minister Kashi Viswanath (Joy Badlani) is killed by Shankar (Ram Pothineni), who commits crimes for money.  The former CM's son (Deepak Shetty), wife (Tulasi) and brother-in-law (Asish Vidyarthi) bay for the blood of Shankar and the unknown entities who got Kashi assassinated.
Meanwhile, Shankar stages an escape from the Central Jail and is on the run.  He bumps into Sara (Nidhhi Agerwal), a neuro-scientist who is in love with Arun (Satyadev), a cop investigating Kashi's murder.  A top cop (played by Shayaji Shinde) comes up with a spontaneous plan to unravel the mystery behind Kashi's murder.
What is the plan?  How does the investigation into the former CM's murder affect Shankar's life?  What happened to Chandini (Nabha Natesh), Shankar's girlfriend?  Who got the former CM killed?  Answers to these questions are found in installments.
Analysis:
Do you know what is the Tollywood director's idea of writing updated stories?  In the 1990s, an MLA or MP used to be murdered in our movies.  In the 'updated' stories of today, it's a former CM, CM, or even someone higher up.  The rest of the story, motivations of the villains, the dialogues - everything remains stuck in a time warp.  The audience are expected to be wowed by the sheer audacity of the hero to kill a political heavyweight with ease.  
But Puri Jagannadh is not just Puri but iSmart Puri.  So, he is not content with his own outdated ideas.  He borrows an idea or two from a 'Criminal' (Hollywood) here or an 'iBoy' (Netflix original) there and calls it sci-fi ('iSmart Shankar' is actually sci-farce).  
Shayaji Shinde is investigating the high-profile murder case but it's as if he has no resources to complete the task (despite the Prime Minister's support, that too).  He keeps on displaying his helplessness or frustration at the drop of a hat, while our untrained, unsophisticated hero goes about cracking the case amid dancing in beach-side lust songs and speaking expletives as a tribute to the Old City life.  
Caricaturish goondas wield guns, bland gun battles ensue and every time our one-note hero comes out untouched.  Meanwhile, the cops are clueless as to how to crack the case without this Shankar.  Just scratch the surface and you can clearly see that Shankar was not needed for the mystery to be unravelled in the first place.  It's that vacuous.  
If you are 13 years old and have watched at least 5 commercial Indian movies, you can guess who is the villain right before the hero plants his first kiss on the heroine.  It's indescribably unimaginable that someone who gave us a 'Pokiri' thinks it's worth writing incredibly predictable stories like this one in 2019.
Satyadev's character is sketchy, while Nidhhi Agerwal's character is so unreal that she does seem quite an apt soulmate of Shankar.  
The love story between Shankar and Chandini (Nabha) is actually a stubborn lust story.  Whatever he may be doing, our hero only remembers how he used to tell her how much he is waiting for sex with her.  
Ram is perhaps the only bright spot in this bland script.  His Telangana slang creates some situational humour.  He looks effortless for the most part.  Nabha Natesh should have got to play at least a couple of substantial scenes.  Nidhhi Agerwal is wasted in an overly glamourous role.  Satyadev and others are largely forgettable.
Mani Sharma's songs are impressive and the BGM is highly familiar.  Raj Thota's cinematography is efficient.
Verdict:
'iSmart Shankar' features a predictable story with an inspired spin on the hero's character.  Caricaturish villains, a grossly underdeveloped investigation track, love tracks that are rich in hate-feminism elements, a lazy climax - you have them all.
Rating: 2.5 / 5.0
Showcase your talent to millions!!
Write about topics that interest you - anything from movies to cricket, gadgets to startups.
SUBMIT ARTICLE
More
Telugu Movie Reviews
Peddha Kapu 1
Skanda
Chandramukhi 2
Sapta Sagaralu Dhaati
Changure Bangaru Raja
Mark Antony