Anup Rubens gets Puri-fied
Wednesday, October 5, 2016 • Telugu Comments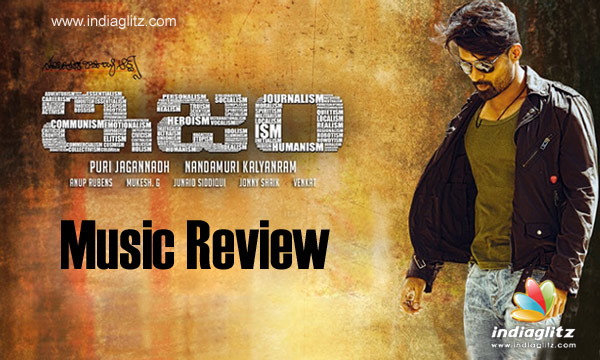 The album has lyrics by Bhaskara Bhatla and Puri. The singers are Jubin Nautiyal, Mohana Bhogaraju, Puri Jagannadh, Dhanunjay, Rolla Rida, Shakthisree Gopalan, Krishna Lasya, Spurthy, Teju Priya, Ramki.
Kanulu Navaina
Artistes: Jubin Nautiyal, Mohana Bhagaraju
Lyricist: Bhaskara Bhatla
As is Puri Jagannadhs' style, this one comes with sentences from a non-Telugu language. It's not Tamil, but Hindi. After striking with a shayar, the song draws the listener into Bhaskara Bhatla's splendid poetry. The line 'Nee navvu na maranam, nee choopu na jananam' is just one lyrically cerebral takeaway. Jubin and Mohana's renditions are in such a way that they border on a welcome irreverence. Anup Rubens' style of delivering agony though the singers' voices is there. Overall, the music director leaves his mark.
Yey Yey Yey Raa
Artistes: Puri Jagannadh, Dhanunjay
Lyricist: Bhaskara Bhatla
It's once again a typical Puri song. Complete with Roll Rida's rap, the lyrics are about the jilted lover boy harping on the heroine's volte face. Unable to take it any more, he takes to the streets. It must have been breezy for Anup Rubens to music-direct the number for the reason that it has all the elements he would have loved in an item number - folkish flavour, everyday language, scope for 'dappu', to name the top three attractions.
Ela Ela Ela
Artiste: Shakthisree Gopalan
Lyricist: Bhaskara Bhatla
The damsel in distress couldn't have had better poetry on her side. Bhaskara Bhatla mirrors her agony without resorting to word play and/or metaphors/allegories. Lines like 'Jare jare kanneellaki mata vasthe entha bagunno..' are brilliant. If Shakthisree's vocals (additional vocals are by Krishna Lasya) complement the thoughtful lyrics, Anup Rubens rehashes a known tune. Good for him that he has been inspired by a sweet tune. One only hopes Puri is portraying the pathos in the right spirit.
Pdaade Poda Poda
Artistes: Spurthy, Telu Priya, Ramki
Lyricist: Bhaskara Bhatla
It's strange that the cheated girl cusses less vibrantly than does the jilted lover boy in a Puri film. That apart, this folkish song grapples with an elementary-level tuning, being more musical than only plan dialogues. Complete with words like 'rascala', 'mentaloda' and mentioning of names of towns, the song doesn't cover itself in glory. The vocals scrape through an otherwise mediocre number.
Ism
Artistes: Puri Jagannadh & Chorus
Lyricist: Puri Jagannadh
Puri is on steroids. Outraging against 'lucchas' and 'lafangaas', as he calls them, he seeks vengeance from a journalist on behalf of the common man. One is pretty sure the exhortation is also to resort to violence. Anuraag Kulkarni chips in with 'hoy hoy' shoutings. It's not just Puri who is following in the footsteps of his 'guru', RGV, in taking to singing; Anup Rubens does it by rehashing the kind of background scores we see in RGV's films.
Verdict: One is at a loss to conclude who has the greater influence on the other: is it Puri or Anup? One feels it's Anup who has been Puri-fied. The album has a deja vu flavour writ large. The arrogance and irreverent attitude of Puri's characters is there. Bhaskara Bhatla's lyrics are a saving grace.
Rating: 2.75/5