'Inttelligent' pre-release event held
Monday, February 5, 2018 • Telugu Comments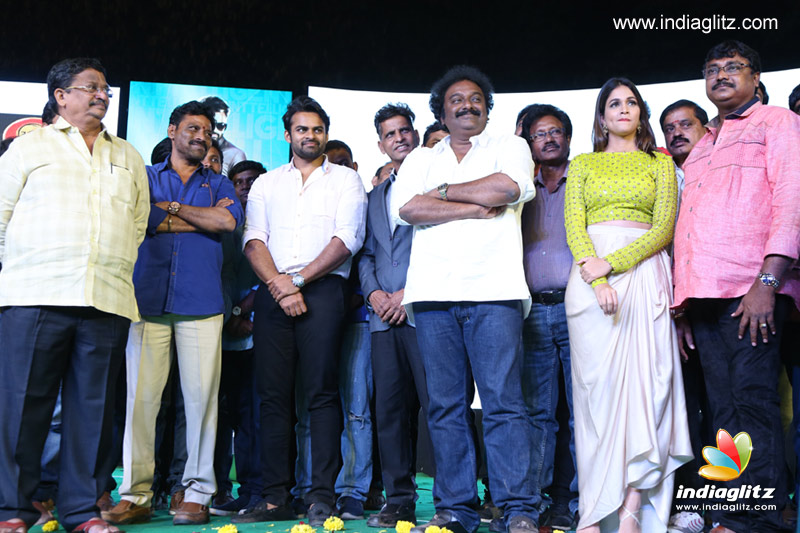 The pre-release event of 'Inttelligent' was held at Bheemavaram on Sunday. Besides the cast and crew, actor and Rajahmundry MP Murali Mohan graced the event as a chief guest.
Saptagiri said, "It feels great to talk in front of Mega fans, as I myself am a Mega fan. I request Vinayak garu to make a film with Pawan Kalyan garu, just as he did with Chiranjeevi garu and Ram Charan garu. Sai Dharam Tej anna doesn't care about hits or flops. Watching his dance moves in 'Inttelligent', I have no doubt that he is a Mega 'varasudu'."
Tagubothu Ramesh said, "Watching a Mega hero on the screen gives a great kick. Watching Vinayak garu's movies, be it 'Aadhi' or some other film, feels great. This is my fourth film with Teju garu."
Prudhvi said, "I got to act in 'Khaidi No. 150' when I was dreaming of acting under Vinayak garu's direction. He has made us (also Raghu Babu and others) lay roads in the movie. Sai Dharam Tej has got the blessings of his two uncles. I see only Chiranjeevi garu in him. Akula Shiva garu has an amazing character in the movie."
Story writer Akula Shiva said, "I am here because of our Mega director, Vinayak garu. I have written the story of 'Inttelligent' based on a real incident that took place in Kukatpally in 2014."
VV Vinayak said, "I am a fan of Megastar Chirnajeevi garu, as well as of Pawan Kalyan garu. Power Star has said that he won't be doing films. I urge him to continue to do films whenever he finds time for the sake of his fans, no matter how big he grows in politics. I thank Ram Charan's fans and Allu Arjun's fans for being here today."
He further said, "This film is going to be a big hit. I thank Akula Shiva, who has given me many hit stories. I thank the cinematographer, editor, lyricists, and everybody today. They all gave their best to the movie. Thaman's music is so good. Although he has his own style, Supreme Hero Sai Dharam Tej reminded me of Chiranjeevi while shooting 'Chamak Chamak' song. I made him act like Pawan Kalyan in two scenes. I wanted to see him that way. He has got all the qualities of Chiranjeevi garu. C Kalyan garu was one of the few persons who believed that I will one day become a big director even when I was an asst director."
Sai Dharam Tej said, "VV Vinayak garu is my favourite director. I feel at home with him. He is a pleasant man. He has to reach ever greater heights. He should continue to direct heroes like me. 'Inttelligent' is a film I have got after four flops in a row. Morever, Vinay garu came to me after directing Chiranjeevi garu's comeback movie. C Kalyan garu has made the film in a grand way without compromising anywhere. I thank my friend, SS Thaman, for the songs. Whether or not our films together worked or not, the songs have worked. The songs are not going to disappoint you at all. Whenever I fail, the only success that I have is you. I will always work hard to satisfy you. Megastar, Power Star, Mega Power Star, Stylish Star and Varun Tej are like 'Pancha Bootalu' for me. I can do anything for them. My three gurus are Chiranjeevi garu, Pawan Kalyan garu and Naga Babu garu. The three uncles have given me so much love. We wish 'Gayatri' and 'Tholi Prema' also all the best. 'Oke roju rendu Mega hero cinemalu vachi, rendu super hit kodithe aa kick eh veru'. There is no competition between me and Varun Tej. He is my brother, my 'Bamardi'. I will always wish the best for him."
Actress Photos
Sakshi Agarwal
Hamsa Nandini
Hebha Patel
Avika Gor