Music Review
IndiaGlitz [Friday, November 3, 2017 • தமிழ்] Comments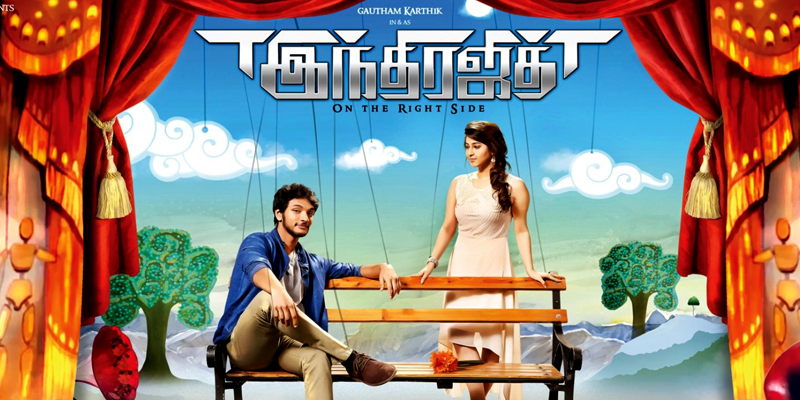 After making blockbuster hits such as Superstar Rajinikanth's 'Kabali' and Thalapathy Vijay's 'Theri', Kalaipuli.S.Thanu is all set to produce the much expected 'Indrajith' directed by his son Kalaprabu Thanu. The film which is touted to be an action fantasy drama features Gautham Karthik in the lead role.
The makers of the film have roped in new-comer KP to compose the music for the film. Impressively, KP dishes out an album which promises the music director is in it for the long haul.
'Indrajith' is set to entertain audiences starting from November 24.
Composer: KP
Voices: Bombay Jayashri
Lyricist: Pulamaipithan
Bombay Jayashri's impassioned rendering of Semparuthi makes this soul music a must in your playlist. Almost scoring over the boundaries of what could be termed as musical mesmerism, this classical treatment by debutant music composer KP will leave you aching for more. With no spillage of decorative elements, the vocals are guided by the perfect marriage of instruments and lyrical genius showcased by Pulamaipithan.
Ennenne Kaatchigal:- Listen Here
Voices: Jaspreet Jasz, Arjun Chandy, Yazin Nizar
Lyricist: Kabilan
Ennenne Kaatchigal starts off with a complacent near-mute build up that seems to be a given in almost all 'guitarish' numbers. Then the prelude kicks in with a peppy electric-guitar intro that sets up the tone for the remainder of the song. Then ensues a breezy ride along with youthful lyrical play by Kabilan Vairamuthu. With appropriate pauses and some tap-worthy rhythm work, Ennenne Kaatchigal seems to achieve what it attempted at – a breezy youthful love number.
Voices: Elfe Choir
Lyicist: Maria Roe Vincent, Mastan Vali
Right off the bat, the Jungle theme dissolves you in an imagery of dense vegetation and vast forest cover. It is quite direct in its treatment of what one could predict in a film theme song. Starting off with a piercing bamboo flute prelude, the theme pedals into an exuberant and a vivacious chorus by Elfe choir. Maria Roe Vincent and Mastan Vali have penned the lyrics for the song which also seems perfect as a tribal anthem.
Voices: Javed Ali
Lyricist: Kabilan
Javed Ali outright exudes vivaciousness in this inspiring number. Though it takes a while for the song to settle for a comfortable pace, post the initial staccato, the song takes a unprecedented plunge which becomes the skeletal structure for the song's 'go-get-it' vibe. A blues style harmonica interlude intercepts the song at the right juncture immersing you in its fluidity. Kabilan's lines gives much more vigour to the inspirational number which would definitely find its way into your Monday morning playlist.
Voices: Karthik, Shilvi Sharon
Lyricist: Kabilan
Aayiram Thamarai aced by singer Karthik is the shortest number in the album, but which is equally vivacious and power-strung. Karthik's cushy vocalization impressively gels with the song's techno parts making the song party worthy. Though Kabilan's lyrics calls one to act against hurdles it will not be out of place in a disco setting, thanks to the composer's experimental play.
Voices: Neha Bhasin
Lyricist: Kabilan
Kaadhal Veesi stands out as an exceptional number that has Neha Bhasin swaying listeners at her will with a trance inducing voice and a smug display of artistic ease. The piano accompaniment flows into complex instrument work with adroitness. The inflections during some parts of the song do not seem exaggerated or over-performed. The song advances into a jazzy stretch towards the later parts with harmonious string medley coming together to create a beautiful ending. This single is definitely to stay and talked about when one speaks of 'Indrajith'.
Theme of Indrajith:-Listen Here
Voices: Rohit Fernandes, Elfe Choir
Lyricist: Rohit Fernandes
Elfe choir doesn't fail to enthrall listeners again in this theme song with their robust throw of words. As string instruments intertwine with electric guitars letting Rohit Fernandes's lyrics do their magic, the theme song for 'Indrajith' couldn't have been better than this.
Verdict: A dashing album which is a must in your playlist!