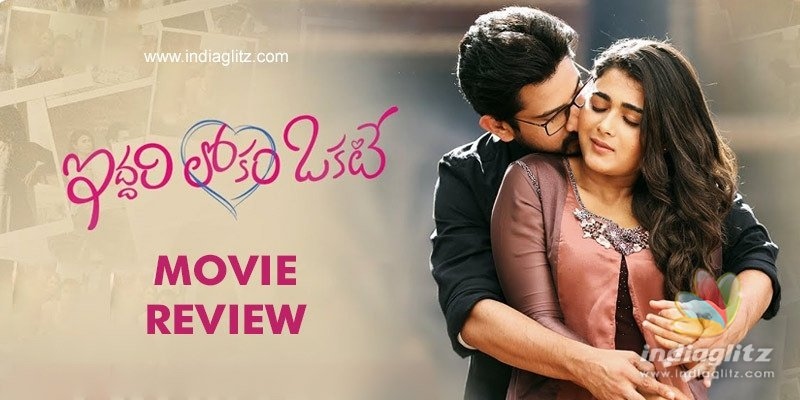 'Iddari Lokam Okate', starring Raj Tarun and Shalini Pandey in the lead, hit the screens this Wednesday.  Here is our review of the romantic drama.
Story:
The film tells the story of Mahi (Raj Tarun), a professional photographer, and Varsha (Shalini Pandey), an aspiring actress.  After knowing each other as childhood friends in Ooty, they accidentally meet each other many years later, this time as adults.  Even as she is in love with Rahul (Raja Chembrolu) and has had a not-so-smooth going, Varsha gets attracted to Mahi, in whom she finds succour and freedom.  Will their union lead to marriage?  
Analysis:
Writer-director GR Krishna adapts a Turkish film and delivers a rather half-baked romantic drama.  
After watching the climax, I felt that the emotional connect was sorely missing because of a major flaw committed quite early on in the film.  Raj Tarun's character should have been shown as making an earnest effort, for years, to meet Varsha.  This would have made much difference, even though it might not have been able to redeem the movie.  
I gave up on the film when the mother of Raja Chembrolu's character turned out to be an insensitive aunty.  Later in the film, Raja himself talks like a creep in a heated exchange.  In how many films are they going to show the guy whom the heroine shall not and will not marry as an undeserving, low-end lover?  Why so much of the same, time and again, again and again?
Varsha mouths touching lines like, 'Munde naa life lo enduku levu?!' to Mahi.  And yet, the script is not clear-cut about the nature of their relationship.  Is Varsha deeply in love with Mahi?  If yes, when and how did she start forgetting someone she had been "loving" for three years without a churn happening within her?  Is it even slice-of-life? If no, why does she say such emotional sentences to Mahi?  Just for fun?  
Tourism is a constant in many romantic dramas and this cliche is no different in 'Iddari Ooty Okate' (you get why 'Lokam' has been replaced with 'Ooty', right?).  There is also an object from the past, just as there have been objects like watches, dolls, etc in love story after damn love story.  
For the life of me, I can't understand how children in love always come with the body language/verbal diarrhoea of adults in our movies.  Like how on earth would a pre-teen boy dramatically touch his heart after his girlfriend romantically kisses on his cheeks and poetically runs away like Kajol used to do in Shah Rukh Khan's alleged classics?  
The second half goes at the pace of a snail, and the characters behave in hackneyed ways.  Had Shalini Pandey not made out with Vijay Deverakonda in 'Arjun Reddy', perhaps, this film would have skipped the bedroom scene.  When too many things are so damn superficial, such 'unusual' things don't seem to have come from a place of conviction.
The film is not without its merits.  The first half carries heft.  Varsha wants to be an actress because she has it in her genes.  The scenes involving her and her grandfather (Nasser is brilliant and childlike as ever) are neat. In a way, the story itself is narrated as Varsha's.  It's also interesting that the female lead has a bigger dream than the hero, never mind the cliche that has him motivating her in a run-of-the-mill moment.  The elders in the film groom their kids in creative thinking and emotional quotient.  
Does the climax work?  Largely, yes.  But it should have been cathartic.  
Raj Tarun conveys emotions through silence.  His performance is complemented by that of Shalini Pandey, who expresses through eyes.  Mickey J Meyer's music and BGM are not soulful, while the lyrics are.  Sameer Reddy's cinematography is deliberately sober, given the film's mood.  
Verdict:
'Iddari Lokam Okate' feels like an unfleshed drama that tries to be soulful.  Instead, its half-baked content robs it of its potential.  The emotional connect goes missing in the second half, decisively and irretrievably.
Rating: 2.25 / 5.0
Showcase your talent to millions!!
Write about topics that interest you - anything from movies to cricket, gadgets to startups.
SUBMIT ARTICLE
More
Tamil Movie Reviews
Conjuring Kannappan
Annapoorani
Kuiko
80s Buildup
Chevvaikizhamai
Jigarthanda DoubleX