I watched NTR, observed Jagapathi Babu: Tanya Hope
Thursday, July 13, 2017 • Telugu Comments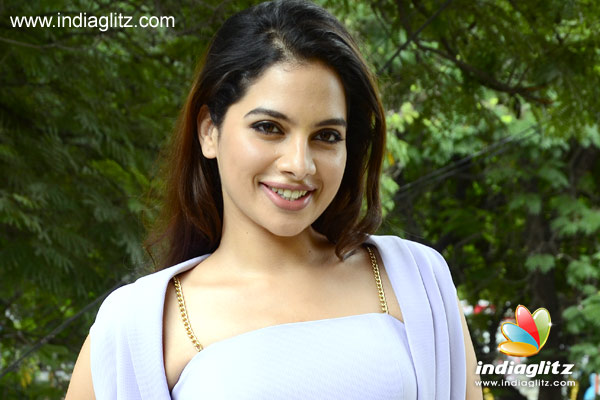 Tanya Hope, the Kannada-speaking Bengalurean, is the new performer in the town. If she debuted with 'Appatlo Okadundevadu' last year, this Friday, 'Patel S.I.R' is happening.
"I am playing a police officer who is arrogant, aggressive and intense," Tanya says, adding that she is an investigator who delves into the murders committed by Patel (Jagapathi Babu).
"What is his character, why he does things he is doing, etc is what the crux all about. I am a special officer who is entrusted to investigate his murders. I was asked to observe Jagapathi Babu so that I can mold my intensity accordingly. I have to do it well. If I don't, that will be funny," she says.
How did she prepare for the role, apart from watching Jaggu Bhai on sets? "My director Vasu garu asked me to watch NTR in 'Janatha Garage' to learn from his body language. I was also asked to watch a Tamil and a Hindi movie in which Rani Mukherjee is a cop," she reveals.
Is the film only about action? "No. There is a family drama as well, which is kept as a surprise element. The trailer shows only one side of the film," Tanya says.
At 5 ft 7 inches, Tanya looks confident and beautiful. Modelling happened after her stint in England as a student. "I participated in Miss India pageant and also Miss Kolkata. Modelling was not a long journey as two months into it, I got 'Appatlo Okadundevadu', wherein I played a village, homely girl. I accepted 'Patel S.I.R' also because I got to play a contrasting role," she adds.
Isn't the age difference between her and Jaggu Bhai high? "But I am not his heroine," she clarifies.
Those in the know will tell you Tanya wants to be a politico. "Politics interests me. Right now, I am loving what I am doing. It's a journey," the political science graduate avers.
How close is the character in 'Patel S.I.R' to her self in real life? "I am not at all like that. Sometimes yes, but not always," she signs off.
(In Kannada, she is doing a film titled 'Udgarsha', starring Anopo and Dhansika in leads).
Follow us on Google News and stay updated with the latest!
Follow
Actress Photos
Poorna
Pragya
Nithya Menen
Kriti Sanon