I was stunned by Karthi: Nagarjuna
Saturday, March 19, 2016 • Tamil Comments

Listen to article
--:-- / --:--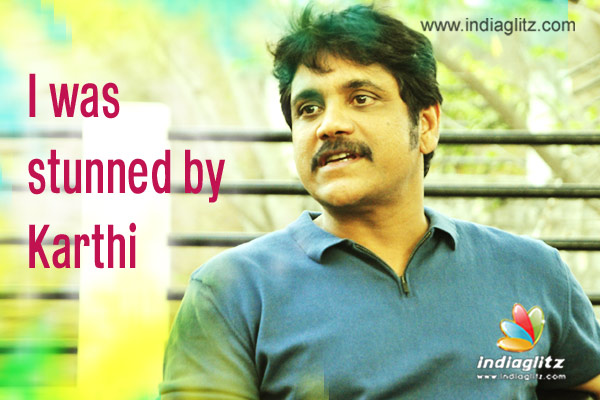 The versatile Nagarjuna has been on an experimentation spree, of late. After playing contrasting characters film after film (Rajanna, Damarukam, Manam, Shirdi Sai, Soggade Chinni Nayana, and now Oopiri), Nag can claim that he is fast delivering something exciting to the audience.
In this interview, Nag fields questions on his role in Oopiri, what made him accept the challenging role, association with Karthi, and more. Watch out for his witty replies towards the end.
What thoughts crossed your mind during the shoot, with you being wheel-chair bound throughout?
It is very difficult to emote through minimal facial expressions without moving hands and legs a bit. At times, I had to use something like 20 retakes to get it right. I would often wonder if I don't know acting. (Laughs). But I had told Vamshi (Paidipally) that I will act until a scene comes out perfect. After going through all that, I am very happy with the output.
Is there any specific reason why you have dubbed for the Tamil version?
Actually, the dubbing was given by someone else. But Karthi felt that it was not alright. He called me up and told me that I should dub for my character and that he would sit by my side to help me out. When he encouraged me so much, I couldn't say no. Not that I did not know the language, but I was particular about getting the nuances correct.
Have you watched the original, The Intouchables?
I had watched it three years ago or so. I watched it laughing all throughout. I did not feel it was tragic. It was not dull. I felt that if someone made this film in Telugu, I should do it. Such a co-incidence that Vamshi came up with this idea.
So, how exactly did this project fall into place?
When he came to me, he was a bit afraid about how I might react. He gave some build up and said that if I did not do the quadriplegic's role, they will not make the film. When he took out the DVD of The Intouchables, I immediately said that I am doing it.
We heard that Akhil did not agree to you doing the film. Is that true?
Yes, he suggested that I shouldn't do the film. But I tried to convince him that such a distinct subject should be done. Of course, he is not convinced even now. (Smiles).
Do you think your fans will like it watching you in such a role?
I will act in more than 100 movies for sure. If I am wheel-chair bound in one film, they won't feel bad. They will in fact be proud that their hero tried something different.
Vikram Aditya (the name of Nag's character in Oopiri) is not a Bangarraju (his character in Soggade..). Do you think the audience will accept you in such a constrasting role immediately after SCN?
This question was put to me during the shoot Annamayya. Ninne Pelladatha was still going strong in Devi Theatre and I was filming wearing saffron robes. If a film is good, people will definitely like it.
How was it working with Karthi?
He is a fabulous actor. I was stunned watching his acting. Besides, he is a wonderful human being. Even Suriya and his father are very good human beings. Karthi will endear himself to the Telugu audience after Oopiri. shoot. Even Jayasudha garu told me that she was stunned by Karthi's acting. The way he delivered dialogues in Telugu made me feel ashamed. I was afraid that I may not be able to get that perfection while speaking in Tamil.
What is your take on Gopi Sunder's music?
The film is about an emotional journey. Gopi Sunder's music brings out the sensibilities quite well. I was bowled over by his background music. No wonder he is a two-time National Award winner.
Is it true that Vamshi will direct Akhil's second?
They both have been engaged in discussions. They will come to me after deciding whether to make a straight film or a remake.
Tamannah has said that she wants to romance with you in Oopiri-2. What is your take?
Tamannah ala cheppinda? So, is Karthi going to be wheel-chair bound? (Guffaws)
Did you feel jealous watching Karthi romance with Tamannah?
Ippudenti.. I was jealous long back when Chaitanya romanced with Tamannah in 100% Love. (Laughs)
Is there any song in Oopiri where you dance?
There are no moments where my hands or legs move all of a sudden for the purpose of a song. (Laughs)
How are you planning to spend this summer?
This summer, I am going to say Govinda Govindaa. (Laughs) (Referring to the shoot of Haathi Ram Baba).
Follow us on Google News and stay updated with the latest!
Follow
Actress Photos
Mehreen Pirzada
Sonal Chauhan
Amala Paul
Shobitha Dhulipala