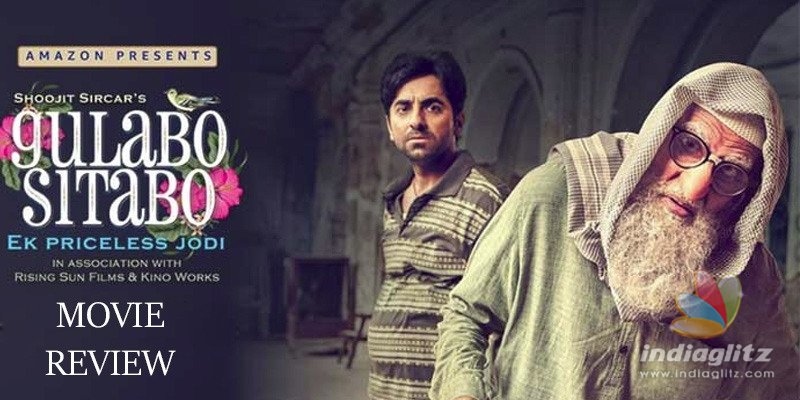 A film like Gulabho Sitabho, if released under normal circumstances would have been highly criticised by audiences who watched it at the theatres. Because the story doesn't just move at all even after the twist and pathos is visible from a mile. Why?
Movie plot revolves around Mirza (Amitabh Bachchan) husband of an Alzheimer's patient, Begum (Farruk Jaffar) living on her ancestral property, Fathima Mahal. He lives on rents from the tenants. They pay him lower than Rs. 300/- and one tenant family, pays only Rs. 30/-. This family is run by Baankey Rastogi (Ayushmann Khurrana) who owns an old small scale wheat flour mill. He has three sisters and his father died long ago living his mother with them. He and Mirza keep fighting all the time and he plays tricks to defer paying rent. One day, because of his act, the government and private property builders start scheming to capture the property. For them, tenants become huge hurdle and Mirza, Rastogi keep fighting so much that they end up right in their maze. What happens next? You have to watch the film to know.
Lucknow is a city of old palaces as many muslim royals preferred to live in the city, being the capital of Awadh province. It flourished as cultural capital of Mughal Empire too. People of Lucknow are proud of this heritage, culture and as it is capital city of Uttar Pradesh, many try to find their daily living here. Those who can't afford to move to Delhi kind of cities, prefer to find some sort of job in the city. But what about people living in the city? Being a heavily populous city of a crowded state, can the per capita income of the people ever rise from tens to thousands? Also, a city that doesn't really care about education can flourish or know the value of heritage? Gulabo Sitabo tries to explore these questions.
It delivers a satire of how people are more ready to fight with each other and have inherent hatred against the other. But this hatred is not communal as people understood that they need each other to live a peaceful life. Still, they try to manipulate and get their way out of situations at every nook and corner. Being illiterate they are at the mercy of big manipulators in the system. Film tries to tell this in dark comedy genre that worked well in Piku. Here, the nuance filled narration lacks innovation and energy that Piku had.
Mainly, Amitabh Bachchan in a heavy prosthetic make up did work hard to get into the character but narrative doesn't give him a purpose after all. The story is about him more and with a clear arc, AB could have pulled off something like he did in Pink or Piku. Here, he seems like a mere prop after a point. Ayushmann Khurrana is wasted. His character doesn't come out with a purpose. The actor too isn't able to give it anything new than what he did earlier. Vijay Raaz, Srishti Srivasthava, Brijendra Kala characters seem more interesting but they too have limited purposes in the film.
For most part of the 2 hours narrative, film gives us a hope that it is ready to explode into a laugh riot or even more harsh slap but then it ends up being a piece of art work that the painter thought a lot about and stopped drawing after a while. With the story just not moving anywhere, however realistic the movie feels, we don't know find the connect to hate or to love. Juhi Chatruvedi found a great balance in keeping the characters real while they deliver on the fun element too. Here, she wanted to make the film a slow burn but dragging it so much without purpose, let's us down.
Soojit Sircar has an eye to catch real locations, people, their life style in his own unique way, almost comparable to Balachander. But the master of story telling, could find beauty in crafting simple pieces with likeable and dis-likeable characters keeping the fun & energy of a narrative alive. Soojit seems to be losing that quality as he is painstakingly concentrating on details like artwork, character looks, character traits but forgetting character arcs and ultimate motive of making a film. He could have delivered a great satire with material available but he ended it up as a docu-drama with no real purpose.
Our Recommendation:
If you have time and energy to watch a slow burn, go for it!
Rating: 2 / 5.0
Showcase your talent to millions!!
Write about topics that interest you - anything from movies to cricket, gadgets to startups.
SUBMIT ARTICLE
More
Bollywood Movie Reviews
Ghoomer
Chor Nikal Ke Bhaga
Cuttputlli
Mission Mangal
Super 30
Kesari