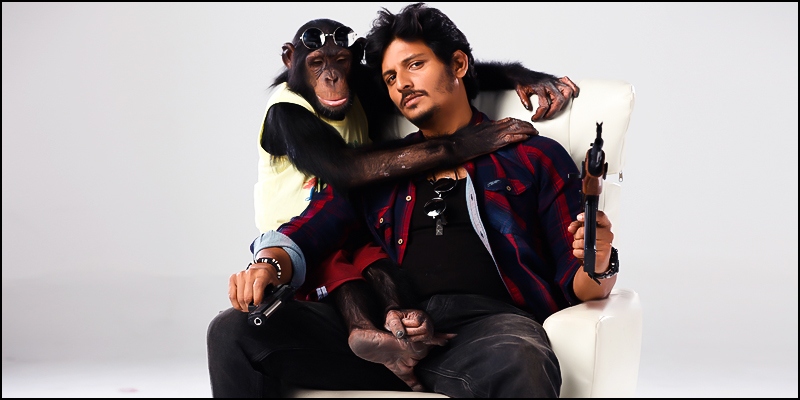 Gorilla : Time pass heist
Don Sandy - The Director of this movie is heavily inspired by Bank Heist movies, no doubts there and to an extent that he delivers the same through the lead characters who plan a Hollywood movie like heist on a local bank. So why the name Gorilla? Good question – two reasons; the pet gorilla and the masks that the four guys wear before setting out to loot the bank. The teaser of the movie propped a question of what kind of genre would this film fit into; to answer it simply - probably a trying commercial movie that wants to sell off basking on Farmers issue.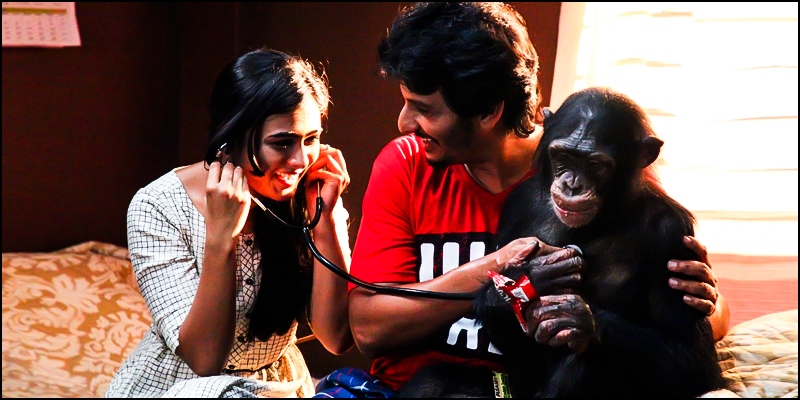 Jiiva is a 100% fraud, he is a petty cheat who makes a living out of posing as a fake doctor. His roommates - Sathish and Vivek Prasanna have their own stories tragic yet as usual told with an enforced comedy. So, after the mandatory formalities of establishing a love story with the talented Shalini Pandey, their sorrows, the group decides to rob a bank. The problem starts when the director fails to stick to one genre. Starting off on an entirely fun route, suddenly it tries to become preachy and starts to highlight the same old issues that trend in WhatsApp – Vijay Mallya, Bank loans, farmer agricultural loans and all that. Of course, these are burning issues and require our attention, but you can't bring them into the story just for the sake of it without a solid attachment to the screenplay. The farmer loan issue suddenly springs out of nowhere and looks completely amiss.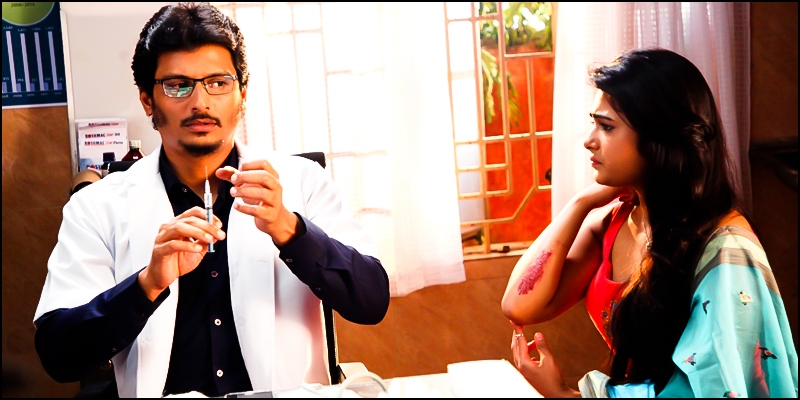 So the team of 4 - A full time fraud, Software engineer, Wannabe actor and a failed farmer bond over some drinks to put an end to their miserable fate by looting the bank and settling down for good. The reason is never solid, yet they decide to pursue it. Now until the robbing starts, it's alright – apart from Sathish who often makes us laugh and then goes overboard, the humor notch is not too irritating. Then the confusion begins once they are inside the bank and the plan goes for a freefall. Suddenly, they turn into overnight heroes by voicing for the farmer, their requirement changes from 20crore ransom to waiving of farmers loan which is 12lakh crores. It becomes an enduring test of patience and intelligence, especially when the social media hype takes over the screenplay. The marina protest certainly is an example of how like-minded join for a cause, but you cant just make movies solely depending on social media hype and trending. Gorilla is yet another movie that tries largely to reap riches out of social media trends. So will the 4 make out of the bank in one piece with the entire media and police force behind them? That is the rest of Gorilla.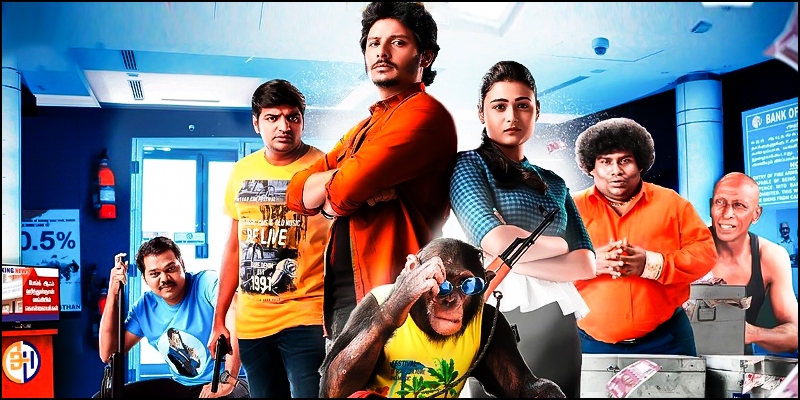 Its hard to believe Sam CS has scored for Gorilla; probably this movie is not his type – but there is a certain feel of amiss in the music department. There are some good laughs in the film, no doubts there; but the problem is that the director fails to capitalize on those scenes and keep it in the same line. Sathish is a good comedian, but there is one too many times that he looks completely amiss and left searching for a single joke. Jiiva is desperate for a blockbuster, his nervousness is too obvious. For an actor who loved to experiment, Gorilla seems to be a safe bet. Shalini Pandey the actress from Arjun reddy is wasted and so is the pet gorilla itself. The scenes with pet Gorilla could have been more, its certainly limited and the pet is treated just like the heroine without a solid purpose.
Verdict :  A time pass heist comedy film that falters largely by deviating to social issues that does not have a solid background.
Rating: 2.5 / 5.0
Showcase your talent to millions!!
Write about topics that interest you - anything from movies to cricket, gadgets to startups.
SUBMIT ARTICLE
More
Tamil Movie Reviews
D Block
Yaanai
Rocketry: The Nambi Effect
Pattampoochi
Maayon
Maamanithan