An album for different moods
Tuesday, July 31, 2018 • Telugu Comments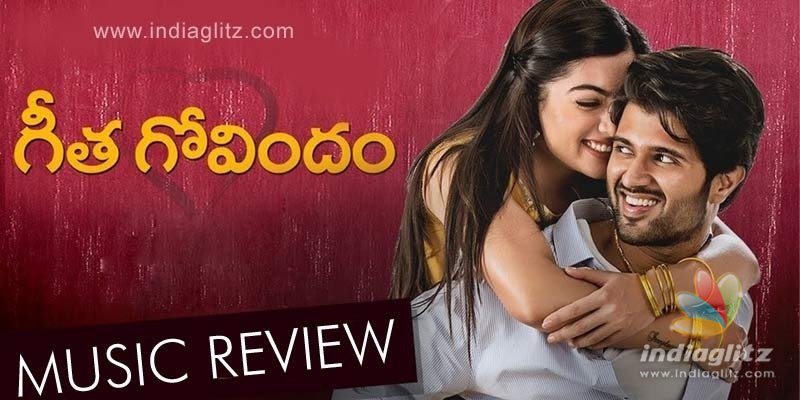 Gopi Sundar is helped by lyricists Ananth Sriram, Sri Mani and Sagar.  Sid Sriram gets to sing two songs.  Chinmayi carries a solo song with aplomb.  Gopi Sundar and Vijay Deverakonda chip in for two separate songs.  The music is out on Aditya Music.    
Inkem Inkem
Singer: Sid Sriram
Lyrics: Ananth Sriram 
It seems the tempo of this song was tried by AR Rahman and Deva in the 1990s Tamil cinema.  The classical touch is there for everyone to see.  'Inkem Inkem' is conceived as the lover boy's expression of mirth when the girl becomes his, but the 'raga' is more than exalting for the mood.
Ananth Sriram pens lyrics that are a cross between cerebral and everyday language.  If there are not-so-regular words, there are also terms like Lava that are routine.  Sid Sriram's voice comes with a tinge of the offbeat.  
Yenti Yenti
Singer: Chinmayi
Lyrics: Srimani 
The initial seconds are an absolute treat.  Chinmayi's voice captures the remorseful heroine's mindset even as Gopi Sundar's music beams a musical smile.  The mood of the song shifts to being a celebratory one later.  Srimani's lyrics are enjoyable.  
What The Life
Singer: Vijay Deverakonda 
Lyrics: Srimani
Srimani's lyrics, as mouthed by an 'all-knowing' frustrated male, speak of how today's girls allegedly value digital media over their boyfriends/husbands.  Vijay Deverakonda struggles to raise the bar in a song conceived to be a rehash (a blatantly inferior one at that) of Anirudh-Dhanush's 'Why This Kolaveri Di'.  Gopi Sundar's music is so below-par that it has even traces of an Anup Rubens musical.
Vachindamma
Singer: Sid Sriram
Lyrics: Srimani 
The song takes off as another 'Inkem Inkem', only to find its mojo later.  The classical touch is obvious.  Sid Sriram's voice comes with a pronounced shakiness.  Musically, Gopi Sundar prefers minimalism all the while giving scope for some dance moves.  Srimani's lyrics bring out the thinking of a lover boy who is filled with gratitude towards his girl and misses spending time with her.
Kanureppala Kaalam
Singer: Gopi Sundar
Lyrics: Sagar
Gopi Sundar's voice is heavy and one has to see if it will work for a hero like Vijay Deverakonda.  His voice is Jesudas-like to an extent.  Sagar's lyrics bring out the tragedy of loving falling apart in a split second!  Much as it's the case with 'Vachindamma', there is a sense of minimalism here too.  The tune evokes the kind of pathos seen in Kollywood songs.  
Verdict:
'Inkem Inkem' and 'Yenti Yenti' stand apart in the album.  Excellent lyrics make it a worthy output.  Gopi Sundar fares decently, over all.
Rating: 3/5