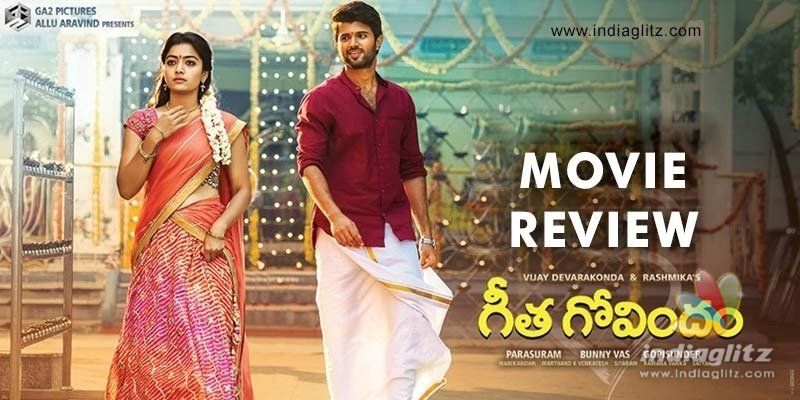 'Geetha Govindam', starring Vijay Deverakonda and Rashmika Mandanna in lead roles, hit the screens this Wednesday.  Here is our review of the entertainer.
Story:
Vijay Govind (Vijay Deverakonda), a lecturer by profession, is a traditional-minded youngster who dreams about having an ideal wife.  On his way to Kakinada to attend his sister's engagement ceremony, he ends up traveling with Geetha (Rashmika Mandanna) by his side.  
He tries his best to woo her but commits a serious gaffe when he accidentally plants a peck on her.  Geetha mistakes him for a rogue and owes to see his end.  She complains to her violent brother (Subbu Raju) but Vijay Govind escapes from the scene.
Cut to the next morning, there comes a revelation.  As fate would have it, Geetha is destined to spend time with her alleged molester.  
Their equations undergo a change eventually because fate has other plans.  
Analysis:
Very few films strike a sagacious balance between caricature and earnestness.  'Geetha Govindam' is one of those rare ones.  Picture this: the hero is a 'Bharateeyudu' aficionado, watching it every day only because he is in awe of the perfect understanding between Senapathi (Kamal Haasan) and his old wife (Sukanya); this hero is also an admirer of Chaganti Koteswara Rao, whose Dharmic sermons he listens to every morning before leaving for college, where he eschews any girl student who is attracted to him.  Such a character would have been farcical (all in the name of entertainment) in the hands of an ordinary director.  But writer-director Parusuram makes him look convincing and believable, helped in no small measure by Vijay Deverakonda's bewitching talent.  It's now becoming clear that Deverakonda can normalize most, if not all, damn things!  
Vijay Govind is a defamed fellow.  And in trying to create attractiveness and even a halo around him, the director resorts to a trope often seen in Mahesh Babu's films: quite a few teenage girls find him irresistibly handsome.  This Prince-next-door can be a philanderer if he wishes; after all, girls angling for him are many.  But he chooses to be a Pativratudu, waiting for that Miss Right to come and marry him. 
Ironically for a guy brought up on spiritual staple by his equally innocuous father (Naga Babu, dubbed by someone else), Vijay Govind can use crazy language at times.  This character trait is seemingly inconsistent but, deep down, it may be indicative of the attributes of a man-child.
How Geetha treats the hero is what is the first half mostly about.  It's inconceivable that she grudgingly works with him.  But then, even this surely lame idea is effectively made to look hunky-dory through comedy.  
Where the film could have been better is in treating the first 25 minutes or so of the second half.  Monotony sets in here because the gravitas of the interval bang goes for a toss.  What is Geetha?  Does she have agency or not?  Why is she indulging her supposed tormentor?
The film once again comes into its own once the extant conflict is resolved (this is done in a routine way, though) and the anti-climactic moment arrives.  Vijay Govind, after all, has been dreaming about his ideal wife and he has a mind of his own.  One sympathizes with both him as well as Geetha, who is now in a dicey situation.    
Subbu Raju's character is minimalist.  The Vennal Kishore-Rahul Ramakrishna-Annapurnamma comedy in the last act is a treat.  Abhay Bethiganti is largely wasted.  
Vijay Deverakonda is the film's heartbeat.  He delivers a nuanced performance in company with Rashmika, who makes a one-note character (at least till before anti-climax) look good enough.  Nithya Menen has a special, breezy role.  Anu Emmanuel is seen in a cameo.  Vennela Kishore as a parodically broad-minded groom is enjoyable.  Subbu Raju, the actress who played the hero's sister and others are good.  
Gopi Sundar's 'Inkem Inkem' has been a monstrous hit; this and other montage songs make an impact.  The cinematography, art direction and editing are praiseworthy.  Manikandan Saravanan's cinematography is bright. 
Verdict:
'Geetha Govindam' tells an atypical story using a regular format.  And it works.  Parusuram enlivens the proceedings by infusing comedy at almost every step.  Vijay Deverakonda and Rashmika elevate the film with their splendid performances.
Rating: 3.25 / 5.0
Showcase your talent to millions!!
Write about topics that interest you - anything from movies to cricket, gadgets to startups.
SUBMIT ARTICLE
More
Telugu Movie Reviews
Mem Famous
Malli Pelli
Sathi Gani Rendu Ekaralu
Bichagadu 2
Anni Manchi Sakunamule
Custody