The majestic sound
Tuesday, December 27, 2016 • Telugu Comments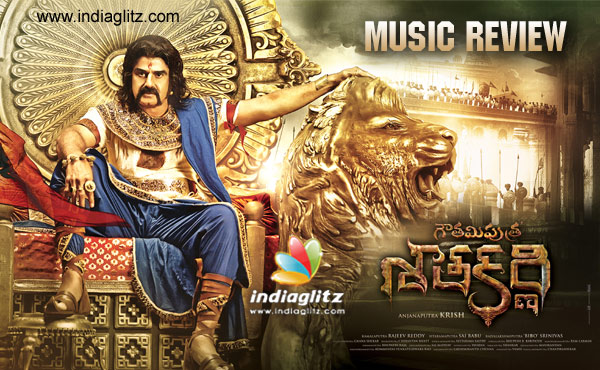 It's time for Krish to wear many caps, thinking like a B Gopal, a VV Vinayak, an Ashutosh Gowarikar, and of course, himself. Chirantan Bhatt pics the likes of Vijay Prakash, SP Balasubrahmanyam, Shreya Ghoshal, Udit Narayan, Simha, Anand Bhaskar and Vamsi. The lyrics are by Seetarama Sastry, with a 'burra katha' penned by Sai Madhav Burra.
Ekimeedaa
Singers: Udit Narayan, Shreya Ghoshal
Lyricist: Seetarama Sastry
Udit Narayan's characteristic baritone brings about a sense of nostalgia for a generation which enjoyed his numbers in 'Samarasimha Reddy' and 'Narasimha Naidu'. Shreya Ghoshal's soft vocals fit the bill for the graceful Shriya Saran, complementing Udit's vocals. Sastry's language is eminently folkish; he chips in with those not-so-secretive adulations for the sexy waistline. Chirantan Bhatt's music comes with a crossover flavour, a happy intermingling of the local with the neo-local, and more.
Gana Gana Gana
Singers: Simha, Anand Bhaskar, Vamsi
Lyricist: Seetarama Sastry
Trust Seetarama Sastry to infuse a national consciousness whenever the opportunity presents itself ('Bharatha jati bhavithaku sakshyam', so goes the phrase). This song may well be a defining moment. The beloved people cheer-lead the valiant Emperor for whom conquering is a matter of game ('Vetante manaku aate kadara'). Simha, Anand Bhaskar and Vamsi render the song with conviction, but one feels Bhatt's tuning doesn't have a takeaway.
Mrignayanaa
Singers: SP Balasubrahmanyam, Shreya Ghoshal
Lyricist: Seetarama Sastry
If the intense crests and troughs are soothing on the ears, SPB and Shreya Ghoshal pull off top class renditions. It's vintage SPB first, second, last. His 'Shatamanam Bhavati' surprise is yet to be fully appreciated and here the legendary singer comes up with his second wonder this month! Shreya is at it again, an immaculate singer par excellence. Sastry once again pens romantic literature in such a way that you are reminded that there is none else to match his word power. Bhatt's music draws from the ocean of Classical music, throwing up layered musical output to a stirring effect.
Saaho Saarvabowma Saaho
Singers: Vijay Prakash, Keerti Sagathiya
Lyricist: Seetarama Sastry
Chirantan Bhatt does get into the 'Kanche' mode in offering this anthem. The calibrated highs prod us to offer a 'Take-A-Bow'. As for Sastry's lyrics, they glorify Satakarni's omnipotent prowess in a bombastic patois. Lines like 'Shanthi ki thane veda swaramuga palikenu raa' are memorable. Vijay Prakash changes his style for this high-pitched number with a difference. Keerti Sagathiya does a fine job.
Singhamu Pai Langhinchenu (Kadhaa Gaanam)
Singer: Vijay Prakash
Lyricist: Sai Madhav
The dialogic song is in 'Burra' Katha mode. Penned by dialogue writer Sai Madhav Burra, the narrative style is a surprise genre in this historical. Thanks to Krish's imaginative prowess, the song dashes into the listener's consciousness the heroic exploits, among others, of Satakarni.
Verdict:
Folkish feel, dialogic flavour, majestic language, emotions - the album has got them all and more. Excellent vocals, authentic lyrics and Chirantan Bhatt's instrumentation make it a thoroughgoing album.
Rating: 3.25/5