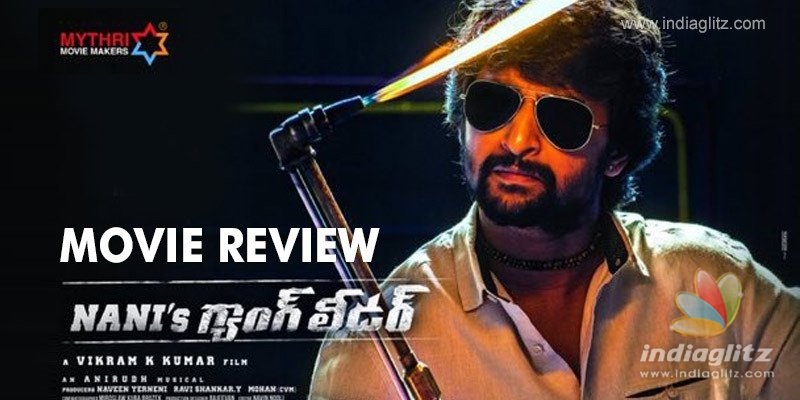 'Gang Leader', starring Nani in the lead, hit the screens this Friday.  A crime comedy, it features an ensemble cast.  Here is our review of the latest release.
Story
Pencil Parthasarathy (Nani), a copycat novelist with a penchant for writing revenge stories, is approached by five females (played by Lakshmi, Saranya, Priyanka Arul Mohan, Shriya Reddy and Baby Pranya) with a strange proposal.  Each of them has lost a male family member to a mysterious villain in a bank robbery.  They now want Pencil to trace him so that they can avenge.   
Sensing an opportunity to develop an original story, Pencil accepts their proposal.  He sets his sights on clues that eventually lead to the assassin, who we know early on is Dev (Kartikeya).
What happens once the six characters discover Dev, who is now a celeb?  Can they outsmart him?
Analysis:
The story you have read above is how director Vikram Kumar wants us to see the film.  Do you, however, know the real story?  Five men get killed and five of their relatives seethe with revenge so that Pencil can indulge in some fun, romance, style and shed his loneliness.  That's how the film has been narrated.
Nani's character almost celebrates the fact that the heroine's boyfriend is no more.  "I am extremely fortunate that your fiance was murdered," his expression seems to tell the heroine.  This happens right in the initial scenes.  I was left with no doubt that Pencil lacks sensitivity.  The rom-com track lacks gravitas mainly because of how Nani's Pencil behaves with the heroine and how the latter keeps that 'I am cute and you are understandably wooing me' expression on her face.
The director makes Nani do something in the climax (no spoilers here) that is the stuff of mass heroes.  Nani's character is a writer and he should have shown smartness more than typical guts in finishing the antagonist.
Pencil makes happy discoveries when he is not bumbling.  And it's because of his penchant for attitude and style that makes him do foolhardy things. He puts himself and his gang of five females in danger with his behaviour.
When five females think almost alike and keep those light-touch expressions throughout the movie, the film would automatically lack even a semblance of believability.  None of the adults in the movie finds it odd that they are involving a child in their macabre endeavour.  They come with a broken past but you hardly feel their pathos.  Far from it, they are made to shed tears for Pencil, who manipulatively deploys the loneliness card when Lakshmi's character has a change of mind.
The investigation track involving Nani and the rest should have been smart.  Do you need to find a stopwatch as a clue to conclude that robbers did a lot of homework to complete their mission in 18 minutes?  And what are the chances that a gang of robbers would make a 14-storey building their adda before embarking on a robbery in a 14-storey building?  Too many loose ends.
Many conversations in the first half are prolonged, there is no strong reason why otherwise innocent men decided to commit a big-ticket fraud.
What works for the film is the superb premise.  Mildly drawn from the Koream film 'Scout Girl', the premise is definitely endearing.  It's this novelty that is the film's biggest strength. And the situational humour is expected to work with the audience.
Nani's performance is cool and the ensemble cast does a mixed job.  Lakshmi is fine but the others are underutilized.  Kartikeya is reduced to a caricature after a point.  Vennela Kishore, Priyadarshi, and others are okayish.
Anirudh's music is a shining spot, the BGM is noteworthy, especially in the stylized moments.  The cinematography is smart, complete with dark frames.
Verdict:
'Gang Leader' offers some laughs; the situational humour is impressive here and there.  The storyline is novel, the premise is exciting.  However, the characterizations and screenplay are either underdeveloped or too bloated.
Rating: 3 / 5.0
Showcase your talent to millions!!
Write about topics that interest you - anything from movies to cricket, gadgets to startups.
SUBMIT ARTICLE