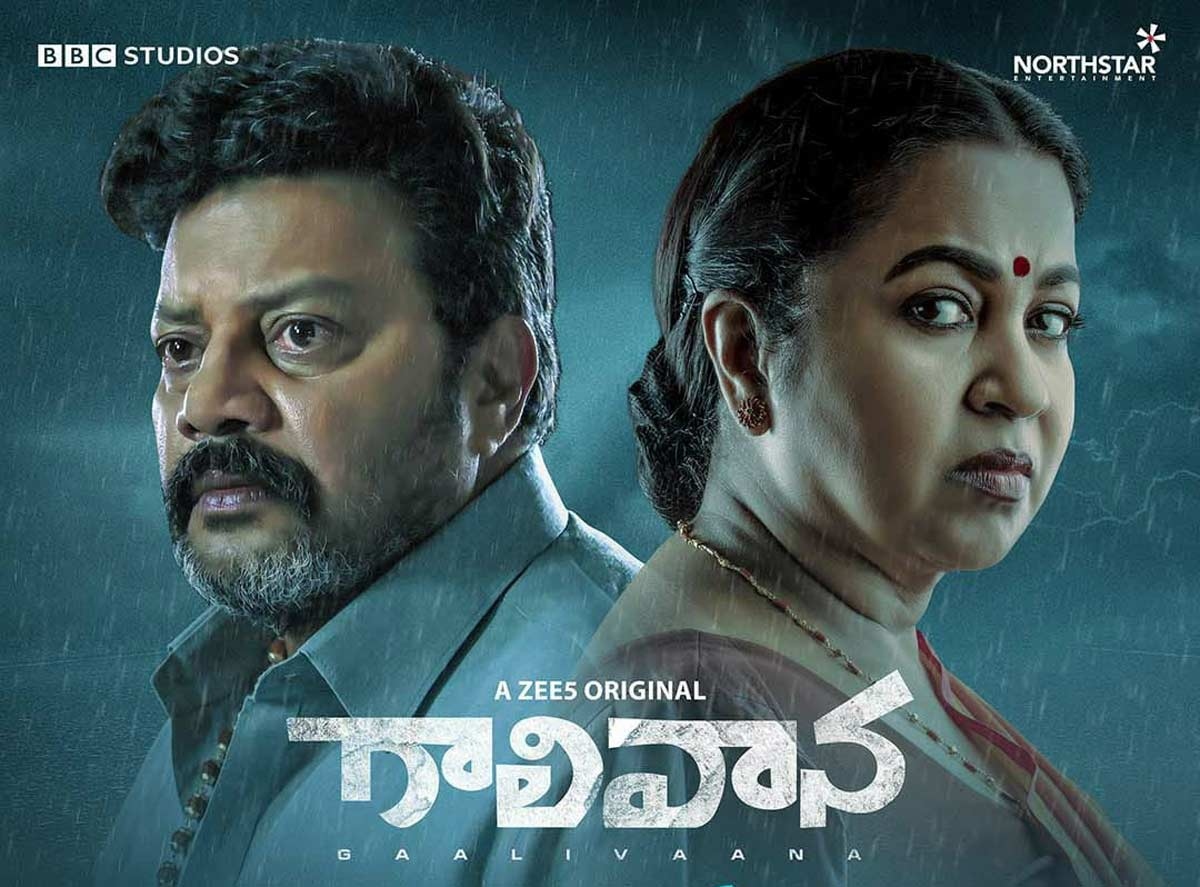 Gaalivaana - A well-written, well-told thriller
'Gaalivaana' is currently streaming on ZEE5. In this section, we are going to review the web series.
Story:
A newly-married couple named Ajay and Geetha are murdered in their flat. Ajay is the son of Saraswathi (Radhika Sarathkumar), a single mother who has seen enough suffering in life. Geetha is the daughter of Komarraju (Sai Kumar), an Ayurvedic doctor whose young son Srikanth is sometimes problematic. Hours after the twin murders, the murderer Srinu lands in the neighbourhood inhabited by the families of Saraswathi and Komarraju. The killer is found murdered on their premises. Who killed him? What do the two desperate families now do to hide the dead body and escape police action? Will Nandini (Nandini Rai), a cop, be able to crack the case? What is the motive behind the twin murders? Answers to these questions are found as the story progresses.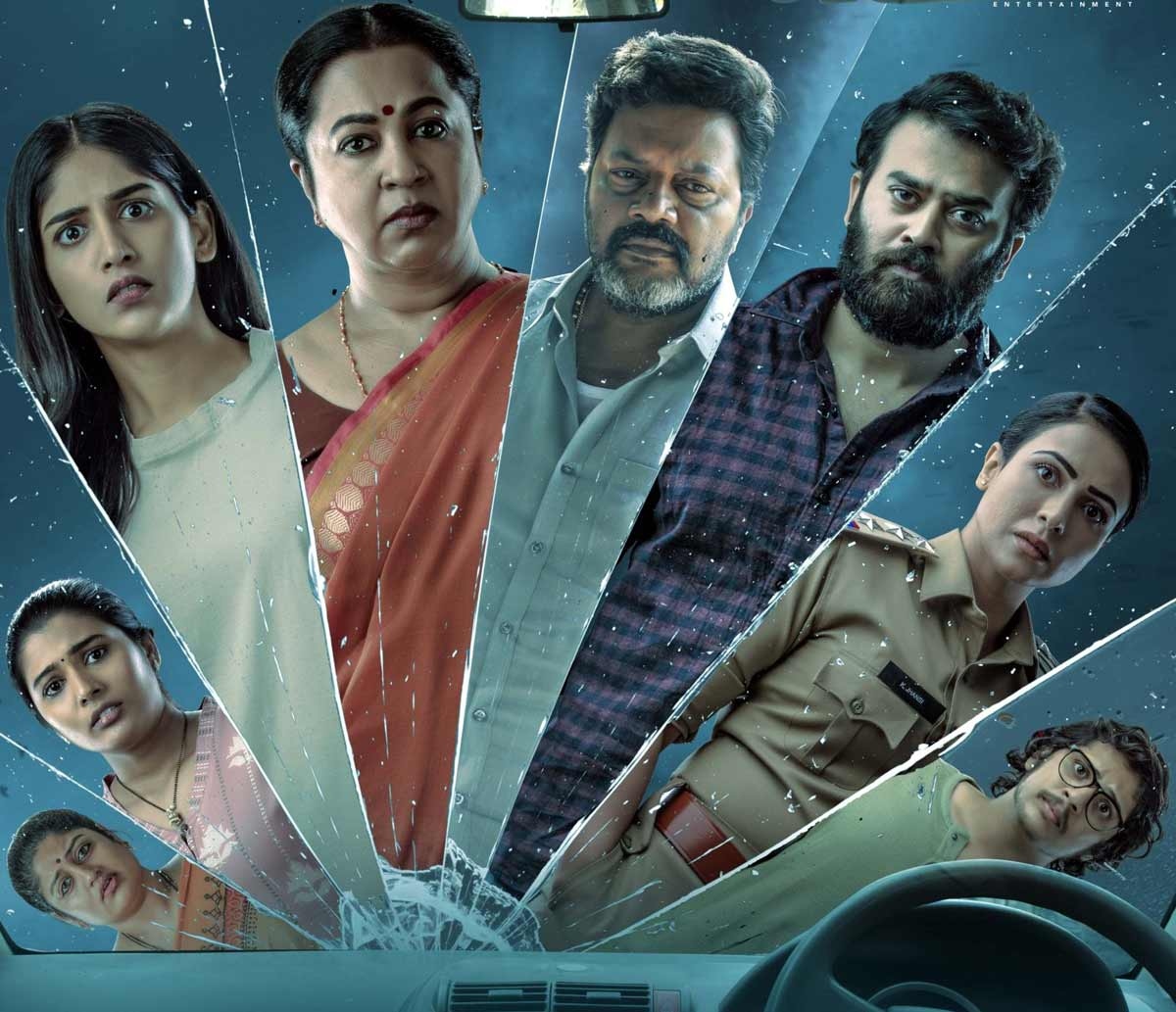 Analysis:
The web series, produced jointly by BBC and NorthStar Entertainment, is an adaptation of the British miniseries 'One Of Us'. The adaptation is imaginative and is a far cry from soulless remakes that we get to see at times.
By infusing an element the conservative audience would find uncomfortable, 'Gaalivaana' makes a sincere attempt at making the best use of the liberty that OTT space offers. The last two episodes are thoroughly gripping, revealing a shocking fact, and letting the audience judge the motives and actions of the characters.
Like in the original, there are references to the barn and the thunderstorm. The metaphorical embellishment is not lost on the discerning viewer. Nandini Rai's cop character mimics her counterpart in the original. She deals with drugs to make money for her sick daughter's treatment. Tagubothu Ramesh, who plays her subordinate, is measured.
Chandini Chowdhary, who plays Saraswathi's stoic and career-oriented daughter, is interesting throughout. She uses her voice to put a creep in check, a mentally-disturbed patient in good humour, besides offering moral support for her beleaguered mother. Her brother is grappling with his own set of problems.
This is a rare crime thriller with the least number of red herrings and misleading tropes. That's what makes 'Gaalivaana' respectable because it doesn't take the audience's intelligence for granted. There are a few glaring loose ends, but the earnest writing and the cliffhangers keep us engaged.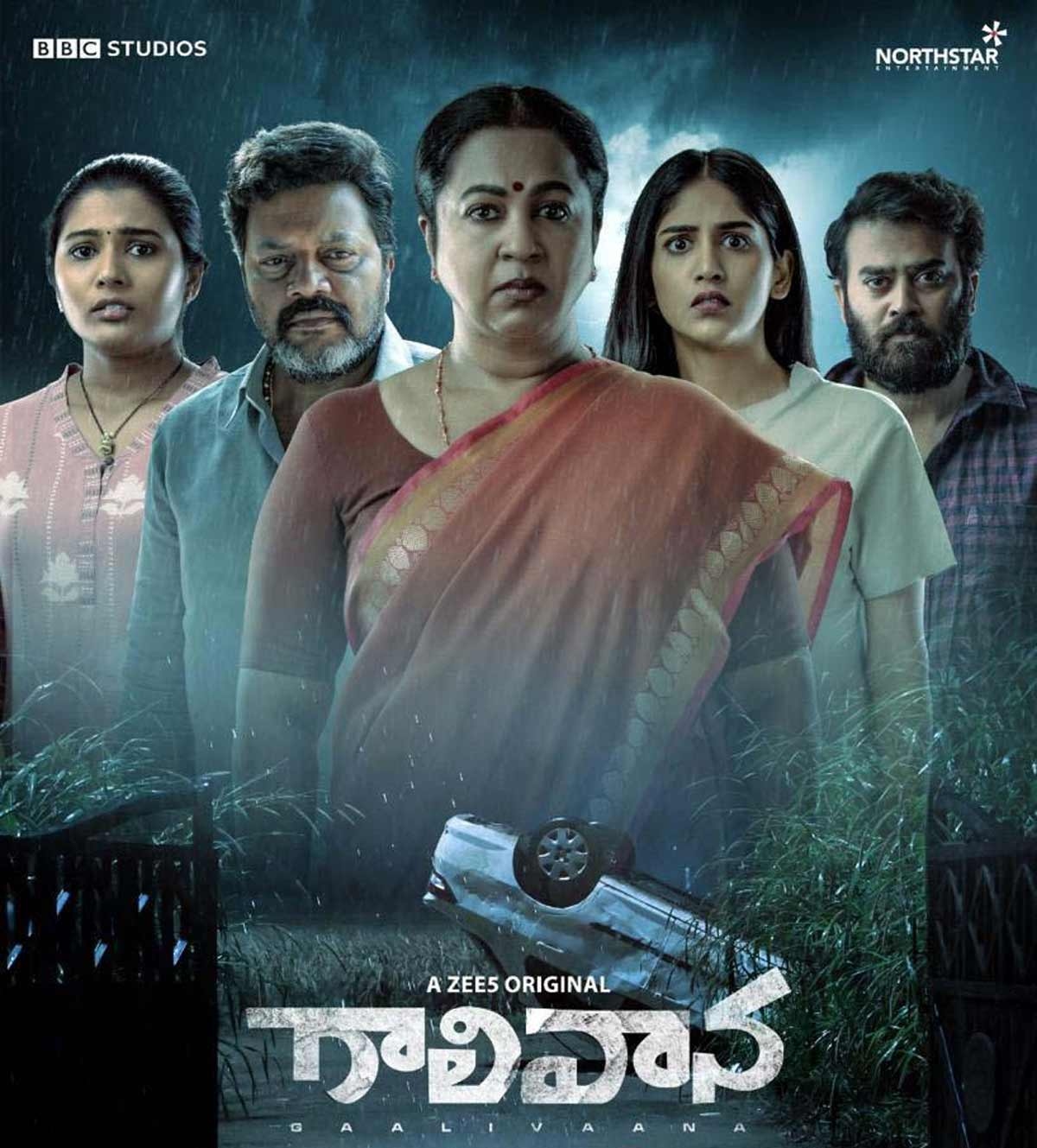 The viewer buys into the murder mystery also because of the believable performances. Director Sharan Koppisetty and his writing department don't allow the Radhika-Sai Kumar duo to overshadow the rest of the main cast. Ashritha Vemughanti as Komarraju's wife, Chaitanya Krishna as Mathand, Sharanya Pradeep as Mathand's fiance, Jayachandra as Suribabu are well cast.
The cinematography (Sujatha Siddhartha) is not novel but it is adequate. Sricharan Pakala's background music is impressive, while art director Pranay Naini's work makes the settings authentic.
Verdict:
'Gaalivaana' thrills without resorting to cheap tactics. As a domestic crime thriller, it weds emotions with a murder mystery. Watch it and you won't be disappointed!
CAST & CREW
Cast: Radikaa Sarathkumar, Sai Kumar, Chandini Chowdary, Chaitanya Krishna, Ashrita Vemuganti, Nandini Rai, Thagubothu Ramesh Sharanya Pradeep, Armaan, Sri Lakshmi, Surabhi Jayachandra Varma, Satish Saripalli
Director: Sharan Koppisetty
Writer: Chandra Pemmaraju
Music: Gowra Hari
Producer: Sameer Gogate(BBC), Sharrath Marar(Northstar Entertainment)
Showcase your talent to millions!!
Write about topics that interest you - anything from movies to cricket, gadgets to startups.
SUBMIT ARTICLE
More
Telugu Webseries Reviews