Being fashionable
Wednesday, May 17, 2017 • Telugu Comments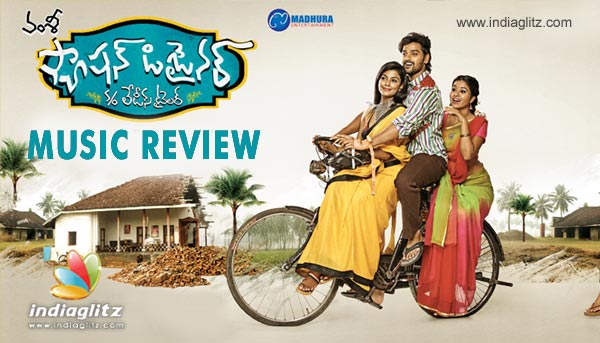 Music-directed by Mani Sharma, the album has Sree Krishna, Geetha Madhuri, Harini Ivaturi, Dinkar, Malavika, Sai Charan, Sahithi Chaganti, Anurag Kulkarni and Amrutha Varshini as the singers. Lyrics are by Chaitanya Prasad, Sri Mani and Sree Valli.
Paapi Kondallo
Artistes: Sree Krishna, Geetha Madhuri
Lyricist: Chaitanya Prasad
Vamsy extracts a number that smacks of both the old-world charm and the sound of the contemporary. This being a sequel to an '80s-era movie and Mani Sharma being a millennial guy, the song is neither too new nor too outdated in its sounding.
Chaitanya Prasad's lyrics are organic to the landscape in which the film is apparently set. Sree Krishna and Geetha Madhuri complement each other's talent, although the former's vocals sound more mature in terms of age.
Ravi Varma Chitrama
Artistes: Sree Krishna, Harini Ivaturi
Lyricist: Chaitanya Prasad
Right from likening the girl to Ravi Varma's paining, the song gives out a sense of old-style romance. Chaitanya Prasad's nativised lyrics are most welcome. It's Sree Krishna again. Harini Ivaturi is a promising talent. As for music, there is a sense of continuity (deliberate?) from the first number, thanks to the theme of the movie. Mani Sharma draws lessons from the style of music heard in a bygone era.
Anveshana
Artistes: Dinkar, Malavika
Lyricist: Sree Valli
The 'anveshana' of the guy with 'manmadha rekha' has a stylized voice in this number. Mani Sharma gets to be as instrumental as he can. If Malavika's vocals mirror the desperate mood of the number, Dinkar fits the bill. Sree Valli's lyrics are inventive, remarkably deriving themselves from the material offered by the story.
Meghale Thele Naalona
Artistes: Sai Charan, Sahithi Chaganti
Lyricist: Sri Mani
Sri Mani's lyrics compete with Melody Brahma's Midas Touch in delivering a Vamsy-style rendition. Sai Charan's vivacious voice is a fitting one in a genre that is expected to be 'fashionable'. Sahithi Chaganti's unique vocals do full justice. The interludes are as entertaining as the rest of the song.
Kanuleminto
Artistes: Anurag Kulkarni, Amrutha Varshini
Lyricist: Sri Mani
In terms of the sense it evokes, the song comes off as a spiritual cousin of 'Devudu Karunisthadani' from 'Prema Katha'. The love birds are both anxious and blissful, as the phrases 'Ninnemito.. repemito' and 'Ee katha ento' prove. Anurag Kulkarni and Amrutha Varshini's vocals score well on the naughtiness index. All in all, an enjoyable number.
Verdict: This album has the stamp of both Mani Sharma and Vamsy. The collaboration between a director renowned for his rooted narration and a music director who carries the sobriquet Melody Brahma with pride is healthy.
Rating: 3/5