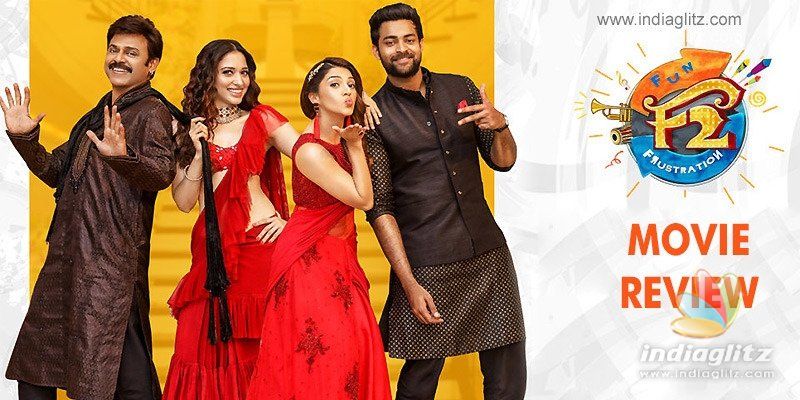 'F2', starring Venkatesh and others, hit the screens this Saturday.  Here is our review of the comedy-family entertainer.
Story:
Venky (Venkatesh) sees himself as a harassed husband of Harika (Tamannaah Bhatia).  Only days after marriage, he faces those problems that are the stuff of husband-wife jokes.  
Varun (Varun Tej) falls in love with Harika's sister Honey (Mehreen Pirzada).  In no time, Venky and Varun become comically frustrated partners when they realize that the sisters are a nightmare.  
They take an extreme decision in order to teach Harika and Honey a lesson.  The latter are bombarded with a shock on Honey's wedding day.  What is that shock?  Why does the scene shift to Europe?  Who is at fault for the skirmishes between the two couples?  Will they ever patch up?
Analysis:
If countless family dramas have tired you by presenting melodramatic/jaded families, 'F2' is for you.  This film is the polar opposite of the typical Sankranthi-fied family that revels in celebrating love and village life in film after film.  Tamannaah's character has a weird family in which women prominently disrespect the son-in-law, unabashedly make false promises, are absolutely happy about their younger daughter (Mehreen) falling in love if only to give more suffering to Venky, so on and so forth.
There are two 'pelli choopulu' scenes which are downright hilarious.  Every time Venky shows his frustration over the circus in his life, he is in his elements.  He is both the vintage Venky we have always loved and at the same time Anil Ravipudi's repackaged Venky.  Varun Tej gets into the skin of his character without difficulty.  At a time when most young heroes are struggling to present decent comic timing, the Mega hero pulls it off with ease, thanks to his director.
Annapurnamma and Vijaya show a unity of feminazi purpose and they literally enjoy humiliating Venkatesh.  The heroines' father has been silenced into parroting the words 'Anthega.. anthega' forever.  At Varun's house, his father compulsively discusses TV serials with the neighbourhood women.  Venky works as a PA for a comical MLA (Raghu Babu) whom nobody gives a damn about.  "He is PA's MLA," they call him, giving him more frustration.  
Tamannaah as a calculated techie to whom her career means a lot, is very convincing.  Her scenes with Venky and Mehreen tickle the funny bone.  Mehreen gets to play a dumb girl who believes that she has got great singing talent; Chammak Chandra (in a cameo) literally flagellates himself listening to her.  Varun as a Borabanda-based 'Bindaas' guy speaks in the Telangana slang and is a treat to watch as the pampered son of TV host Jhansi.  Priyadarshi makes a modest impact as his friend.  Rajendra Prasad's duplicity gets its just desserts when Hari Teja enters his life.  
When we think the writing department has run out of its bevy of cartoon characters, the entry of two rich and eerie brothers (Prakash Raj and Prudhvi) revs up the proceedings to an extent.  There should have been more of Vennela Kishore, who plays a don-like guy seething with a sense of revenge.  Sathyam Rajesh and Subbu Raju, Nutan Naidu (Bigg Boss fame) and Nasser (as a cop who takes the two heroes into custody) fit the bill.
While the first half is full-on fun, the second half is found wanting on many counts.  After a point, the eccentricities become tiresome.  Even so, the comic quotient is respectable and makes up for the lack of zing.  
The cliches in the second half could have been easily avoided.  An old couple showing themselves as a solution is a done-to-death idea.  So many sexist lines are there.  A character, played probably by a Saptagiri or a Brahmanandam, would have been a good distraction.  The two heroines look bereft of emotions.  The sentimentality looks almost artificial in many portions.  
Devi Sri Prasad's songs sound much better as part of the film.  The BGM is alright.  The cinematography (by Sameer Reddy) is good enough.
Verdict:
'F2' has a superb first half that will have you laughing throughout.  The second half too is entertaining but some flaws and cliches rob it of unalloyed zing.  A thoroughgoing family entertainer for sure.  Able performances help.  Director Anil Ravipudi proves his worth.
Rating: 3.25 / 5.0
Showcase your talent to millions!!
Write about topics that interest you - anything from movies to cricket, gadgets to startups.
SUBMIT ARTICLE
More
Telugu Movie Reviews
Kota Bommali P.S
Aadikeshava
Sound Party
The Trail
Spark
Sapta Sagaralu Dhaati (Side B)