Expressive express
Monday, December 28, 2015 • Telugu Comments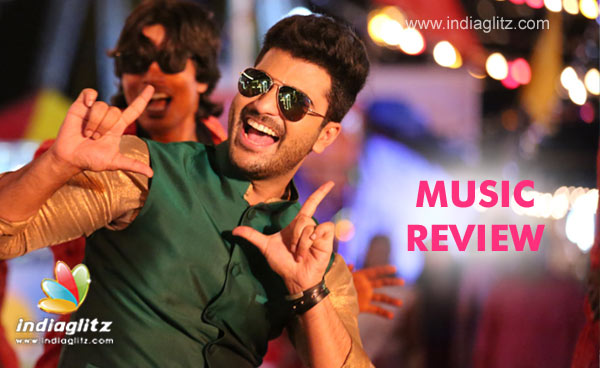 Sharwanand has by now been recognized with some musical flavour. The album comes in the tradition of the same.
A range of singers, namely Sweekar Agasthi, Silvia Anisha, Narendra, Lipsika, and Yazin Nizar complete the 'express'ive lyrics by Sri Mani, Bhaskara Bhatla, and Sreejo.
Hulala
Artists: Sweekar Agasthi, Silvia Anisha
Lyricist: Sri Mani
Praveen Lakkaraju gives us a taste of 'Run Raja Run' with a flourish. The Sharwanand flavour is apparently in the air. Sri Mani's lyrics like 'Neelonee santhosham, naloni sangeetham' are poetic and breezy in their feel. Sweekar Agasthi has that voice with a zany ring. Silvia Anisha is again a 'hulala' choice. All in all, a song that induces a jaunty mood.
Colorful Chilaka
Artist: Narendra
Lyricist: Bhaskara Bhatla
Bhaskara Bhatla is the romantic face, voice and soul of this song. His creative employment of sentences like 'jabilamma jatara vasthe neela untunde..' and references to Baahubali are creative. However, sentences like 'google lo vetika..' could have been avoided as it sounds too routine now. Narendra's folkish and rustic voice is eminently enjoyable. He makes the song a 'colorful chilaka', so to speak. Music-wise, this one stands out again for the tuning and instrumentation.
Ee vintha neediga
Artists: Lipsika, Yazin Nizar
Lyricist: Sreejo
It is again Gibran's milieu. The musical idiom is familiar. Praveen Lakkaraju goes beyond that and delivers some zany bits here and there. Overall, however, the song doesn't catch the attention except for the boisterous vocals. Sreejo's lyrics come with a creative embellishment.
24/7 Party
Artist: Yazin Nizar
Lyricist: Sreejo
The song is on the beaten track and even reminds one of one or two songs. The inspired music almost borders on the mediocre, complete with Hollywoodish, Bollywoodish, and even Sandalwoodish (may be) templates thrown in. Yazin Nazar's vocals are an important deviation from the mundane stuff. The folkish finish only adds to the middling music.
Verdict: The album makes a terrific impact with two songs - Hulala and Colorful Chilaka, while the other two songs merely pass the muster. A good choice of singers and a handful of 'hulala' lyrics are the album's biggest strength.
Rating: 3.25/5