Exclusive Interview with Suriya
Thursday, April 28, 2016 • Tamil Comments

Listen to article
--:-- / --:--




With barely a few days left for the release of the most expected movie of the year, 24` we caught Suriya for an exclusive interview in which he shares hitherto unknown details about the film and much more....Here we go....
Your first film as Hero in your home banner is releasing this summer how excited are you?
All those who are involved in 24` be it Vikram Kumar, A.R.Rahman, Thiru and 2D Entertainment have worked in tandem to make sure we give a wholesome entertainment for the summer. I am sure this film will be a milestone for everyone of our careers.
Who made you chose 24`, Athreya or Mani?
It was for the whole cinematic experience. Sometimes reality can be very boring and we decided to just move a little beyond that will change the dynamics of our existence as we are used to. I always make sure that every film of mine has some element of freshness to it.. Everyone would now be familiar after the teaser release that this is a film about Time Travel but that is only one dimension of the story and it is more about two families and Vikram Kumar will make you fall in love with these characters just like the way he did in Yavarum Nalam` and Manam`. The one thing that humans cannot control is Time but what if one has the power to do so is the core theme of 24`. Vikram Kumar has woven a tale that is very similar to a Disney movie which can be enjoyed with the whole family.
You are doing a villain role for the first time, have you limited yourself considering your social stardom?
Athreya is not unethical but one who believes he is right and does things intelligently thinking way ahead of others. Ofcourse he will be very very aggressive to attain his passion and desires and that is what drives him.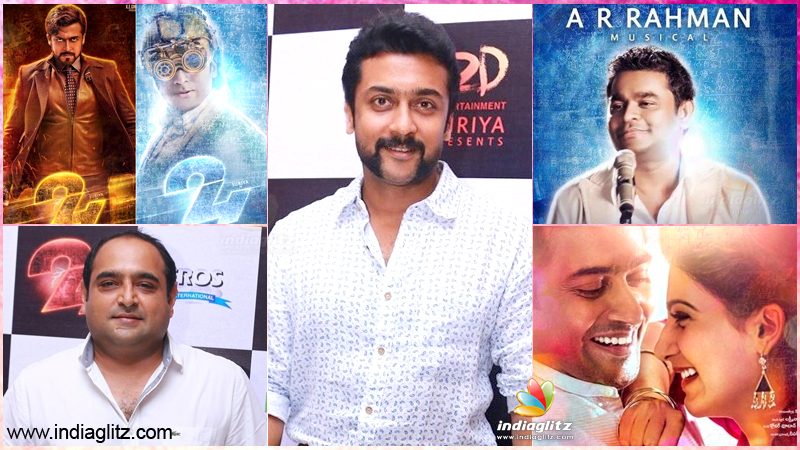 The Chemistry you share with Vikram Kumar...
I enjoyed working with Vikram Kumar as he is an amazing director who is full of ideas and he tells me that he has different compartments in his brain in which he places different story ideas and work on them simultaneously. There is a child playing inside him and his imagination is limitless and four or five lines he told me are also very exciting. He will be Athreya at one point and then he will become romantic and he always loves beautiful women around him.
About A.R.Rahman`s contribution to 24`...
Though we all are in different locations and rarely meet I am surprised every time I meet Rahman sir, I realize that he always thinks about everyone. One day he came to our sets and asked us to visit a holy place saying it was his mother`s wish. I was totally moved, considering how busy he is and with so many things happening around him, he considers the well being of us. He is so very concerned about the people of the industry. As far as the songs are concerned Rahman sir`s mom used to listen and give us suggestions after listening and whenever he passes by on the sets he used to take me out to have snacks and discuss the film. He is one person who is so humble and does not project the fact that he is a multiple Oscar winner or one of the most influential 100 people in the world. Rahman`s sir`s assistants told us that he enjoyed working on 24` and has put in extra efforts for it.
Samantha...
I first met her at an audio launch function of a Gautham Menon film and I am amazed at her growth in spite of coming from a non filmi background and her huge success in both Tamil and Telugu due to her hard work. She is dedicated and does a lot of improvising to give the best for her role. I especially like the way she treats her assistants making sure they are most comfortable and always sharing a friendly attitude with them.
What was the reaction of your kids and family for 24` trailer?
My son was so excited about me doing three roles and Jo and my parents loved the craft work and visuals and I think 24` will be the most favourite movie of mine at home and they are all waiting to watch the film in theaters.
Follow us on Google News and stay updated with the latest!
Follow
Actress Photos
Manjusha
Anasuya
Chandini Chowdary
Krithi Shetty