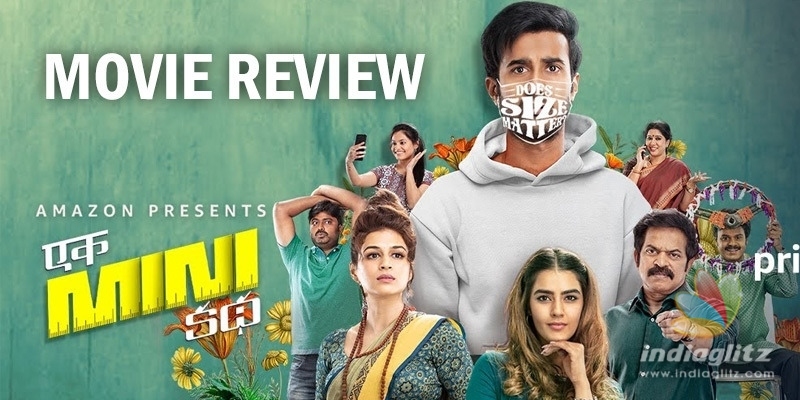 'Ek Mini Katha' started streaming on Amazon Prime on Wednesday night. Let's analyze the hits and misses of this latest OTT release.
Story:
Santosh (Santosh Shoban) is mighty worried that his genital is too short. He has a morbid fear of marriage because he assumes that he won't be able to perform and his wife will desert him. Amruta (Kavya Thapar) falls for him and the duo urgently gets married. This is when he takes refuge in a series of quick fixes before he can consummate his marriage. Can Santosh ever find a solution to his 'shortness' problem?
Analysis:
At a time when Anandayya, a herbal practitioner from the Nellore district, is hogging headlines for coming up with a concoction that can allegedly cure covid-19, this reviewer was curious about the side effects of the herbal medicine that Shraddha Das' sanyasin character peddles in the film. The side effects are unhinged and are milked for a rather oddball scene in the final act.
'Ek Mini Katha', whose story and dialogues are by Merlapaka Gandhi, stays true to its sub-genre. The film doesn't mind being an adult comedy for a good part. And its part-family comedy beats keep the viewer engaged, by and large.
The comedy quotient goes up in the second half, with a lot of quirky characters populating the script. For one, there is the Chai Bisket fame Rajesh Khanna, who wants to kill himself for some reason. For another, there is Saptagiri, who can't curb his enthusiasm to see the male lead consummate his marriage at the earliest. Then there is an old man who is smitten by Pooja Hegde ever since he watched 'Ala Vaikunthapurramuloo'.
The film would have done well to milk the comic timing of Brahmaji, Posani Krishna Murali and Sudarshan. There was enough scope for Shraddha Das to be involved in some novel situational comedy. Portraying her as some sort of glamorous seer is so cliched. Director Karthik Rapoulu is content with putting her in the space of some comedy of errors.
The way the early married life of the lead pair comes of age, one wonders if it was all about Santosh finding stimulus all along. If only he had found a genuine seductress much earlier in life, he would have found liberation in an erotic song and his ordeal would have come to an end in a snap. Alas!
The love track trods the beaten path. Kavya Thapar's character is shown falling for Santosh because he believes that road rules don't apply equally to women. Thank God that he didn't enact the traffic laws and road safety rules!
Jabardasth Appa Rao plays Barri Basavaraju, who gets body-shamed. Bajrang Dal becomes Jabrangdal for a really low-end scene. Santosh Shoban shows some acting range, unlike in 'Paper Boy', his previous outing. Kavya Thapar is promising.
Verdict:
'Ek Mini Katha' elicits some healthy laughs in the second half. Watch it for some light-veined OTT time. But don't expect ROFL laughter.
Rating: 2.75 / 5.0
Showcase your talent to millions!!
Write about topics that interest you - anything from movies to cricket, gadgets to startups.
SUBMIT ARTICLE
More
Telugu Movie Reviews
The Ghost
God Father
Swathimuthyam
Ponniyin Selvan 1
Nene Vasthunna
Babli Bouncer