Hail Dictator
Saturday, December 26, 2015 • Telugu Comments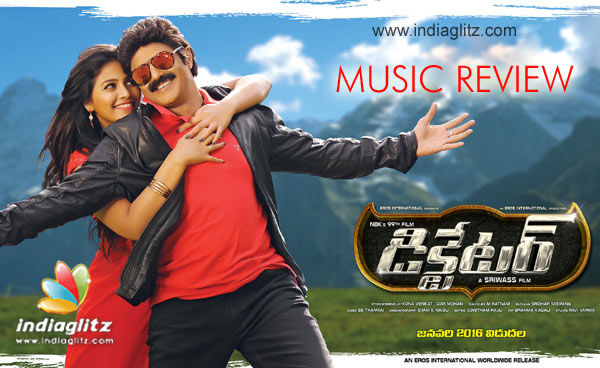 The combination of Balakrishna and Thaman works to bring some zing and more. A range of singers including Divya Kumar, Naveen, Malvika, Sanjana, Sri Krishna, Kausalya, Geeta Madhuri, and Simha musically complement the lyrical onslaught of Ramajogayya Sastry, Varikuppala Yadgiri, and Bhaskara Bhatla.
Gam Gam Ganesha
Artist: Divya Kumar
Lyricist: Ramajogayya Sastry
It is time for a tribute to Lord Ganesh. On the lines of 'Jai Jai Ganesha' from 'Jai Chiranjeeva', this song is a celebration of the God, complete with analogy and philosophy. Ramajogayya Sastry chooses to pen such lines as evocatively devotional and also contemporaneous. Thaman's music is on the beaten path, what with the jarring notes being incongruent. Divya Kumar's vocals are a welcome change.
What's up Baby
Artists: Naveen, Malvika
Lyricist: Ramajogayya Sastry
Ramajogayya Sastry is back to using English words for this number that is youthful in tone and boisterous in mood. Naveen's voice comes as a surprise as it is too jaunty for a star like Balakrishna. Nevertheless, it may turn out to be an experimental choice. Malvika's vocals stand out for the thrum of energy writ on it. Thaman delivers a good output in terms of instrumentation.
Chura Chura
Artists: Sanjana, Sri Krishna
Lyricist: Ramajogayya Sastry
The trailer invites the audience to expect more. This one is perhaps the best song from the album, especially the tune as well as the vocals. Sanjana's mellifluous voice complements the lilting lyrics and poetic feel of the number. Sri Krishna's humming is a good value addition. The male voice comes late in the song, but when it does it makes a strong impact. Ramajogayya Sastry shows imagination in drawing his theme from both romantic poetry and naturalism.
Tingo Tingo
Artists: Kausalya, Geeta Madhuri, Simha
Lyricist: Varikuppala Yadgiri
Tingo tingo.. is surely going to ring in the ears for long after you hear. That is not because it is eminently hum-worthy, but because it is quite repetitious, more than what is required. Kausalya and Geetha Madhuri have that different vocal streaks that are apt for a song of this mood. Simha complements their rendition. Varikuppala Yadgiri's lyrics come with a dose of been-there-done-that imagination. Thaman's music doesn't queer the pitch through beats or anything else.
Dictator
Artists: Sathyan, Solar Sai, Sai Sharan, Naveen, Sri Krishna
Lyricist: Ramjogayya Sastry
The song that matters comes. The song is a manifestation of Thaman's knack for instrumentation with a zing. The music makes an impact because of its trendiness. A range of singers choruse their way through the number and their voices are indistinctive. Ramajogayya Sastry's wordplay is on display once again.
Gana Gana
Artists: Sameera Bharadwaj, Deepak, Simha
Lyricist: Bhaskara Bhatla
Bhaskara Bhatla uses English words to the most minimum extent. The folkish mood of the song is genuine and unadulterated. The trailer suggests that the song has been given justice visually. Sameera Bharadwaj, Deepak and Simha take the song to the next level with their vibrant vocals. It is vintage Balakrishna all the way. Thaman is right in the selection of singers, yet again.
Verdict: Dictator is an album that is for the mass and class audiences alike. Chura Chura.. stands out and is sure to be on the chartbusters. Gana Gana works lyrically.
Rating: 3/5