Defying the formula
Wednesday, November 9, 2016 • Telugu Comments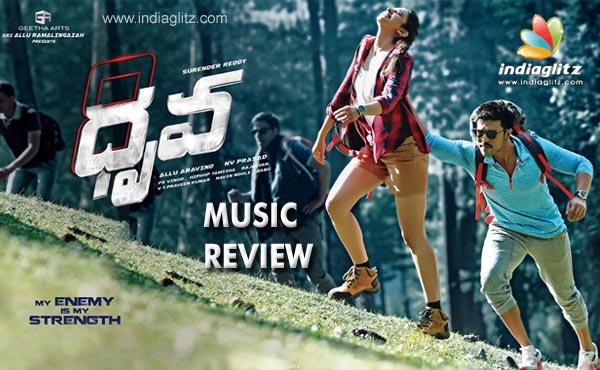 Newcomer Hiphop Tamizha has his task cut out. Three of the four are written by Chandrabose. Less-heard-of singers like Amit Mishra, Padmalatha and the music director himself fill the singers' slot.
Dhruva Dhruva
Singer: Amit Mishra
Lyricist: Chandrabose
In his idealistic style, Chandrabose peppers the hero-praising song with Martin Luther King Jr's 'I have a dream that one day..' legendary speech. Invoking mythological/historical characters, the lyrics turn out interesting rhyming words like 'tejam', 'nyzam', besides alliterations like 'rakshinche rajyangam'. Hiphop Tamizha's music is apt for a star hero like Ram Charan, coming as it does with the usual doses of crests and troughs. Without being too boisterous, the beats pack a punch. Amit Mishra's vocals are a welcome change, sounding aptly intense wherever needed.
Choosa Choosa
Singers: Padmalatha, Sniggy
Lyricist: Chandrabose
The song is in the mold of a solo duet wherein the smitten girl keeps repeating the same words in a self-absorbed mood. And toward that end, Chandrabose's lyrics are simple yet evocative. Padmalatha's vocals have a youngish feel about them, sitting pretty with the playful mood and the girlish aura. Although Hiphop's 'raga' passes muster, the instrumentation is at its best.
Pareshanura
Singers: Padmalatha, Vishnu Priya (Backing Vocals)
Lyricist: Yadagiri
The actress-oriented number comes with the features of a Carnatic classical number. Hiphop's music allows the singer to give the best shot at being irreverent. Yadagiri's stanzas read like a whole meaningful sentence, the next line being as important in understanding the meaning of the first. All in all, an enjoyable non-Tollywoodish number.
Neethoney Dance
Singers: Hiphop Tamizha, Nikitha Gandhi
Lyricist: Chandrabose
Sounding like a cross between a Bollywoodish pub number and a South Indian item song, 'Neethoney Dance' merely passes muster in revving it up. Hiphop wears the mantle of a singer and delivers an electrifying vocal. Nikitha Gandhi's vocals sound anew. Chandrabose's lyrics come with a heavy dose of English-language phrases, talking about the jamboree tonight.
Verdict: An album that doesn't boast of formulaic songs, this one has two actress-driven songs out of the four. While the party-time song is a rip-off, the title track stands out for its meaningful lyrics and rendition. A so-so album, overall.
Rating: 2.75/5