Dhilluku Dhuddu 2
Thursday, February 7, 2019 • Tamil Comments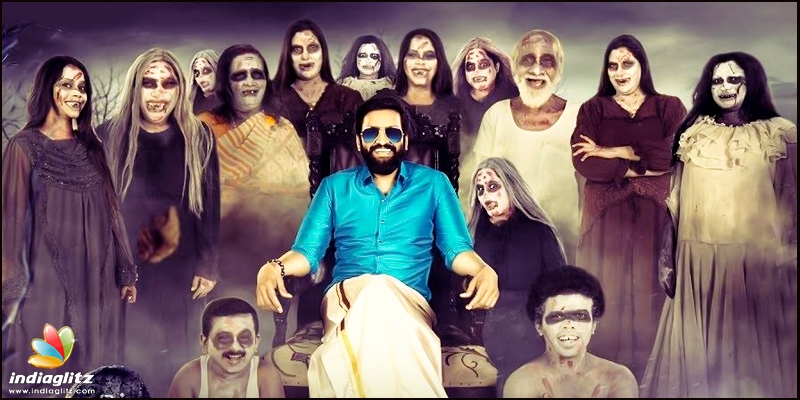 After the success of Dhilluku Dhuddu(2016), comedian turned hero Santhanam and director Rambhala of Lollu Sabha fame are back with Dhilluku Dhuddu 2 - the sequel to the hit horror comedy, this time with fresh characters and a new setup, with Santhanam himself producing the movie in his Handmade productions.
This second installment has completely new characters, as Santhanam will be seen as Vella Viji, a carefree youngster whose routine is to involve in atrocious activities and brawls in his locality, and situations force him to venture into a haunted bungalow possessed by a spirit. The horror situations that Viji faces in the bungalow turning them into humorous episodes and how he holds to his guts to chase away the spirit is what Dhillukku Dhuddu 2 is all about.
While the first part had Anchal Singh as the female lead, Dhillukku Dhuddu 2 launches Shritha Shivadas inTamil, and veteran Urvashi plays a hilarious role in the movie. Besides, Motta Rajendran and Karthik TM who were part of the first installment will also be seen in the movie.
Singer Shabir, who had composed music for the recently released Sagaa and the upcoming Neeya 2 has composed for Dhillukku Dhuddu 2, and is expected to match the humour plus horror tone of the hilarious movie. Deepak Kumar Pathy who was the cinematographer of the first installment, handles cinematography here as well.
The promo teasers had some hilarious moments, providing a glimpse of what one could expect from this comedy caper and hints of a winning return to form for Santhanam. As fun one-liners and counters and slapstick comedy have been the forte of Rambhala - Santhanam combo right from their Lollu Sabha days, and having proven themselves with Dhilluku Dhuddu earlier, Dhilluku Dhuddu 2 is expected to be a humour filled ride that will drive away your fears of spirits/ghosts with the two and a half hours laughathon the team is gonna offer!