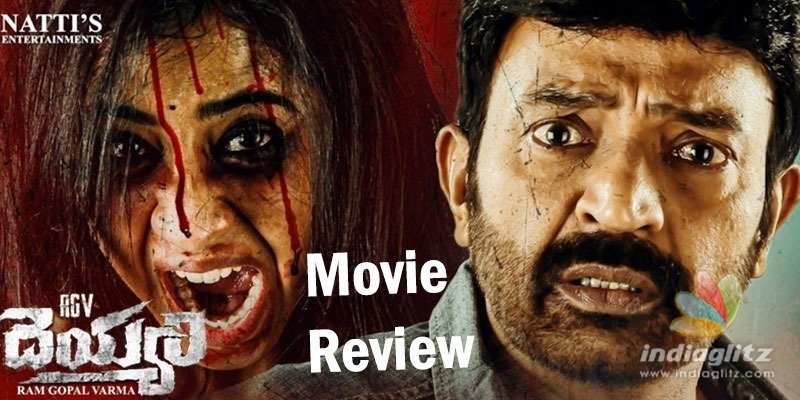 'RGV Deyyam' hit the screens today (April 16). Here is our review of the latest box-office release.
Story:
Vijji (Swathi Deekshit) is a college girl who suffers from sudden spouts of delirium after she gets possessed by a ghost. Her father Shankar (Rajasekhar) is a mechanic, who is left flabbergasted by her daughter's weird behaviour. He consults a series of experts to help her find a solution. What ails Vijji? Why is she possessed? Is there redemption?
Analysis:
The film was made as 'Patta Pagalu' originally, more than seven years ago. In keeping with the old title, director Ram Gopal Varma lets the ghost go berserk during the day. In keeping with the dumbness of horror movies, however, he lets every character behave as though they are perpetually in the dark even though facts are there in plain sight. "She must be stressed due to exams". "She must be having nightmares". And more BS of this sort. At one point, a character blabbers: "She must be having hormonal changes. That's why she is behaving like a ghost." 
The problem with the post-2000s RGV is not that he is overrated. The problem is that he is prolific to boot. This film was made in 2013 or so. Even by the standards of those days, every single horror movie trope shown in 'RGV Deyyam' is dated. 
Our horror movies would become less agonizing to watch the day their characters stop believing that they are giving insights when they mouth banalities like this: 'Dayyalu bhoothalu em levu'. And then proceed to consult the most boring occult practitioner around. 
It seems, after a point, even the censor board members got too bored to censor the film. The first time Swathi's character utters the word 'lan*a kod*ka', it is muted. The second time she utters the same cuss word, it's allowed with gay abandon to pierce through our poor eardrums. RGV sexes up the ghost by making it talk about an uncle's sexual fantasies and an unseen woman's extramarital affair.  
All the while, the ghost goes unchallenged because everyone is busy either weeping or showing nervousness in its presence. There comes a point when a character has a quasi metaphysical and ethical debate with the ghost, which frankly deserved better. 
Dr. Rajasekhar plays a male version of the most teary-eyed female TV character. As a pained father, he evokes sympathy to an extent. Swathi Deekshith is below average, while late Devadas Kanakala plays a paranoid grandpa-psychiatrist. Anitha Chowdhary plays a bad stepmother, while Jeeva, Benerjee, Ahuti Prasad and Ananth are failed by fake dubbing. 
DSR's BGM and Satish Muthyala's cinematography are low-grade.
Verdict:
'RGV Deyyam' tells the story of a vengeful ghost with little imagination. A strictly avoidable bore fest it is.
Rating: 1 / 5.0
Showcase your talent to millions!!
Write about topics that interest you - anything from movies to cricket, gadgets to startups.
SUBMIT ARTICLE