A mixed bag of average goodies from Yuvan
IndiaGlitz [Saturday, August 6, 2016 • தமிழ்] Comments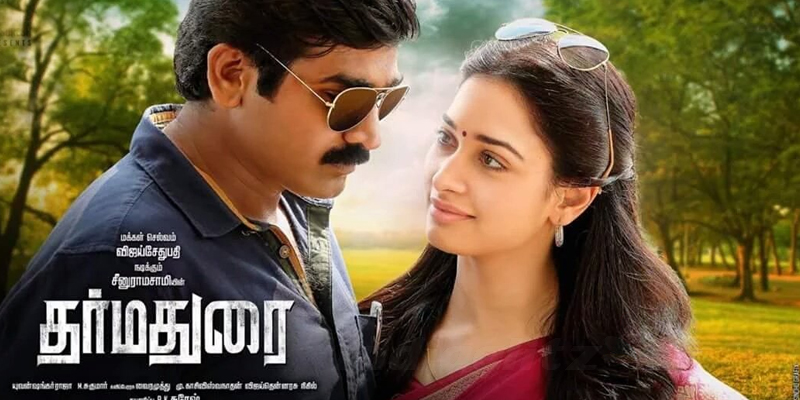 Seenu Ramasamy and Yuvan join hands yet again for Dharmadurai which has Vijay Sethupathi in the lead role along with Tamannah. The album has a mixture of rural folk music keeping in mind the movie's mileu.
Endha Pakkam :
A straight forward track from Yuvan which has very minimal amount of variation and rather sticks to a monolithic tune from the word go. The song's melody is through the rhythym and soothing guitar segments, raises up with the interludes then disappears towards the end. The only positives from the song are Chinmayi and Rahul's vocals along with the lyrics from Vairamuthu.
Aandi Patti:
Yuvan throws in everything folkish to get this song going with raw vocals from Surmukhi and the talented Senthildass. The background of the track is rich with heavy baseline of bass work complimented with seamless flute and table. The entire note gives a déjà vu feel of 80's and 90's era, Yuvan ups the mood by bringing in modern electronic dynamics too. As again some strong verses from Vairamuthu does the trick in driving home the rustic environment.
Poi Vaada :
With very minimal instrumentation, Yuvan treats the song by letting the vocals of Srimadhumitha do the magic. A short song of around two minutes is blended with vintage Harmonica and greasy string segments jumbles with slow vibe of tunes and gives that echoing solo strength. The song looks to have content of an important visualization from its lyrics.
Makka Kalanguthappa:
The pick of the album "MK" is a free flowing energizing song ridden with a feast of folk instrumentation. Yuvan has ripped apart this number by infusing the classic nadaswaram with a range of tabla and local folkfare to give a fitting local dance fare. The infusing energy in the rhythm ripples with Bala's gutsy vocals which rather goes down well with the rioty nature of the track. Easily one of the biggest Kuthu songs of the recent times.
Naan Katrile:
The verses speak bits and pieces of a doctor and to make it look urbane, Yuvan has clubbed a rock choreography of medium bass and live like guitar segments. Or otherwise a complete rural outing, this song is the only one with heavy drums and trance sequences still without much of a variety when it comes to the underlying tune.
Verdict : An average album from Yuvan ridden with rustic folkfare music that might work with visuals.
Rating : 2.5/5