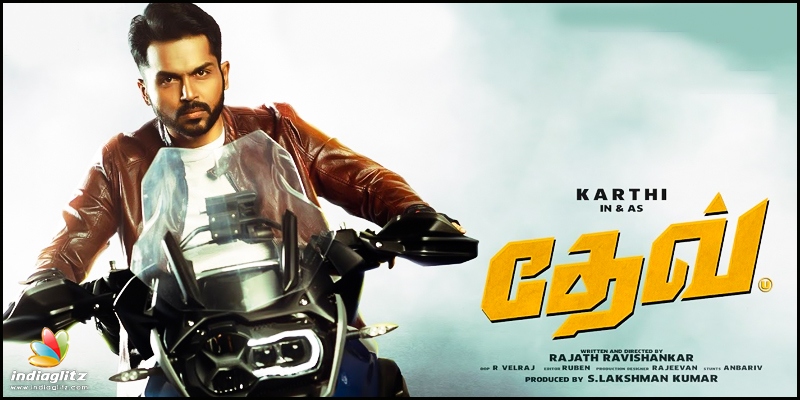 Karthi is the saving grace of this visual feast
Karthi, after back to back commercial successes with Theeran Adhigaaram Ondru (2017) and Kadaikutty Singam (2018) is back on screens with Dev, directed by debutant Rajath Ravishankar, and produced by Prince Pictures. With the glossy visuals, thrilling action episodes and breezy romance, Dev promised to be a colorful entertainer. Let's see if the movie lives up to the expectations.
Dev(Karthi) is an adventure loving guy who loves to 'live' rather than just exist, and leads a happy life, traveling around the world with his friends, and capturing moments. Enters Meghna (Rakul Preet Singh), a self centred, independent entrepreneur who doesn't believe in men, but the journeys Dev takes slowly makes her fall in love. However, a conflict arises in their love and what happens next in Dev's life and love is what the movie is all about.
Karthi in the title role is impressive as he fits the character and powers the movie with the variety he displays, be it as the charmer of the romantic episodes or his  impacting expressions in emotional episodes. As the fiercely independent, bold Meghna, for once, Rakul Preet Singh gets to share equal screen space with the hero, as the movie is more of the self discovery of Meghna than Dev himself, and she displays acting prowess with the ease in shuttling between her feelings for Dev and her selfish nature. Ramya Krishnan is underutilized in a role that offers her very limited screen space. Prakashraj is positivity personified in a role that's a reminder of Vaaranam Aayiram Suriya, and is a cakewalk for the veteran. Amrutha Srinivasan and RJ Vignesh Kanth as Dev's friends are adequate, and the latter occasionally evokes laughs, though his one-liners remain flat for most part.
The first half of Dev moves at a leisurely pace, establishing the adventurous, "Live the moment" character of Dev, and the contrasting, diametrically opposite Meghna who isn't confident of choosing love due to her childhood struggles. With sequences presenting his bonding with friends played by Amrutha Srinivasan and Vignesh Kanth, and songs at regular intervals, the movie though entertaining, never really gets into the plot nor does it have any strong conflict point established in the first half.
The second half starts quite promisingly with Dev beginning a journey with Meghna, but the excitement fizzles out after the journey. Rajath Ravishankar introduces a conflict that looks forced, and the song placements further add to the woes. Though Karthi and Rakul Preet try to hold your attention with their performances, the screenplay wanders from the ego conflict to a journey of self discovery and realisation, culminating with the typical fairytale end.
Harris Jayaraj's background score elevates several sequences, while of the songs, Anangae and Enga nee pona crooned by SPB are hum worthy. Velraj's stunning cinematography capture the exotic locations  and the action sequences perfectly, making Dev a visually appealing outing. Ruben's editing could have been taut, as the frequent appearance of songs mar the impact.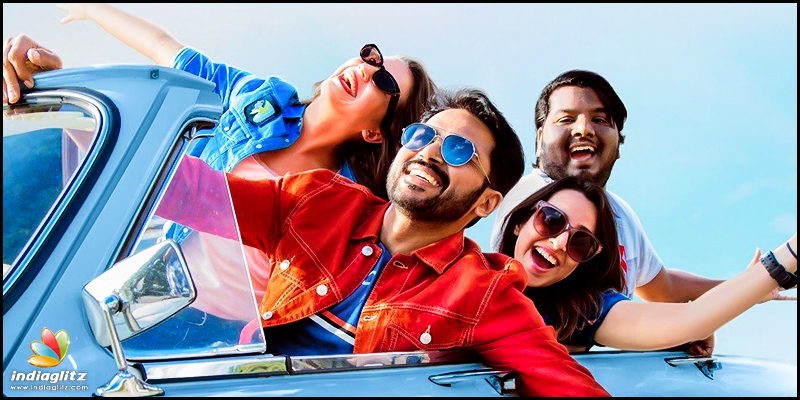 Debutant Rajath Ravishankar has started his film career with a love story that's not just about romance, but about loving life and living the way one desires. Karthi oozes energy and breathes life into the central character Dev, as he's instantly likeable and connects with the audience and Rakul Preet Singh gets a meaty role as the girl stuck between choosing love and the ghosts of past, and she scores well. Despite earnest performances from the leads, Dev struggles to hold attention, as Rajath's screenplay takes its own time to come to the actual conflict only in second half, and the screenplay is filled with sequences that are sure to give a sense of deja vu(Paiya, Vaaranam Aayiram and a lot of hits of the past). For Karthi, this is a role reversal of sorts, as he's placed exactly in the spot where Aditi Rao Hydari was placed in his Kaatru veliyidai, while Rakul takes the spot of Karthi in the movie as the self centred person. With good music and beautiful visuals to support, Rajath's screenplay however falters, as it oscillates between presenting a love story and a tale of self discovery, and in an attempt to present a lot of things, ends as an attempt that could have been way better. All said, Karthi saves Dev to an extent, as he solely shoulders the movie despite its issues.
Verdict: Karthi is the saving grace of this love story.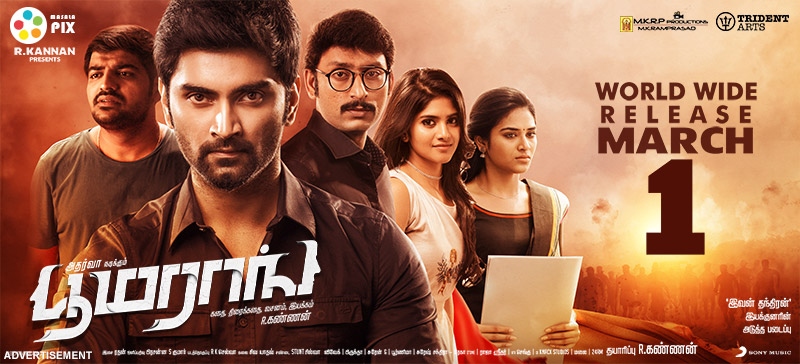 Rating: 2.25 / 5.0
Showcase your talent to millions!!
Write about topics that interest you - anything from movies to cricket, gadgets to startups.
SUBMIT ARTICLE