The album that was needed
Tuesday, July 23, 2019 • Telugu Comments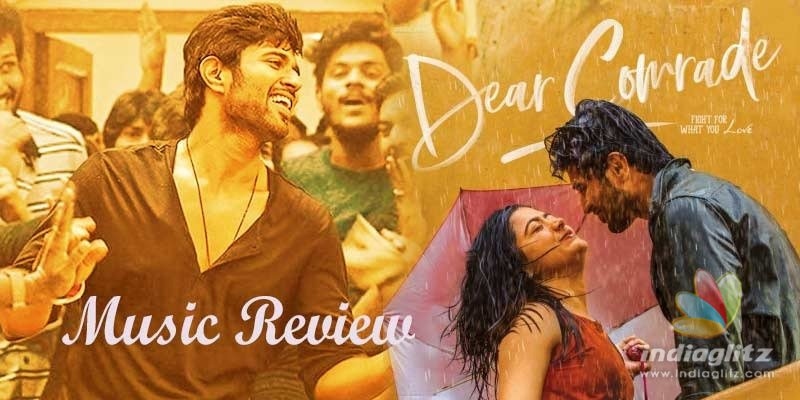 'Dear Comrade', the album, is out on Lahari Music.  Composed by Justin Prabhakaran, its eight songs have lyrics by Rehman, KK and Chaitanya Prasad, with the last two penning a song each.  Sid Sriram, Aishwarya Ravichandran, Gowtham Bharadwaj V, Yamini Ghantasala, Karthik Rodriguez, Sathya Prakash, Chinmayi Sripaada, Kaala Bhairava, Naresh Iyer, Vijay Deverakonda, Stony Psyko, Mc Vickey have rendered the songs.
Comrade Anthem
Singers: Vijay Deverakonda, Stony Psyko, Mc Vickey
Lyricist: Chaitanya Prasad
Heavily inspired, it's also unabashedly noisy.  It's as good as speaking lines rather than singing them to a tune.  Chaitanya Prasad's lyrics pack familiar but time-tested themes in a song that has a heavy Kollywoodish hangover.  The singers do a good job, although Vijay Deverakonda referring to himself with his real name is a bit too self-indulgent.  All in all, this one is nothing like the other four songs in the album.
Nee Neeli Kannullona
Singer: Gowtham Bharadwaj V
Lyricist: Rehman
Rehman's lyrics are the best aspect of the song.  'Evaru choodani ee alajadilo, kuduru marichina naa edasadilo' is a line that is both profound and soothing.  Gowtham's voice is lilting and sharp.  He makes the song feel lighter with minimalism. Justin's tune makes us wonder if melodies are most likely to be inspired nowadays; they have become low-hanging fruits. For all its deja vu sense, the music still makes an impact.
Kadalalle
Singers: Sid Sriram, Aishwarya Ravichandran
Lyricist: Rehman
One of the most smooth and sweet-sounding songs is out.  Sid Sriram betters his 'Inkem Inkem Inkem Kavale' magic to deliver a more last-longing output.  Aishwarya's voice is offbeat and gels with the flourish of freshness that her male counterpart brings to the table.  The highs and lows are rhythmic, with the visuals (of the lyrical video) adding extra zing. Rehman's lyrics are glorious.  The line 'Adharam anchule, madhuram korele' is a tribute to all the best kissing scenes in Indian cinema.
Gira Gira Gira
Singers: Gowtham Bharadwaj, Yamini Ghantasala
Lyrics: Rehman
The lyrics have a metaphorical quality to them.  Rehman aces it when he writes, 'Nenante thaane, thanu nene okatai unnaane, pommanna pone, padathaane lesthaane'.  The singers give the song an immersive quality with their quiet and intermittently offbeat voices.  The music director is unmistakably inspired here and there but the pull of the melody is too forceful to invite any derision.  All in all, a soothing song.
Canteen Song
Singer: Karthik Rodriguez
Lyrics: Rehman
Filled with percussions, the chorus song comes with peppy and old-fashioned vibes.  The visuals, as seen in the video version, make it appear as if the film is set in the 1990s.  The tune is inspired, with traces of originality found only in the choreography.  The snatches of blushes of girls and lover boys lend it a romantic feel.  All in all, a passable song that does have over-the-top boisterousness.
Yetu Pone
Singer: Kaala Bhairava
Lyrics: KK
Kaala Bhairava's deep voice is apt for this 'I am longing for you' situational song.  Justin might well have become AR Rahman's alter-ego in bringing out this intense output.  Although heavily inspired, we will still give it the long rope to let it take us over.  KK's lyrics are top-notch, rendering the song a must on your list.
O  Kalala Kathala
Singers: Sathya Prakash, Chinmayi Sripaada
Lyrics: Rehman
Sathya Prakash's voice is a whiff of fresh air, complementing the nonpareil voice of Chinmayi.  The lyrics carry the burden of the coming-of-age love story and make the heavy emotions feel light like a feather.  The music director blends the charm of melody and the joy of beats to deliver a winsome song.
Maama Choodaro
Singer: Naresh Iyer
Lyrics: Rehman
The song is carnivalesque and also has a tinge of melody writ large.  Naresh Iyer's vocals are sharp and relatable in terms of being boy-next-door's.  Rehman's lyrics make a mark with their hope-filled vibes and rich in nostalgia.  Apt in a film where romantic banter is integral to the script.
Verdict:
An eclectic album, this!  The eight songs are earnest and betray the deep creative effort that went into creating them.
Rating: 3.25/5