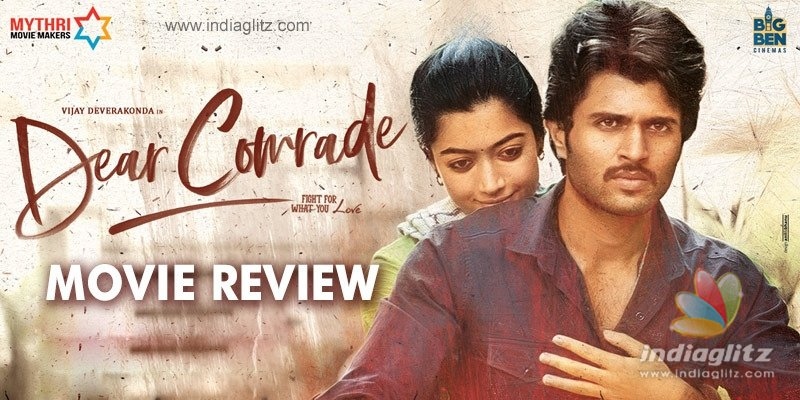 'Dear Comrade', starring Vijay Deverakonda in the lead, hit the screens this Friday.  Produced by Mythri Movie Makers and Big Ben Cinemas, the film is out in Telugu, Tamil, Malayalam, and Kannada.  Here is our review of the latest box-office outing.  
Story:
Bobby (Vijay Deverakonda) is an angry, idealistic college student who takes up issues that are relevant to the student community.  His brush with a politically-partisan group in the college leads to some unsavoury outcomes.  
Lilly (Rashmika Mandanna), a wannabe national cricket player, falls in love with him but things don't go the way the duo would have wanted.  
Pangs of separation follow for Bobby but what life has in store for him and Lilly is quite unexpected.  There is also a tragic twist in Lilly's story.  Does everything end well?  That's the climax for you.
Analysis:
At one level, 'Dear Comrade' is a heavy story, much like 'Jersey' was.  At another, it doesn't take itself too seriously and therefore seeks to deliver the potentially grave aspect as a light package.  It's a mixed package that also ends up seeming too affected.
The best takeaway pertains to how the tempestuous love story is interspersed with Lilly's difficult-to-achieve but lofty dreams.  Sans the parental melodrama and regular events, the love story is surely substantial on the paper.   The way Deverakonda's character articulates the message of the film in the climax is worth a special mention.  
Director Bharat Kamma shows efficiency in mingling the songs (Justin Prabhakaran's music is lilting, soulful) with the proceedings.  He doesn't make it a sports-based drama (which makes sense, with the audience having watched a 'Jersey' only recently).  He is also helped by Sujith Sarang's nimble frames, the non-glamorous but neatly-framed settings.  
The lead pair are conscious of the fact that the film is almost entirely dependent on them.  They give life to Jai Krishna's otherwise ordinary dialogues.  They show intent, if not terrific knack, in the heavy-duty climax.  For once, VD is wowed by his heroine's attitude and falls in love with her.  For a change, nobody finds his attitude, which anyway is a dumbed-down version of his 'Arjun Reddy' character, that sexy.  
But only that much can be said about the performances.  VD somehow goes too easy.  This affects the second half to a great extent.  His performance in the scene in the hospital in the first leg of the second half, to put it frankly, is a dampener.
With Bobby and Lilly going too light on emotions (Rashmika pulling VD's legs in the second half is silly to the core), the background music seems to happen in a separate world.  The BGM is not concerned with the lightness of the hero-heroine duo; the music director believes that he is working on a classic.  
Someone goes nearly mad having missed your love and you ask him, 'Naa kosam edichava?' wearing a 'Let me do LOL' expression on your face?  Give us a break, already!  Bobby becomes a Shankardada MBBS and his expressions suggest as if he is incredibly dispassionate.  
The college campus scenes are too affected and seem to take place not in Kakinada but in a Communism-heavy Kerala college.  How many of you are going to relate to a few students singing, 'Mayadaari election lu', and expressing their unimportant frustration in the august presence of the portraits of a few supposedly successful Communist legends?  
The screenplay is too conveniently-written in the second half.  Bobby needs a breakthrough and an old friend of the heroine appears in front of his eyes on a busy road.  The villainy of a key character is old-fashioned and his maniacal behaviour is too cinematic.  
After a point, Deverakonda seems to go ballistic only because 'Arjun Reddy' happened to him in 2017.  
Verdict:
'Dear Comrade' is heart-felt and intense when it comes to the songs, some of the conversations, the climax, and the message.  But it is also too sluggish and a bit misdirected as well.  A winsome technical work overall.  Deverakonda's performance, so also Rashmika's, come with their share of hits and misses.
Rating: 2.75 / 5.0
Showcase your talent to millions!!
Write about topics that interest you - anything from movies to cricket, gadgets to startups.
SUBMIT ARTICLE
More
Telugu Movie Reviews
Calling Sahasra
Atharva
Animal
Kota Bommali P.S
Aadikeshava
Sound Party