A haunting start by Radhan
IndiaGlitz [Tuesday, February 9, 2016 • தமிழ்] Comments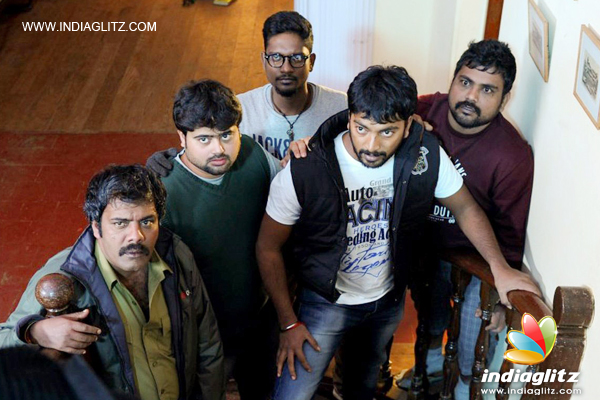 The sequel to Darling is directed by Sathish Chandrasekaran with Kalaiyarasan as the lead. Radhan who made a brief debut in Vaaliba Raja is back for this horror movie as a composer. Lets see how the album has fared out.
Machi Vaada Nee: Listen here
From the word go, the song has numerous filmy references and takes down the friendship lane with kwood cinematic dialogues. A freakish song crooned by the Ramee, might do well for youngsters. Mixing techno and Indy, the song works occasionally after a good start.
Olarava : Listen here
Varun Padmanaban the lad who shot to fame With Namma Ooru Boy has taken up the microphone for this song which yet again jumps between Techno and local kuthu tunes. The song is comparatively better and engages the listener with the vibe of the lead vocalist. Muthamil has given enough justice by penning down some entertaining lyrics.
Ni Sa Gari Sa: Listen here
Radhan hits the nail with this awesome number that jumps between old school Ghazals , Hindustani and what more. The inclusion of Naresh Iyer and Anweshaa seem to have done the trick for their feeble yet engaging vocals smoothly ensure the orchestration does not fall behind. With a variety of rhythyms, Radhan uses his best pianistic experience to carve out a good number which should do far more justice with the visuals.
Kaatril: Listen here
As the title of the song, the track too oozes with eerie sounds and resonant methods to give a ghastly feeling which yet again should stand apart with some apt visuals.. A hollow and haunting piano work is a must for any horror BGM and Kaaatril does that accompanied by the female vocals of Nikhitha who whispers into the vocals gently to create an even more eerie feeling.
Theme: Listen here
A promising start to Darling2 somehow cuts short on its own. Has all the ingredients for a Horror BGM and Radhan employes Techno and distant orchestration to drive home the engaging thrill factor. To sum up, the theme is a stereotyped haunting track, one for the visuals.
Verdict : Radhan tries to make his mark with Darling 2, should be interesting to see the BGM on the giant screen.
Rating : 2.75/5